We're introducing a new flexible coupon, so you won't lose out if your plans change.
Remember that golden moment when you booked your holiday? Maybe you were looking forward to a relaxing break. Or thrilled at the thought of a new adventure. Whatever the case, there's no better feeling than choosing your next destination.
Let's face it, there are clouds on the horizon now. The coronavirus outbreak is spreading to new countries. No surprise that anxiety is on the rise.
The risks of travelling to a region with few confirmed cases are slight. In fact, travel restrictions centre on the five most affected countries. So if you do decide to travel, Welcome Pickups is here to help.
One thing you don't have to worry about is losing money on your airport transfer. We're introducing a new flexible coupon that means you won't lose out if your plans change. Now, you can also exchange your booking for a flex coupon. Simply rebook via the app later, at no extra cost. Any time, any destination, any traveller via our website.
When your plane touches down, it's time to relax. We've introduced new prevention initiatives at all destinations, including extra cleaning procedures and provision of hand sanitisers. Your driver will be aware of WHO guidelines and help you to capture that holiday feeling from the start.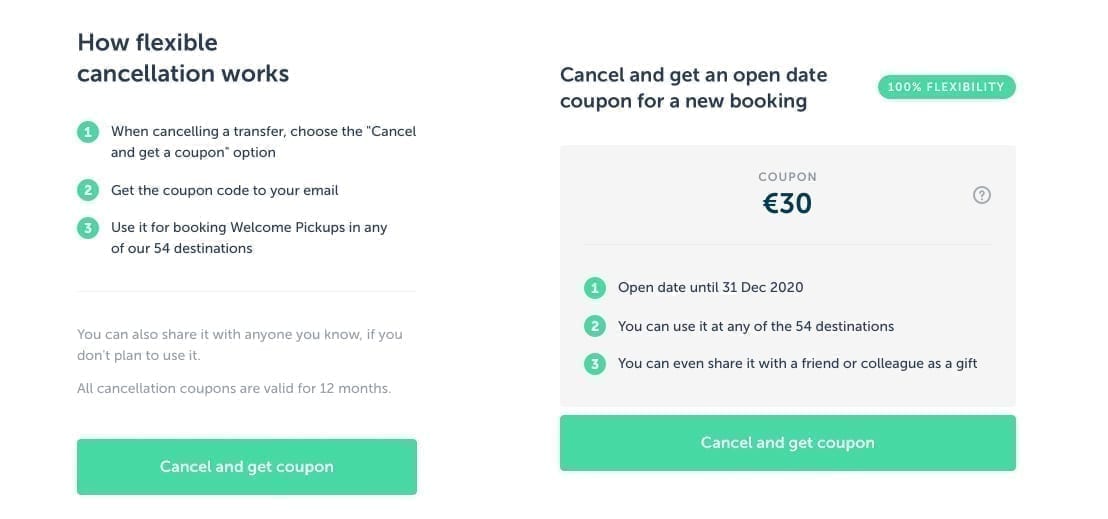 Need help during your trip? Our customer service team is also available 24/7 to answer any questions. At Welcome Pickups, we put your comfort and safety first.
Where were we? Oh yes, time to catch a break.