Havana Taxi Service
Havana, the capital and Cuba's largest city, is a bucket-list destination for most travellers. Its unique architecture, beautiful beaches, and vibrant nightlife offer exciting activities that attract tourists from all around the world. To move around the city quickly and comfortably from the moment you land at the airport, the best choice is to use an official Havana taxi or pre-book a personalised transfer. Taxi service is available 24/7 throughout the central area, giving you the chance to explore the city even after hours and ensuring a smooth travel experience without checking bus schedules or trying to locate the nearest bus stop. You can order a taxi in Havana over the phone or by using one of the available local apps. Alternatively, you can take a taxi from the street; just make sure it's an official, metered taxi.
TRAINED DRIVERS
Hand picked & english speaking drivers
LOW PRICES
Same price as a regular Taxi from the line
FLIGHT MONITORING
Drivers are always on time
QUALITY SUPPORT
24/7 Email & Phone support
How much does a taxi cost?
Night time


(00:00 - 05:00)
HAVANA CITY CENTRE ➙ OLD TOWN
HAVANA CITY CENTRE ➙ VEDADO
HAVANA CITY CENTRE ➙ MIRAMAR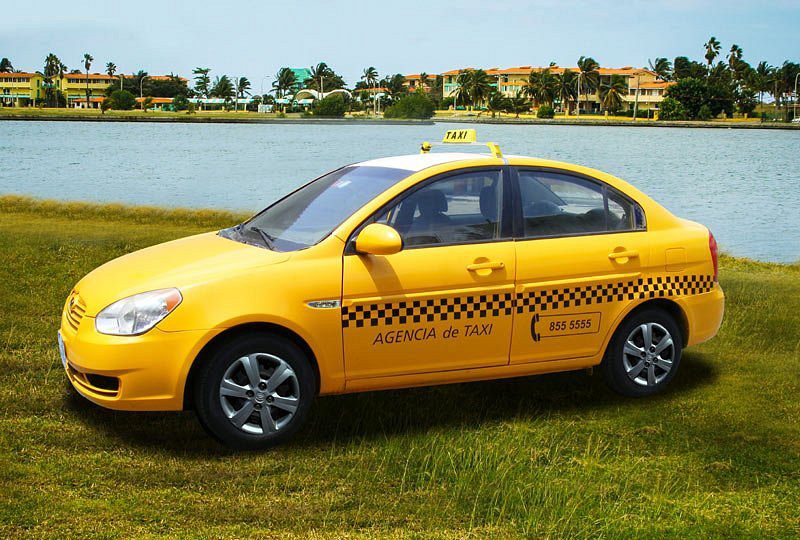 Havana Taxi Fares
Official taxis in Havana, Cuba don't operate with set fares but are required by law to use a taximeter for the entire ride. The total fare is calculated based on the total distance driven and can be affected by traffic, waiting time or additional fees imposed by each taxi operator.
Avg. base fare – €1 (CUP 25.50)
Avg. rate/km – €0.80 (CUP 20.40)
Keep in mind that these aren't set rates for all official taxi operators in Havana and prices might differ significantly or include extra fees, such as surcharges for luggage or pets. To ensure a fixed rate you can pre-book your Havana taxi and know the total fare beforehand.
What our customers say about Welcome
How to Get a Taxi in Havana, Cuba
Taxis in Havana are a popular transportation option for tourists due to the lack of alternatives in the city. Official taxis are owned and regulated by the state and you'll easily recognise them thanks to their yellow colour. You'll find taxis all day long on the street and at ranks outside popular landmarks or busy locations, such as the airport. You can hail a taxi on the street but make sure that it's an official, licensed taxi, and that the taximeter is working properly. Alternatively, you can order a taxi online through the local apps or by calling one of the official operators.
Panataxi: +53 755 5555
Taxi OK: +53 7204 9518
Pre-book your Taxi in Havana, Cuba
To ensure a reliable and personalised taxi service during your trip to Havana, you can pre-book your transfers with Welcome Pickups. Instead of worrying about the cost of your Havana taxi and whether your ride is with a licenced vehicle or not, you'll enjoy a smooth and stress-free travel experience. You'll be greeted at the airport by a friendly, professional driver, who will take you quickly and safely to your destination, without waiting in line for a taxi or having to get on a crowded bus. Besides your airport transfer, you can also use Welcome for all your transportation needs around the city or across Cuba and enjoy a comfortable ride in an air-conditioned, modern vehicle.
Havana Taxi Tips
Taxis in Havana don't accept card payments so always make sure to carry cash in the local currency.
Official Havana taxis are metered; if you don't see a taximeter on the dashboard, avoid taking that taxi.
It's best to show the driver your destination on your mobile, and track the route to ensure you're taking the best possible route to reach the location.
The driver might make suggestions about accommodation as they get a commission from certain hotels. It's best to avoid accepting their suggestion and insist on already having accommodation, even if you don't.
Tipping taxi drivers is customary in Havana; a decent tip is 10% of what the taximeter indicates.
Wheelchair Accessible Taxis in Havana, Cuba
Havana and Cuba in general can be quite challenging for wheelchair users to visit but with a bit of preparation and research beforehand it can all be made possible. Public transportation and standard taxis aren't fully accessible. You might be able to fit a foldable wheelchair in the trunk of a taxi but you won't find operators that have fully accessible vehicles in their fleet. To ensure smooth transportation around the city or other destinations, it's best to organise your trip through a travel agency that will be able to provide safe transportation with a private and accessible minivan throughout your trip.
Havana Taxi Safety and Complaints
If you use official taxis in Havana you shouldn't encounter any issues. However, it isn't uncommon to come across unlicensed taxis, especially at the airport, trying to attract tourists. In case you wish to report a taxi driver or file a complaint, you'll need to contact the General Directorate of Transport of Havana (DGTH) at +53 7881 1926 or at 18820 if you're using a local number. Make sure to write down as much information as possible about the incident, including the driver's name, registration number, and license plate.