Private transfer & Taxi from Ciampino Airport to City of Rome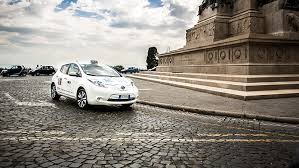 Outside of Ciampino Airport you can easily find the queue of Roman taxis, they are white with the City Council's crest printed on the front door.
There is a flat cost for the regular taxis within the Aurelian Walls of 30€, just make sure you are aware whether your drop off destination is within or without the walls. Outside of the city ring the normal taximeter fare applies so make sure that the taxi driver sets the meter as soon as you start the ride, you can see the map of the Aurelian walls here.
If you would like to avoid hidden costs or surprises it advisable that you book a private transfer with a chauffeur. The price may varies from 40 to 60 euros but it is by far the least stressful option.
Please avoid any car or shuttle service that approaches you for a transfer upon your arrival, there might not be licensed drivers.
Rome Welcome Pickups
The last few years, there is a 5-star reviewed company offering pre-booked transfers with the best, English-speaking drivers of the city named Welcome Pickups.
You can pre-book your private transfer from Ciampino Airport here.They assign a driver for you and send you all his personal details at your email including name, photo and phone number. Drivers are waiting inside your arrival gate. The cost of  Welcome Pickups  same regular taxi from the line outside the Airport (€48)  and you avoid any extra fees or a bad driver experience.
Ciampino Airport Taxi Fares
Ciampino Airport to Fiumicino Airport
50 €
Ciampino Airport to Roma Termini (Railway Station)
30 €
Useful Tips
The taxis in Rome can take up to 4 people with 3 peices of luggage
For more than 4 passengers or more than 3 luggage you have to book minivan
There is a flat cost of 30 €, that remains the same no matter the time (day / night)
Make sure to show that you are aware of the 30 € fixed cost inside the Aurellian Walls
It will take you approximately 30 minutes from Ciampino airport to the city center depending on traffic
The Termini station (central railway station) is inside the Aurelian Walls
Taking the train from Ciampino Airport to city of Rome
Ciampino airport is not connected direct with train or subway to city or Rome.
Transportation from Ciampino airport to city of Rome via train takes approximately 1 hour and is by far the cheapest  but most complicated way.
You have to catch the  bus form Ciampino airport to Ciampino railway station and then take the train to city of Rome. The bus to Ciampino railway station departs every 30 minutes and you need 15 minutes from airport to station, the ticket costs 1 € and the bus station is located right outside of the arrival exit. Every 20 minutes there is a train from Ciampino railway station to Roma Termini (Rome central railway station).
You can pre-book you tickets from Ciampino railway station to Roma Termini here.  The journey costs in total 2.5€ (one-way ticket) however it will take you more than an hour to reach city center.  Be aware that there is no train after midnight.
CIAMPINO AIRPORT TRAIN TICKET PRICES
From CIAMPINO Airport - to
CIAMPINO railway station
One way ticket
1€ / person
From CIAMPINO railway
station to Roma Termini
(Rome railway station)
One way ticket
1.5 € / person
USEFUL TIPS
The first bus from Ciampino Aiport to Ciampino railway station starts at 5:20am and runs until 23:30pm, keep in mind that there is no train after midnight
Be aware that buses from Ciampino Airport to Ciampino railway station operates different hours on holidays. First bus at 6:40am and last bus at 23:35pm
Buses depart every 30 minutes from Ciampino Airport to Ciampino railway station
Trains depart every 10 minutes from Ciampino railway station to Rome Termini station
First train depart from Ciampino railway station to Rome Termini at 05:25 am and the last one at 23:19pm
Train tickets can be bought either online or from the ticket machines before your entrance to the platforms
Make sure that you validate your tickets at the designed validation machines, after validation the tickets are valid for 90 minutes
Bus Transfer from Ciampino Airport to City
There are 3 companies providing bus transfer from Ciampino Airport to city of Rome. Terravision, SitBus and Rome Airport Bus.  The bus ticket price varies from 4€ to 7.90€ per person and the ride takes approximately 45-50 minutes depending on the traffic. You can find your tickets at the bus station of Ciampino airport or pre-book your tickets on the websites of each company.
All buses have an end destination the Termini railway station in Rome, where you can take a train to any other city or the metro.
You will find SitBus station out of terminal 3, Terravision station at the bus station Polo-bus, stop n° 1 (existing the arrivals area, turn left and go straight) and Rome Airport Bus station at Stall No. 2 ( out of terminal turn left , parking lot n° 2).
Terravision bus departs every 30 minutes from 08:15 am  and the last ride departs from Ciampino airport at 23:40 pm.
SitBus ride starts at 07:45 am and the last ride is at 23:59 pm from Ciampino airport. SitBus departs every 30 or 45 minutes.
"Rome Airport Bus" first ride is at 04.00 am and the last one is at 22.50 pm.
CIAMPINO AIRPORT BUS TICKET PRICES
Terravision Bus
Adult - One way transfer online ticket
4 €
SITBus
Adult - One way transfer online ticket
4 €
Rome Airport Bus
Adult - One way transfer online ticket
7.90 €
Useful Tips
There is no Bus Available after Midnight.
Ciampino bus stations can be found outside of Terminal 3 or Polo-bus, stop n 1 or Stall No. 2 ( out of terminal turn left , parking lot n° 2)
Traveling by bus is the cheapest option and the cost is from 4 € to 7.90€
It takes about 50 minutes to reach the city center but can take considerably longer if traffic is heavy
Kids under 4 years old travel for free (Terravision)
Last departure from Ciampino airprot at 23:59
During airport rush hours you might need to wait to get to the next available bus, no matter if you booked your ticket online