How to get from Singapore Changi Airport to Sentosa
Sentosa Island is a popular destination for tourists coming to the city, and the good news is that internal transport on the island is free - you just need to get there. From the airport there are three methods of transport to Sentosa, however by taxi is the only way to get there directly. A Singapore airport taxi will take you around 22 minutes with a standard condition fare of around 15€ (S$25). If you wish to take the MRT (metro) it will cost 1.20€ (S$2), or 1.08€ (S$1.75) with an EZ-Link card and take around 45 minutes. By bus is more complicated too, as you will need to take a couple of buses to reach the station at Sentosa - costing 1.50€ (S$2.50) or 1.18€ (S$1.84) with an EZ-Link card. This journey will take around 1.5 hours. Once you reach the station, you will need to cross. This can be done via the boardwalk (15 minute walk) or via the Sentosa Express Monorail - taking 7 minutes to reach the centre of the island - which will cost 2.40€ (S$4) for the return journey and can be paid for by EZ Link Card (but there is no discount). The train runs every 3 minutes, and operates between 07:00am until 10:00pm (Mon - Thurs) and till 12:00am (Friday, Sat and Sun). Welcome Pickups offers meet and greet services and a friendly introduction to Singapore at the same price as a regular taxi. Click here to see the cost.
BOOK A TAXI WITH FLAT PRICE
Powered by
Prepaid flat price - no hidden fees.

Meet & Greet at the gate.

Cancel up to 24h before and get a refund
I used Welcome Pickups twice. On time and english speaking drivers.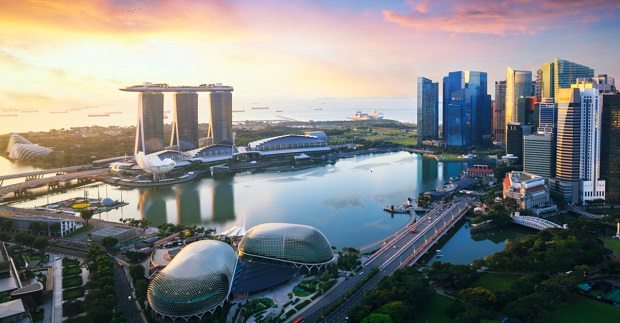 Comparison of the options
OPTION

PRICE

DURATION

AVAILABILITY

Taxi

€15

22min
24/7

Welcome Pickups

€35

22min
24/7
A trusted, professional driver will pick you up at the gate right on time. Excellent reviews, flat price, no hidden fees, flexible cancellation.
Metro (MRT)

€2.40

60min
05:51–23:18
Bus

€3

90min
06:06–22:52