Taxi Transfer from Thessaloniki Airport to Halkidiki
The easiest and most comfortable way to arrive from Thessaloniki airport to Halkidiki is by taxi. You can find the taxi rank just outside of the arrival exit gate.
Halkidiki, you can also find it written "Chalkidiki", is divided in three peninsulas with huge variety from quiet sandy beaches to vibrant cosmopolitan areas, check more info here.
The route from Thessaloniki airport to Halkidiki depends on where you are exactly going in Halkidiki. You can find some price estimations on the table on your right.
If you decide to take a taxi from the rank and you haven't pre-booked your trip to Halkidiki, it's always advisable to agree on a price with your driver before you start the trip.
The best solution for pre-booked taxi is Welcome Pickups, which offers meet and greet service and friendly introduction to the area at the same price as a regular taxi. What you get is:
• Personal attention by polite and professional local driver.
• No hidden fees. The taxi price includes absolutely everything.
• Flight monitoring, so you do not have to inform or worry about flight delays.
• Your driver will welcome you at the arrival's hall.
• Clean and comfortable taxis.
• Best price guarantee and full refund in case you have to cancel.
You can book online by filling the booking form and you will receive an email confirmation. Further, you will receive all the driver's information before your arrival. The driver will be waiting for you at your arrival gate holding a board with you name. Book it here.
Thessaloniki Airport to Halkidiki - Estimation price
Thessaloniki Airport to Sani Beach
70 €
Thessaloniki Airport to Pefkohori
90 €
Thessaloniki Airport to Paliouri
105 €
Thessaloniki Airport to Neos Marmaras
105 €
Thessaloniki Airport to Porto Koufo
140 €
Thessaloniki Airport to Ouranoulopi
140 €
Useful Tips
Most taxis in Thessalonki, even the ones at the airport, have no way of accepting credit cards. Make sure you hold the cash needed for the ride!
Please be aware that the nighttime prices are approximately 30% higher
If you haven't preordered a transfer, you should agree on a price with the driver upon starting the ride.
According to Greek law a taxi can carry a maximum of four travellers at a time, including children.
Bus Transfer from Thessaloniki Airport to Halkidiki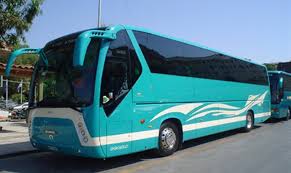 The cheapest way to arrive in Chalkidiki is by the suburban buses. The buses are daily and frequent, mostly during summer.
The Halkidiki bus station (KTEL) is located on a different place than the rest bus stations of Thessaloniki. It can be found at the 9th km Thessaloniki – N. Moudania.
From Thessaloniki airport you can reach the Halkidiki Bus station either by taxi (about 10km away) or by public transportation.  Taking the public transportation from Thessaloniki Airport to Chalkidiki bus station might be tricky because there is no direct bus line.
You need to take the bus 78 or 78N from the airport (check the bus schedule here). Then get off to Emporiko Kedro IKEA and change to bus line 36 and get off to  the end destination that is Halkidiki Bus station.
The bus line 36 runs every 30 minutes and it will take you around 15 minutes from IKEA station to Chalkidiki bus station.
As soon as you reach at the Halkidiki bus station you need to take a ticket from the ticket booth, you can check the routes&timetables here. Just keep in mind that the time schedule can be changed without further notice.
During summer months although the buses to Halkidiki are more frequent, it can be crowded so you should book your seat by calling at +30 2310 316555  /  +30 2310 316 565  /  +30 2310 316575
CHALKIDIKI BUS TICKET PRICES
From Halkidiki bus station to Nea Potidaia
Adult - One way transfer ticket
7.70 €
From Halkidiki bus station to Pefkohori
Adult - One way transfer ticket
12.90 €
From Halkidiki bus station to Neos Marmaras
Adult - One way transfer ticket
14.20 €
From Halkidiki bus station to Porto Koufo
Adult - One way transfer ticket
16.70 €
From Halkidiki bus station to Ouranoupoli
Adult - One way transfer ticket
13.50 €
Thessaloniki Airport to the Halkidiki bus station
The prices above are per person and are subject to change. It's advisable to check the timeschedule and price table before you start your trip
Make sure you reserve a seat at Halkidiki bus station, it gets easily full during summer months and weekends
If you choose to reach the Halkidiki bus station by public transportation keep in mind the bus waiting time
Taking a taxi to reach Halkidiki bus station is much more convenient, it will take you triple the time to go by public transportation