Help Writing Your Airbnb Listing Content
"I didn't have time to write a short letter, so I wrote a long one instead." – Mark Twain
We know that guests do not read, right? Right. The solution is to make the most information available in the least amount of text. Sounds simple enough, but it is not (refer to above quote). Time and again, I see hosts load up their listings page to the brim with behemoth descriptions. Not only that, but the text comes in huge blocks and run-on sentences. If you are one of these hosts, I think you will be glad you found this post. Keep in mind there are many points in the reservation process. Certain information is best communicated at certain points in that process. Do not overload the guest all at once.
Additionally, with the success of social apps like Snapchat, Instagram, and Tinder, our attention span has decreased to, at most, a few minutes and, at least, how quickly one can flick their finger across the mobile screen. Combine the issue of guests not reading, short attention spans, and intense competition on Airbnb and you have a recipe for a hosting nightmare. 
This illustration shows us just how intense competition on Airbnb is.
Meet Pelin, an Airbnb host in Istanbul, Turkey. Her listing is somewhere on this map: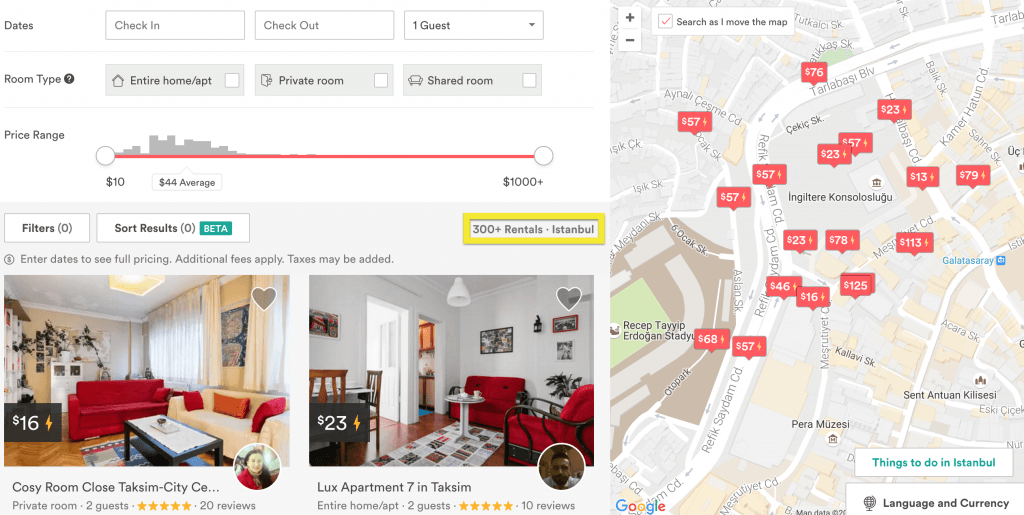 This map is about 1,800 square feet (600 square meters) wide. Compare to Google maps: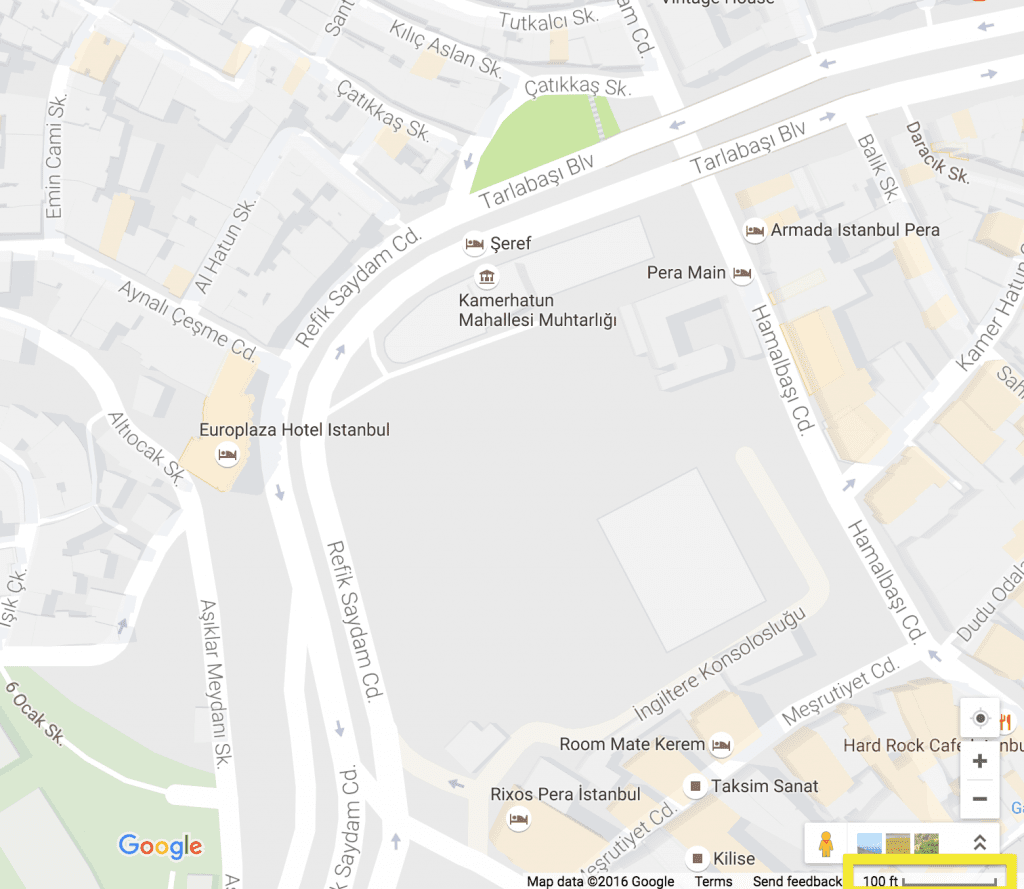 That is a whopping 6 square feet (2 square meters) for each listing! This is not an extreme example. It is actually more common than not to have this much competition.
How is Pelin going to stand out, knowing that there are tens, possibly hundreds of listings like hers in her vicinity? She is going to make everything about her listing, snappy, catchy, and thorough. This should be at the back of her mind throughout the entire Airbnb listing creation process:
How to Write a Good Airbnb Listing
Catchy to grab attention
Snappy to keep attention
Thorough to attract the right guest
Good Airbnb Listing Examples
Here are just a few examples; remember, snappy, catchy, and thorough applies to your entire listing!
Cover photo
This needs to be catchy, a selling point of your home. Its sole purpose is to attract eyes. Scout your competition to find out which colors are not being used in their cover photos and plan accordingly. You will want it to be a photo of a room in the house the guest will be spending a lot of time (bedroom, living room, kitchen). Rarely will this photo be a view. A view is suspicious to potential future guests.
Title
Catchy. Do not tell the guest how many bedrooms your listing has. They have probably already narrowed down this search result if they are serious about booking. It is also just plain boring. Communicate a selling point to your guest, ideally an amenity not typically available in your area.
Bad title: 2 bed/1 bath elegant spacious home in Sunset District

Good title: Free Parking + Rooftop Patio w Views/Hottub
Description
Keep it snappy, yet thorough. It is best to communicate both the good and bad aspects of your home here. The result of a guest surprised by the 27 steps leading into your listing with no elevator is a bad review. Set expectations of your guest prior to booking.
Bad: My spacious home has all the details of a traditional Victorian in the heart of San Francisco's Hayes Valley. When you arrive, you'll experience a San Franciscan staircase so pack your walking shoes!

Good (bullet point): 27 steps into my home from street level
Keep in mind the House Manual delivered to guests upon confirmation. Do not overload the guest with pages of information here. If you do, none of it will be read or remembered. Only put the most important house notes and rules here that the guest needs to know the time of booking. All else should be delivered with your electronic house manual four days before check-in. This is part of a full Airbnb automation strategy.
This post was brought to you by Danny. Danny runs OptimizeMyAirbnb.com where his mission is to make you the best Airbnb host possible. His specialty is helping your listing rank as high as possible in Airbnb search, but he also provides strategy around Airbnb automation, guest experience, interior design, revenue management, and more. Visit his blog for more knowledge, posted weekly.