As an online travel agent, your brand is everything. Building a strong and trusting relationship with your customers is what makes you highly successful in your field. Because of this, choosing affiliation programs from companies that are well-known, trusted and have great customer service is important. We have listed 11 of the best affiliate programs for online travel agents here, but we'd like to share with you our world-renowned Welcome Pickups affiliate program in more detail, so you can find out how to generate extra income for your travel agency with us. 
Who are Welcome Pickups?
Welcome Pickups are a 5-star transfer company that will pick up your customers safely and comfortably from the port or airport of over 60 different destinations worldwide. We fully personalise each experience and implement strict covid safety regulations so you can rest assured that your customers will be well taken care of. 
Not only is our affiliation program completely free for you to join, it's also fully automated, so we will take the stress out of the booking process and post-booking client care for you. Our top-notch customer service team will field any questions or issues your customers may have from the moment they book with us through your link until they have been safely delivered to their destination. 
How to earn big commissions with Welcome Pickups?
As soon as you sign up for our affiliate program for online travel agents, you will receive a unique link that will earn you healthy commissions each time one of your customers clicks on it and makes a booking with us. At Welcome, we don't provide commissions using a payment threshold, we pay out fixed-rate commissions regardless of booking cost or transfer length. Thanks to our personal dashboard, you can easily track your commissions, choose which currency you'd like to be paid in and keep an eye on your revenue performance. We understand that waiting for payday can be frustrating, that's why we pay all of our affiliate partners monthly. 
There are three different ways to start earning extra revenue with Welcome Pickups:
Booking Widget
We provide all of our affiliate partners with a fully branded booking widget to place on their own websites. This is a great option if you'd prefer your customers to book with us without having to leave your site. Your customers can select a destination, their pickup date and time, the number of passengers and pieces of luggage, book and then pay for their Welcome transfer in just a few seconds. After they book using the widget on your site, you will receive a set commission. As you can see on our affiliate partner, Ferryhopper's website, the colours and fonts of our booking widget are also fully customisable so you can match it seamlessly to your website.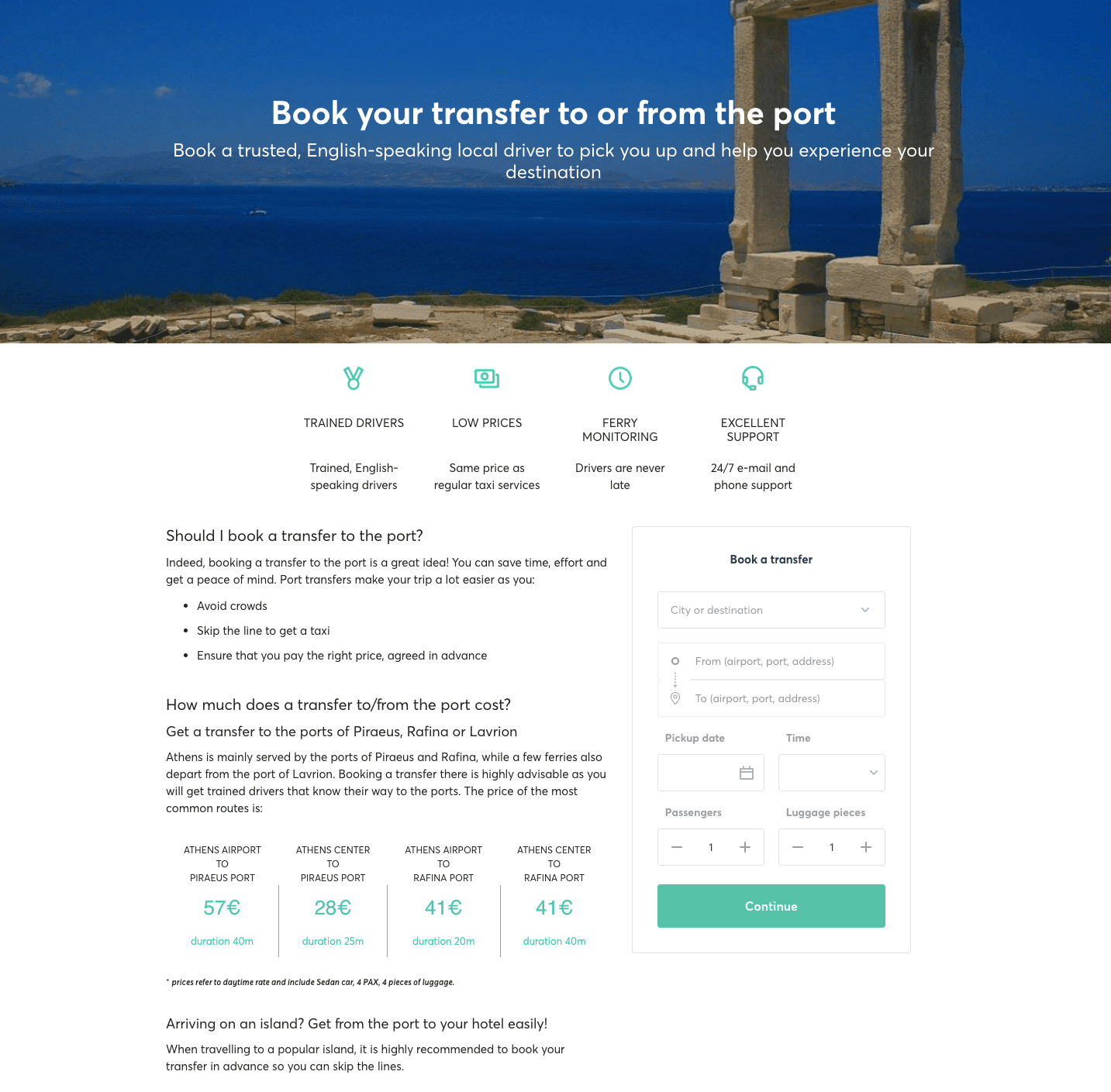 Personalised landing page
Another way to provide a place for your customers to book their own transfer using your affiliate link is by using a personalised landing page. We create a fully personalised Welcome Pickups landing page to match your brand, so you can send it to your customers via email, newsletter or directly when they make an inquiry. After your customer clicks to your landing page and makes a booking with us, you will receive a commission. One of our trusted partners that choose to earn extra revenue with Welcome using their fully personalised landing page is Aegean Air. 
Affiliate link
If you often book packages for your customers, you may wish to use your affiliate link to book transfers on their behalf. You will receive a healthy commission each time you book their transfers using your affiliate link or booking widget and your customers will enjoy a first-class transfer with Welcome Pickups when they arrive at their destination. 
–
With our fully personalised booking widget, landing pages and direct affiliate links, there's plenty of ways to start earning through our Welcome affiliate program. Each time one of your customers books with us, you will receive a great commission, generating extra income for your online travel agency and they will enjoy a five-star transfer with us. If you'd like to know more or have any questions about our Welcome Pickups affiliate program, you can book a meeting with us or watch a demo here.