It's no secret that booking.com has been offering many more services to the public than simply accommodation. Their mother company Priceline Group also includes brands such as Kayak for Flights, CarRentas.com for transport and OpenTable for restaurant reservations. Along with these brands, Booking also worked with external companies to fulfil some of their customer's needs, like using Rideways to offer pre-booked airport pickups and dropoffs.
However, in 2019, Booking.com took over Rideways.com and re-named them Booking.com Taxi, allowing them to use their trusted travel brand to showcase these hotel transfers. The newly appointed Booking.com Taxi offers its services in two ways;
Directly to customers who are searching for city airport taxis on Google using direct advertisements. 
By offering the opportunity to book and arrange their airport pickup directly on Booking.com after booking their accommodation through them.
Why is Booking expanding on Airport Taxis?
Reason 1 – More revenue per trip 
When a traveller is arranging a hotel or homestay, the next question on their mind is "OK, and how will we get from the Airport to this hotel?". From a transactional perspective, it makes complete sense for Booking to offer this service on their platform as it increases their revenue per person booking. 
However, this means that you as a hotelier will be losing out on an opportunity to upsell yourselves to your guest. According to eHotelier's last published survey, summarizing the results of hotel upselling for 2019, Airport Taxis are one of the top upsell revenue streams for hotels, coming second to Room Upgrades. Since Booking.com is already offering room upgrades natively on their platform, it makes sense that they tap into the next biggest revenue opportunity; Airport Pickups. 
Reason 2 – Competitive advantage against other OTAs 
Booking.com, although very famous, is operating on an extremely competitive landscape with Expedia, Airbnb and other well-known brands that are continuously updating their portfolio with more services and direct to traveller offerings. If Booking was not offering this service, chances are that a customer would search for it online and find it on a different OTA, meaning Booking.com would also lose out on the accommodation booking for this traveller.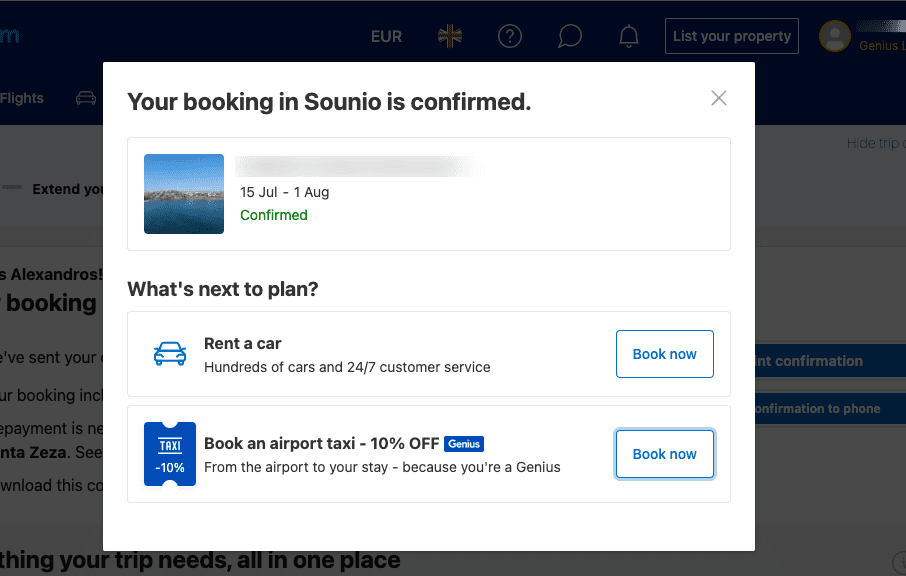 Reason 3 – Direct booking incentive response at the age of rate parity
In the age of Rate Parity, OTAs and hoteliers such as yourself, are constantly competing to get the guest to book the exact same room and dates on their website. Thanks to savvy guests and comparison websites, prices can't differ by much. So, a common practice was to add on a 'gift' if you book your stay directly on the hotel's site. Gifts are usually discounted or free services offered by you, such as breakfast, spa treatments, a welcome dinner, etc. 
One of the most successful direct booking incentives is a free or discounted Airport Pickup service, since it resonates with the traveller's 'mandatory' expenses, compared to something like a free spa treatment which isn't an express need. As a response, Booking.com is gradually testing the offering of discounted taxi services or even free hotel transfers if you book the room on their website. You can learn more about the terms and conditions of Booking's free Airport taxi transfer promotion and exactly where it will be operating here.
Why you as hoteliers and vacation rental owners should care
The whole accommodation industry is constantly evolving and catching up with customer habits and technology. As you are working in the industry, you should definitely pay attention to what the bigger travel companies are doing. Companies like Booking, Expedia and Airbnb have the capacity to experiment with new ideas and offerings, and if the experiment works, they scale it to all regions and all customers before the smaller hotels and companies can catch up. 
The obvious takeaway from this is that the experiment that Booking.com did with Rideways to sell Airport Pickups to customers who booked accommodation with them worked!
As a result, you can now find this service in the main Menu of Booking.com on both Web and Mobile Apps, and it's available in almost every travel destination. 

As a hotelier or Vacation Rental owner, you should also consider offering Airport pickups to your customers, just as you offer room upgrades for ancillary revenue. You can use your own resources to offer these hotel transfers to your guests, or you can partner with companies such as Welcome Pickups for Hotels and Vacation Rentals to boost your upsell revenue.

Moreover, if you note that a lot of your current guests are arriving at your hotel or vacation rental by taxi, why not consider creating a campaign with your Marketing Team to boost direct bookings by offering discounted or free taxi services when they book direct with you.