It's never easy to manage a property on multiple channels. In fact, everyone in this industry knows that choosing the right software for vacation rentals is a major decision that can make or break your business. There are plenty of calendar-synchronization tools out there for all types of vacation rental homeowners and property managers. So testing different software is required to find the one you're comfortable with.
I've been using Syncbnb for a year now. I tried out its usability, functionality, interface, customer service, and effectiveness. This experience was incredible from start to finish, which is why I wanted to write a review about it. I'll walk you through the service that Syncbnb provides, and why, in my opinion, you should give it a try if you're a property manager.
A Quick Overview of Syncbnb
Syncbnb is one of the newest calendar synchronization tools for vacation rental homeowners and property managers who want to list their properties on multiple channels. This tool ensures that you avoid double-bookings by using cutting-edge technology, including advanced AI and human-quality assurance. And it makes sure that your calendars are always updated, so your biggest problem as a property manager is solved.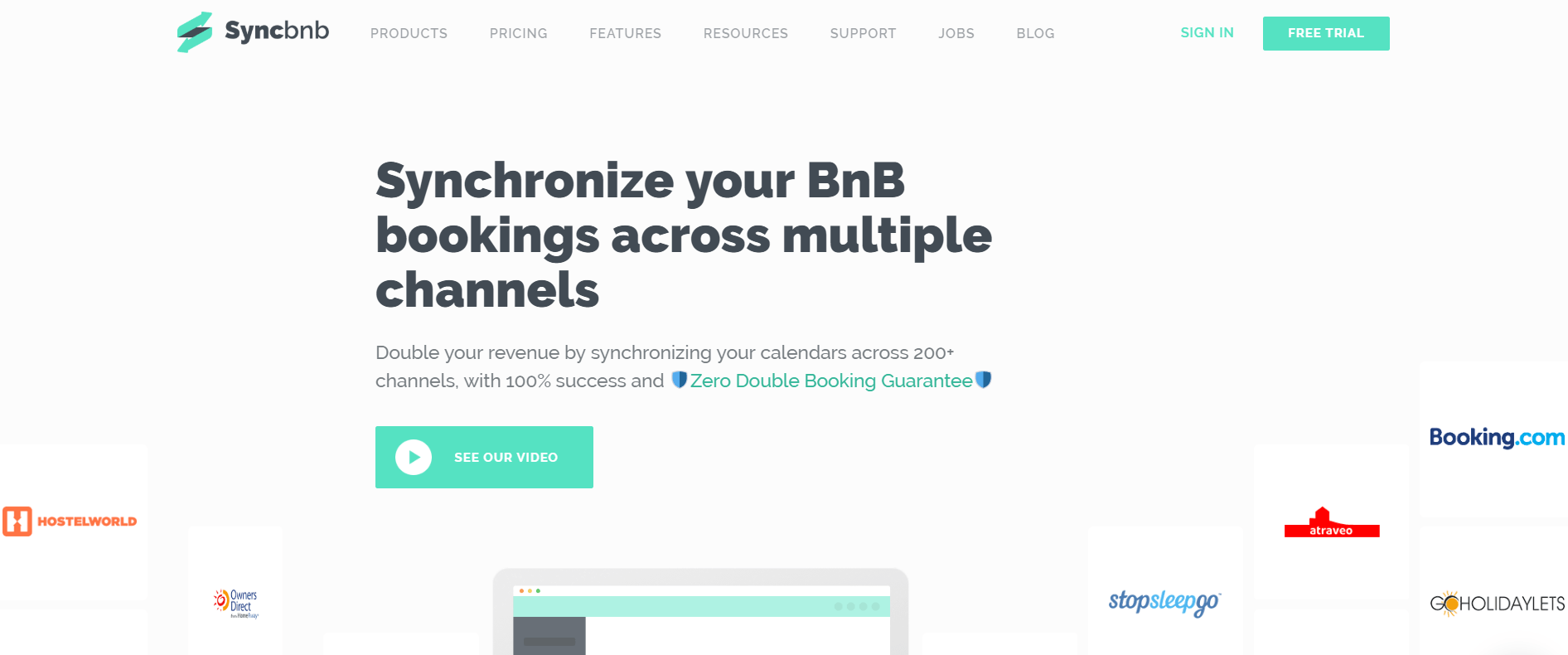 Furthermore, this tool immediately increases your revenue, not only by listing on multiple channels but also because the frequent update of calendars makes Airbnb and other channels show your properties higher up in search results… It also ensures that your calendars are always synchronized through their 2-way, near the real-time connection to over 200+ vacation rentals. Amazingly, they also offer a Zero Double Booking Guarantee – that's something I haven't seen anyone else offering.
Syncbnb has also been dubbed one of the most promising startups in Europe.
Syncbnb Features
Let's have a look at Syncbnb's most important features:

Zero Double Booking Guarantee

Free 30-Day Trial

Speedy 24/7 customer support

Easy setup and interface

Any month without activity is free. (Huge plus!)

Team management (You can have multiple profiles in the same account.)

200+ Supported Channels

2-way sync near real-time

Monthly Reports and Stats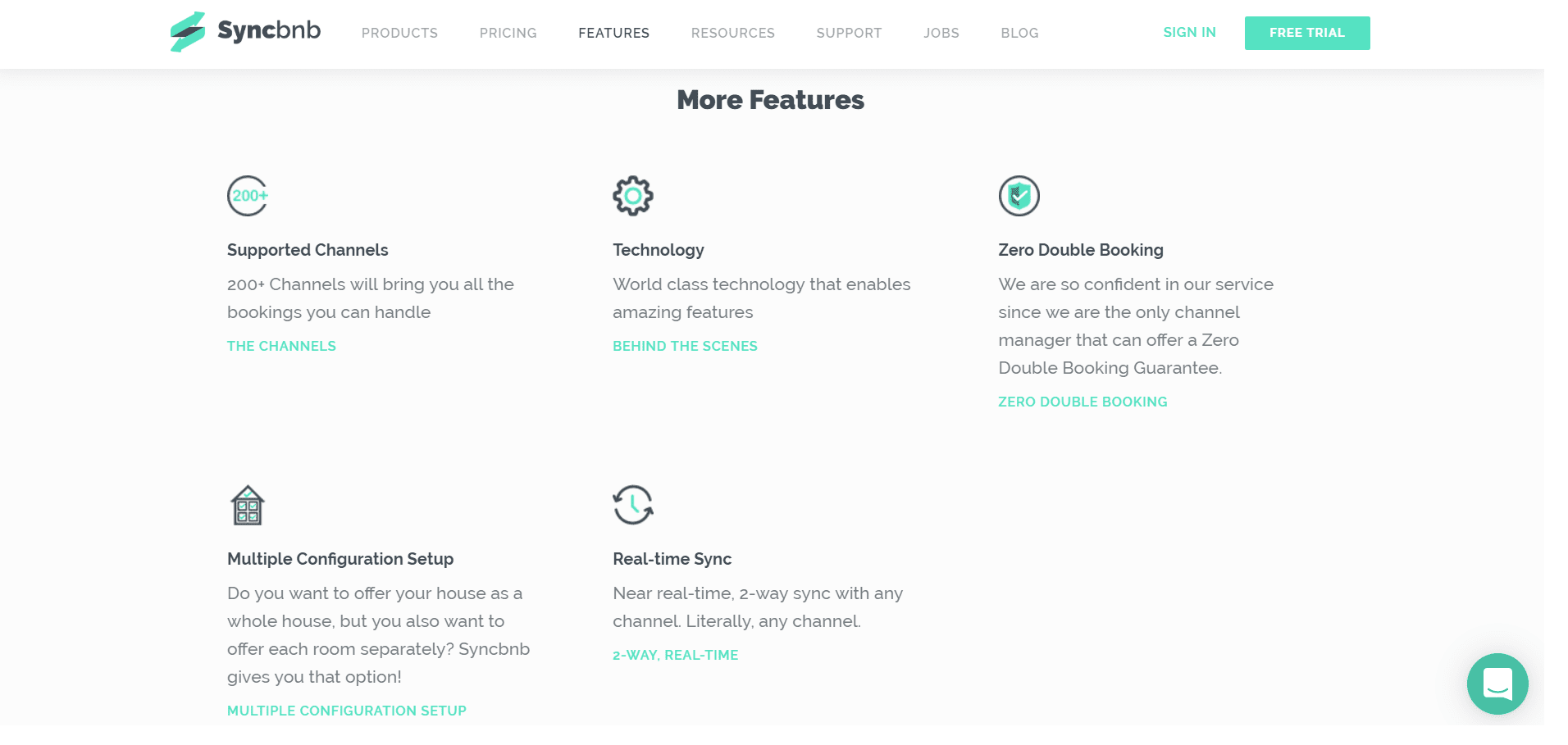 After using the software for a year now, I have to say that I'm quite impressed with the overall interface and usability. It does exactly what it says it will, and it does it very well.
Simplicity
My favorite aspect of the app is how easy it is to use. I've used plenty of other software before. While they were also beneficial, navigating the app and website was a pain. Through its intuitive and clean design, Syncbnb completely eliminates this navigation hassle. For me, the entire setup and registration process took me about 15 minutes.
No need for active management
I'm a micromanager by nature. To avoid any mistakes that could result from not being attentive enough to details, I usually prefer to manually manage every nook and cranny. But Syncbnb makes it very easy to manage a property on multiple channels. It carries Airbnb, Booking.com, HomeAway, Expedia, Tripadvisor, VRBO, even my own custom website and I have to do absolutely nothing including managing reservations, blocking dates and worrying about double-bookings.
Double-Booking Guarantee
Speaking of which, here's my second favorite thing about Syncbnb! Maybe you're a property owner, and you have a property listed on more than one website. Then you know that a double-booking can occur at any time. Trust me, it never works out well for anyone: you have to deal with hefty penalty fees, the guest leaves a negative review, sometimes even the channels give you an auto negative review. Lose-lose.

Syncbnb offers an up to $500-double-booking guarantee if the problem is on their side. And the tool makes sure that you immediately resolve the issue if it's on your side. In addition, their process for synchronizing calendars is automated, so there's very little room for error.
Listing Migration Service
As someone who's listed their property on multiple websites, I used to face another hassle; having to tweak my content for each website. Different websites require different photo sizes, different text limits, and many other restrictions that make managing a property less convenient. Essentially, Syncbnb automatically normalizes that data to accommodate the different restrictions of each website.
The Use of Advanced AI
I'm all for automation. It's 2019, after all. In my experience, Syncbnb makes sure your calendar is updated near real-time (compared to 5-8 hours in other apps), which ensures its reliability. In addition, their Quality Assurance mechanism makes sure that your dates are correct across all platforms, and at all times.
Stunning Customer Service
You can really get a feel of a company's culture and work ethic through their customer service. If a small company is very focused on their consumers as if each one of them is unique, make sure you keep them cause this is very hard to find these days. Their customer support is available 24/7 and their average response time is under 5 minutes. 
Some Final Words
I've been using Syncbnb for 1 year now, and I honestly think it's an indispensable tool. It doesn't give me a headache every time I try to use it. Their incorporation of AI into their calendar synchronization gives me peace of mind. And the fact that I know there's a team willing to go above and beyond to help make my life easier is enough to make me want to keep using it.