How Google can help your next guest find you through its Hotel Ads
It was just a year ago when Google announced the launch of the Hotel Ads, a new campaign type under its Google Ads aiming to help Hoteliers boost their direct bookings. For almost a decade, Hotel Ads are all around the place aiming to drive Google Search results and focus on sponsored listings. This year, Google was listed as the most popular review site in terms of volume with its metasearch and booking tool competing directly the OTAs booking offers. 
How it works: Google Hotel Ads combine the Google.com research results with Google maps to help travelers browse hotel properties easier and all in one go. A simple search for hotels in a destination results to a page of paid and organic results with the below display standing out on which the travelers can navigate and spot deals directly on a map.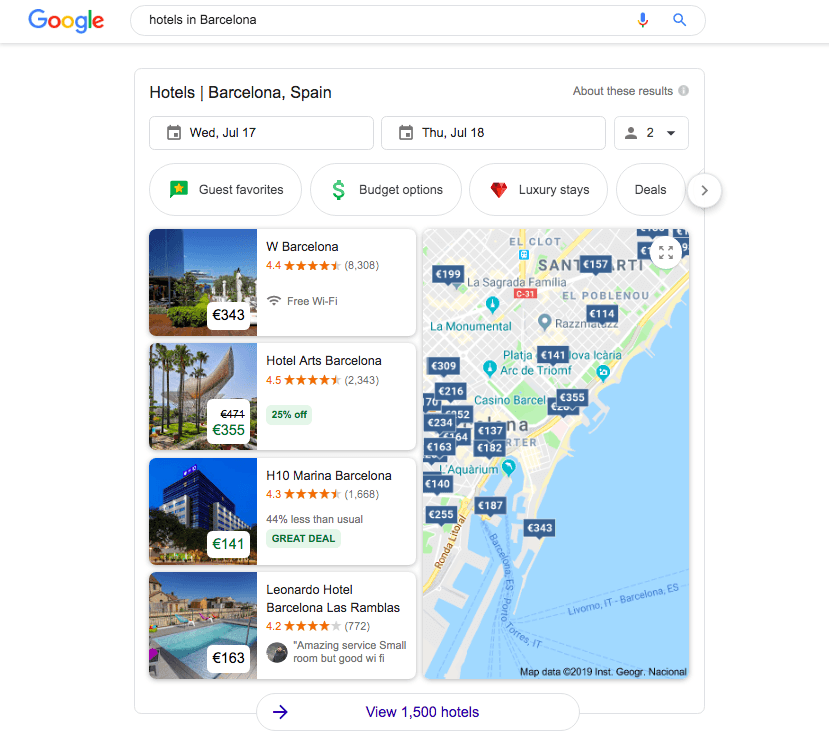 Users can also refine the results according to the wanted Dates, Budget and Hotel star-rating among other filters and have all the available properties in a list format to decide.  
Comparing Prices
Now a click on a listing, it will transfer the user to the hotel ads booking module, allowing him to review prices through various channels of booking all in one place. If the hotel has purchased Hotel Ads, the first option to book with it will be the hotel's official site linked to their direct booking engine. If the ads are not activated, the result that will come first will certainly be this of an OTA intriguing the user to book through it. Having a rate parity agreement in place as a Hotelier, wouldn't you want to be the first listing there?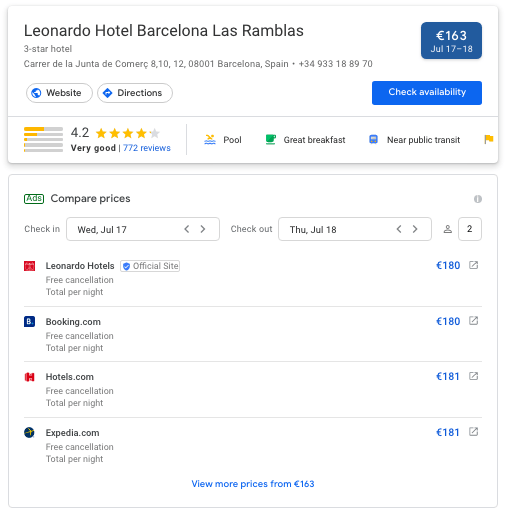 Benefits for Hoteliers
Here are the key benefits that the increase in your hotel's visibility will bring from through Hotel Ads: 
Rise of Direct Bookings
Activating Ads means you stand out against the competition and you drive travelers to your own website. Your rates match theirs due to price parity, so the user ends up clicking on the very first result and booking with you. 
Save on Commissions
It goes without saying that OTAs commission fees are a pain to today's hotel businesses. On the one hand, Google ads come at a price, but on the other, it helps you save on OTAs commissions. Lastly, if they book directly their very first visit, they will do it again if they decide to come back. 
Critical Guest Data
When travelers book with OTAs, hotelier ends just receiving a masked email assigned to the guest. This is not just an impediment of directly communicating any potential offers that can help you boost your hotel's sales, but also a lost chance to remarket to your guests' personal email and convert an offer to a return booking. 
Build a relationship with your guests
Users are being hunted by brands on a daily basis, but they don't want to receive just an email for a quick sale. They know when you are not authentic and truly looking for more than just a one-off purchase. When it comes to hospitality, going the extra mile and making them feel unique and appreciated it is crucial for them to return. Reaching your audience in a personal way and going the extra mile to meet its needs are just the foundations of building the key to success, relationships. 
Control of Campaigns
When booking with OTAs all extra services are being directly promoted to your guests without you previewing any of the content and getting any commission out of this. With the introduction of Campaigns, you can target specific segments (geographies, a device of access, etc) and set more flexible budgets across multiple campaigns and bids. 
It goes without saying that competing with the OTAs giants isn't easy. Their enormous marketing budgets, expertise on digital marketing and user-friendly platforms attract customers to book with them. On the other side, today's connected travelers are increasingly focused on mobile experience and expect hotels to ride this giant wave of innovation. There is traffic coming from mobile and you are just a step away from optimizing your guests' experience and gaining desirable ROI.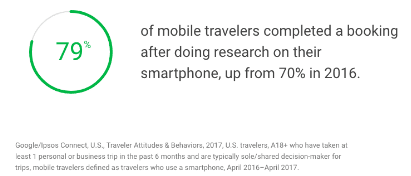 Get Started with Google Hotel Ads
To become a Google Hotel Ads customer and participate in the competition for booking links displayed, you need to create a Google Hotel Center account and follow these three simple steps: 
Set up a Price feed
 Since prices rise and drop according to the available inventory, Google recommends you use a third-party technology provider to integrate with Google search results. Paraty, Phobs, Cubilis are some of the integrators available along with several other partners that Google connects with. 
Connect the feed to a Google Ads account
See how the two get connected here.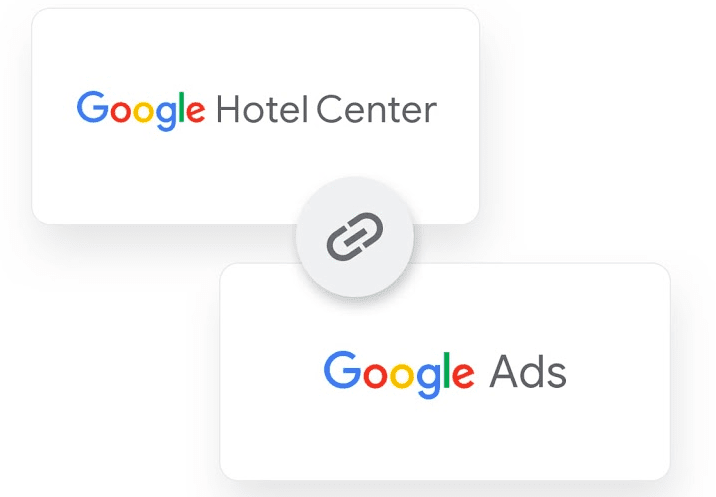 Start advertising!
Create a campaign, set up a budget and what you want to pay per click or booking complete. Your hotel will start appearing in Google Ads and your direct booking site will be listed first, competing with the OTA giants of the industry.
Booking hotels worldwide use to be a search of hours with many sites involved until that one booking of the user's choice comes to completion. Google redesigned its platform aiming to display results and be the one-stop for travel. If your search can stop on Google, why would you ever turn to a hotel or any other OTA site to book?