Feeling anxious about an upcoming trip? You're not alone. The coronavirus outbreak has now reached over eighty countries. And there are more than 90,000 reported cases worldwide. Symptoms range from a mild cold to full-blown flu and pneumonia. That spells serious anxiety for many travellers.
Even so, travel restrictions apply mostly to the five countries that have more than 1,000 cases. They are China, South Korea, Japan, Italy and Iran. If you're traveling to a region with few infections, the risks are relatively low. It still makes sense to take precautions. And we've got all the latest advice on how to protect yourself at the airport. The situation is changing on a daily basis though, so please make sure you stay up-to-date. The World Health Organisation and your national government sites are always the most reliable sources.
At Welcome Pickups, your safety is our priority. We operate in 55 destinations and are monitoring the situation closely. We're working with our drivers and partners to help to contain the virus. And to get you to your destination safe and sound.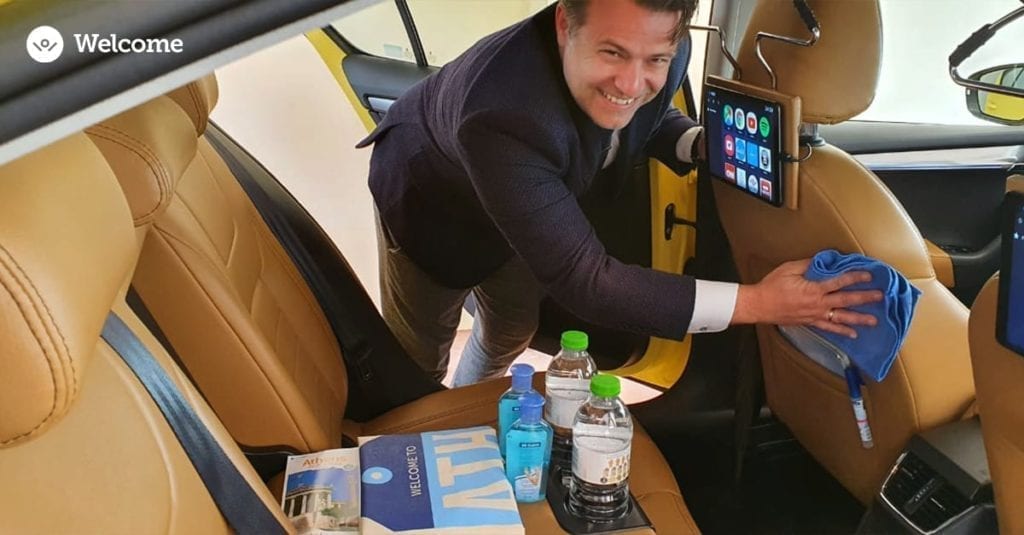 The six most essential dos and don'ts for staying safe when travelling

Wash your hands
The single most effective thing you can do is to wash your hands regularly with soap and hot water. Take at least 20 seconds – that's the same as singing 'happy birthday' twice. Don't forget the backs of your hands and between the fingers. Can't get to a sink? Then antibacterial hand sanitiser is a good substitute.
Avoid touching handrails
Every surface you touch may have been touched by others, too. This means it could potentially harbour germs. When out in public, avoid touching handrails, grab handles, walls, doors and other surfaces if possible. That said, the survival rate of viruses on surfaces is reasonably low.
Don't touch your face
Of course, this isn't completely avoidable. You can avoid spreading germs from your hands to your nose and mouth though. Don't touch your face unless you've just washed your hands.
Use disposable tissues or your sleeve
If you need to sneeze, use disposable tissues or your sleeve. Don't sneeze into your hand, because you'll then spread germs to whatever you touch next.
Keep a safe distance
Keep a safe distance from anyone who has a fever or a cough. Remember: symptoms are likely to be more severe for at-risk groups. Are you pregnant, elderly or do you have a chronic medical condition? Talk to your doctor before travelling. The same applies if you're travelling with babies or small children.
Official advice is that you don't need to wear a face mask, unless you're unwell. In fact, the warm, moist air inside the mask is a perfect breeding ground for micro-organisms. The same applies to gloves, too.
Source: World Health Organisation
From an airport perspective

Recirculating via cabin air conditioning systems
Airlines and ground crew have a lot of practice when it comes to disease control. There are strict controls in place to avoid viruses recirculating via cabin air conditioning systems.  In fact, the air supply is a 50/50 combination of fresh air and recirculated air. The recirculated air is filtered through the same system used in surgical operating theatres. This means the supplied air is guaranteed to be 99.97% (or better) free of viruses.
Regular cleaning schedules
Regular cleaning schedules are in place, with additional procedures if someone on board was unwell. However, if you want to feel safe, you may wish to carry antibacterial wipes for seats, tables, armrests and toilet surfaces. You may also wish to check with your airline. For example, Thai Airlines is spraying planes with disinfectant after every flight.
Regular temperature checks
You should also be ready for temperature checks, depending on the country you're travelling from. They can't detect who has the virus, but they're effective at screening for fever. Getting a flu vaccine won't prevent you from catching coronavirus (if you're exposed to it). But it makes diagnosis easier, speeding up later treatment.
As an extra precaution, Welcome Pickups drivers are cleaning their vehicles more frequently. They also carry two bottles of hand sanitiser (one for you and one for them). This helps to keep everyone safe when hand-washing isn't possible. If you have any concerns or questions, contact your airline or travel provider. Our customer services team is also here to help and available 24/7.


About Welcome
Founded in 2015 in Athens, Greece, Welcome Pickups goes above and beyond the commoditized transfer service. It was the first company to deliver a complete, in-destination travel experience.  From the moment a traveller arrives, until their return home, Welcome Pickups accommodates all their travel needs. We cover transfers, travel products, activities and information. All provided in the easiest, friendliest and most personalized way possible. Welcome Pickups is more than a highly customer-rated travel brand. It's the new standard for in-destination travel services. Don't take our word for it. Check out our excellent reviews in Reviews.io and Tripadvisor.
To date, Welcome has served over 1 million travellers in 53 destinations. Welcome Pickups has grown strongly and now employs a team of 100 people, mainly in Athens and Barcelona. Welcome is set to redefine the in-destination travel experience in more than 70 destinations in 2020.