The Architect Feud that Inspired the Piazza Navona
One thing Rome is famous for is its spectacular architecture. Every corner you turn, you're greeted with a breathtakingly beautiful fountain, statue, building or church. However, none have such a magnificently sordid past as the stunning Piazza Navona. This fantastic piece of Baroque art was surprisingly created from a foundation of jealousy, hatred and petty ego by the two architects Bernini and Borromini.
The two were as different as they come. Bernini was charming, well-spoken, from a wealthy family and always impressed with witty banter, even in the presence of the socially elite. On the other hand, Borromini possessed absolutely none of Bernini's charm. Borromini was brash, easily angered, a self-made architect, and suffered from what is now known as depression for most of his life.
However, it wasn't the differences in their personalities that sparked the creative war of Piazza Navona, it was something much more underhanded. Bernini and Borromini had been clashing professionally for many years. They reluctantly worked together in Saint Peter's Basilica, where Borromini began to feel disrespected and overshadowed by Bernini, even exclaiming. I don't mind that he has the money, but I do mind that he enjoys the honour of my labours."
Their feud was taken to an entirely new level in 1644 when Cardinal Giovanni Battista Pamphili was elected Pope Innocent X. Innocent decided to transform the bland space sitting in the centre of Rome into a grand plaza worthy of him and his prestigious family. As his visions for the Piazza Navona came to fruition, Innocent decided it needed a focal point, a central fountain incorporating a large Egyptian obelisk.
Innocent was a big fan of the modernistic work of Borromini, and so instantly chose him as the architect to extend the Acqua Vergine aqueduct for his fountain. Borromini also suggested that the fountain should have four specific sides, representing the four great rivers of the world; the Nile, Danube, Ganges and the Plata. Happy with this suggestion, Innocent asked Borromini and a handful of other architects to submit their designs for his new fountain.
However, in the end, and to the surprise of all of Rome, Innocent chose Bernini to design his fountain and Borromini to design the Church of Saint Agnes in Agone. Borromini was outraged that his ideas had been given to his rival, and so allegedly decided to make subtle changes to the church to poke fun at Bernini's fountain.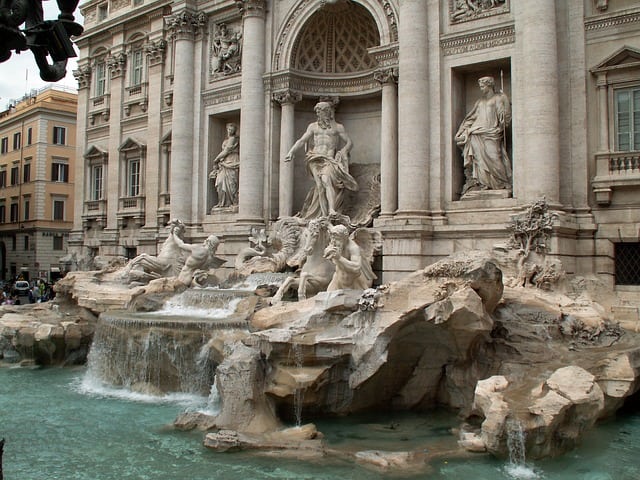 It's said that Bernini designed the figure Rio de la Plata with one raised hand to protect himself from the forthcoming fall of the church built by Borromini. There's also a myth that the Nile is hiding under a veil not because the source of the river is still unknown, but because he didn't want to gaze upon the strange design of Borromini's church.
Borromini is said to have combated these slights from his rival by adding a small statue of Saint Agnes to the base of the bell tower of the church. The statue stands with her hand over her heart, allegedly worried that Bernini's fountain will soon collapse as it was built with no soul, and isn't able to hold the weight of the great obelisk.
Proof that these two architects did, in fact, make these subtle designs to spite each other is still unfounded. But one thing that's very apparent is that this life long feud gave Bernini and Borromini the fire needed to complete some of their absolute best work.