Amongst the fun and food of your trip to Rome, you won't want to miss the final piece: fashion. Italians have been known for centuries as fashion icons. And with many of today's major brands toting Italian names, things haven't changed much. In Rome, people can be quite conservative and tend to judge people on the quality of their appearance. This attitude may be somewhat influenced by the abundance of fantastic boutiques dotted around. As such, there no reason not to look great whilst admiring the must-see historical sights. This article will explore some of the best areas for shopping in the city. Although fashion is important, we also cover many other things to choose from. 
A major site and attraction in its own right, Galleria Alberto Sordi is home to a number of big Italian brands. These include Boggi Milano, Braccialini, Coccinelle, Damiano Presta, Marina Militare, Massimo Dutti and Sartoria Rossi. Here, you can also find a number of national banks and the Italian department store La Rinascente. It is also home to the multi-floor book and music shop La Feltrinelli, which is a favourite for students. It is located on the Via del Corso within the Piazza Colonna. So named because it still retains the columns of Marcus Aurelius, within the square, to this day. The gallery also has frequent exhibition displays of art and cultural events.
In Galleria è bello stare anche con il naso all'insù! Ti aspettiamo in uno dei luoghi più affascinanti della città, per il tuo shopping nel cuore di Roma!#shopping #roma #gallerialbertosordi

Posted by Galleria Alberto Sordi on Tuesday, February 12, 2019
Hands down this is the most prominent shopping area of Rome: around the Spanish Steps. The major shopping artery is Via Condotti, the home to major international brands. However, it is the best place to join many other tourists. Stroll leisurely away from the Piazza Spagna and you can find brands such as Tiffany's, Bulgari, Jimmy Choo, Burberry, Louis Vuitton and Tods.
Parallel and adjacent to Via Condotti are other streets that you will not want to miss. Try Via Borgognona– with Gucci, Stella McCartney, COS and the Valentino flagship at its head. Via Delle Carrozze is the spot for brands of more than just fashion, like Diesel and Chanel. There are also those popular in Italy, such as Negozio de Borse Handbags, La Perla lingerie, Il Portone Roma and Martino Midali. The further you radiate out from Via Condotti, the more smaller and moderately priced shops you can find.
Try the locally branded shops that feature high end Italian innovative fashion, which can be found on Via Frattina. Names like Patrizia Pepe, Piquadro, Fausto Santini, Andrea Fabini and Elisabetta Franci are good starts. Also, Via Della Croce has many local sweet shops to savour (no guilt, you're on holiday). Venchi Cioccolato and Pompi Tiramisu produce truly mouthwatering artisan creations. On this street, they are alongside a variety of other shops like Gioielleria Vinage Antiques, Gioielleria Bonanno Watches and Vertecchi Stationary. There is an infinitum of shops to explore in this area. Yet, the major thoroughfares can be very busy and crowded. Whereas, the smaller streets are typically more calm and leisurely. As such, an enjoyable stroll will be more accessible in the smaller walkways.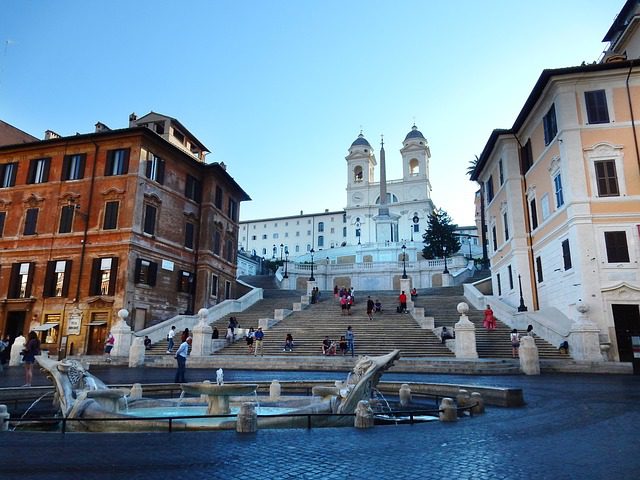 Shopping in Rome is such a pastime. As such, it is more pragmatic to plan to visit whole areas of the city, rather than specific streets. This is certainly true of the Monti region. It is an area of the city that still broadly reflects the charm of Roman antiquity. Situated to the East of the Piazza Venezia, it is extremely beautiful and tranquil. You can find all sorts of small gems of alternative and boho fashion shops, as well as cafes, bistros and street food. Via del Boschetto has laid claim to being the alt-fashion hallmark of the area. It is, however, in strong competition with neighbouring Via dei Serpenti and Via Urbana. Airbnb has taken off in the area as well, so you may find yourself staying close to this neighbourhood of buzzing youth culture.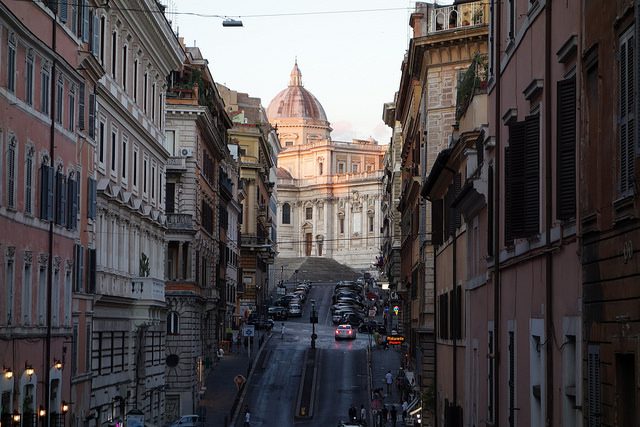 In and around the Piazza Navona is also a great spot to find some interesting and unique shops. At the south end of the square, behind the Brazilian Consulate, is the main shopping lane here. Via del Governo Vecchio is a long road, bursting chic modern design boutiques. There are also innovative, yet elegant jewellery shops and vintage stores, such as Cinzia Vestiti Usati and Mado. What was once the hottest destination for Rome's antique traders, Via dei Coronari, is now the spot for superb Italian fashion. One for the gentlemen out there, who may feel overwhelmed by all the options the ladies have. Strategic Business Unit on Via di San Pantaleo is the best place for modern urban style, as well as timeless classics.  
Being across the river, Trastevere is a little bit off the beaten track for many tourists. However, it is a popular area for shopping amongst locals. The famous Porta Portese market is in the district, where you can find absolutely anything. Homeware, second-hand clothes, books and antiques, they can all be found at relatively good prices. Put your haggling hat on and find yourself a bargain. Furthermore, in and around Trastevere, you can find art galleries and artisanal craft outlets for handmade crafts. There are also a number of quirky little cards and book shops. If your taste is for the small, local and artsy, don't miss the trip across the Tiber.