Barcelona is the second largest city in Spain, and is the country's largest tourist destination for city breaks. But, the first language of the locals is Catalan, as it is the capital city of the region of Catalonia. Catalan is therefore the language you will be most likely to hear when visiting.
Many people can get confused about which language to use when visiting Barcelona. Should they try the more widely spoken Spanish, or the more nuanced Catalan? Truthfully, you can learn and use either. Everyone educated in the Catalan school system learn Spanish, as well as English and French. However, the locals of Barcelona take pride in their cultural heritage, and so would very much appreciate anyone attempting to speak their language. Therefore, this language guide will help you with a few useful words and phrases in Catalan.
Greetings
Hola! – Hi!
Bon dia – Good morning
Bona tarda – Good afternoon
Bon vespre – Good evening
Bona nit – Good night
Molt de gust – Nice to meet you
Perdoni – Pardon/Excuse me
Adéu – Goodbye  
Benvingut/Benvinguda – Welcome (m/f)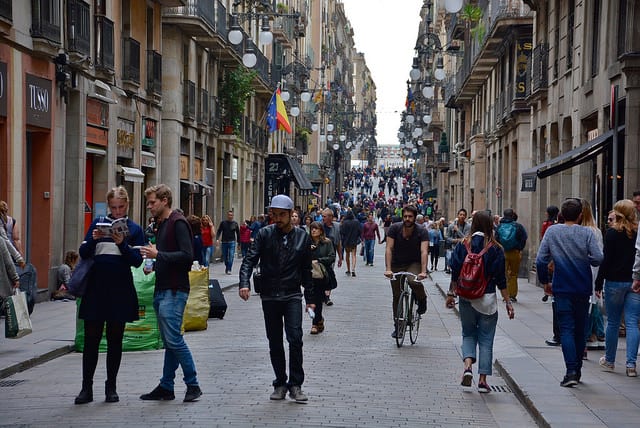 Conversation
Sí – Yes
No – No
Potser – Maybe
Com estàs? – How are you?
Molt bé, gràcies – Fine, thank you
Què passa? – How's it going?
Sisplau – Please
Gràcies/Mercès – Thank you
De res – You're welcome
Com et dius? – What is your name?
Em dic … – My name is …
Parla anglès? – Do you speak English?
No parlo (be) el català – I don't speak Catalan
No ho entenc – I don't understand
Parli més a poc a poc, sisplau – Speak more slowly, please
No sé – I don't know
Avui – Today
Demà – Tomorrow
Ahir – Yesterday
On vius? – Where do you live?
Visc a … – I live in …
Around and about
On és el lavabo? – Where is the toilet?
On és el metro? – Where is the metro?
Quina hora és? – What time is it?
Em pots ajudar? – Can you help me?
Quant val, aixo? – How much is this?
Et puc fer una pregunta? – May I ask you a question?
Una taula sisplau – A table please
El Menú – The menu
M'agradaria … – I would like …
Copa de vi – Glass of wine
Vi negre – Red wine
Vi blanc – White wine
Un got d'aigua – A glass of water
Estava deliciós! – That was delicious!
El compte sisplau – The bill please