Barcelona's only international commercial airport is El Prat, located 12 km southwest of the city centre. The airport has two terminals, with Terminal 1 being the main terminal and the newer development. Being the world's fifth largest terminal building, it serves both Schengen and non-Schengen destinations. It is split into 5 modules: A-E, and the older side is Terminal 2, consisting of T2A, T2B and T2C. This terminal largely supports budget airlines, although there are some other flights from here. The airport largely serves domestic European destinations, but also includes flights to North America, South America, the Middle East, East Asia and North Africa.
Arriving at the Airport
Arriving at Barcelona El Prat airport can be a very quick and easy affair. Arrivals are located at T1: La Plaza, T1: Air Corridor Madrid-Barcelona arrivals, T2A floor 0, T2B floor 0 and T2C floor 0. If you are arriving from a destination within the Schengen zone, you won't need to pass through passport control. If you are coming from outside the Schengen zone, you will be directed to immigration and passport control. Beyond there, you will find relevant luggage carousels, with 15 in the T1 building and 3 in T2.
If you're coming from outside the EU, you may need to declare certain items into the country. Declarations are based at each terminal. From Terminal 1, if you are arriving within the Schengen zone you will exit through the Sky Centre shopping area. There is a large range of products for purchase, as well as cafes and small bars. Otherwise, you can find smaller shopping zones in T2 and elsewhere in T1. In arrival zones there are a number of banks, ATM's and Caixa Bank desks to transfer your cash if you need to. If you are transferring through El-Prat, we have covered a layover in greater detail separately.
Departures from the Airport
The majority of departure traffic goes through T1, with its 258 check-in counters. A smaller amount depart from T2B and T2C. T2A does not operate departures. If you are coming without luggage you can either self-check-in online or use the self-service machines. These are located at both terminals. It is generally recommended to arrive 2 hours before scheduled departure for domestic and Schengen zone flights, or 3 hours before non-Schengen flights. Next, you'll pass through security and passport control.
Beyond security is a large shopping area where you'll be able to find a variety of shops. These include outlets of many of the popular brands found in the city centre. Also, there are duty-free shops and major fashion outlets. If you are hungry or fancy something to drink, you can also find many cafes, restaurants and bars. Furthermore, there are a number of delicatessen outlets to get last minute cheeses, hams and chorizo. The seating spaces around the boarding area and at the gate lounges are plentiful. There are a number of mobile charging stations and free wifi throughout. If you are departing from the EU, you can find VAT Guardia Civil refund stations at both T1 and T2.
Useful Information
Official Airport Website in English
City Centre Transfer and Back
Getting to and from the airport to your destination will be your next thought. To save you any stress and hassle, you will probably want to have that organised before you arrive. Here are some options to choose from.

Welcome Pickups
Your all in one solution comes from us here at Welcome Pickups. An airport transfer with us secures you a hand-picked, English speaking taxi driver, waiting with your name and your personal Welcome pack. Therefore, you can be certain you will get a head start on your journey in comfort and style. For the same legal fixed price of an ordinary taxi (€36), you will take a reliable ride, complete with wifi and refreshments. Your driver will point out sites you should not miss, all the way to your hotel door. For the easiest option, don't hesitate to let us serve you.
Metro
The airport terminals T1 and T2 are on the metro line L9 Sud, towards the Zona Universitaria. You can get a one-day T-dia ticket from the airport and you can use it on an unlimited number of journeys afterwards for the day. There are a number of other tickets and combinations to get for multiple passengers, which you can find out about alongside getting around.
Bus
The Aerobus is the common mode of bus transport from the airport to Plaça de Catalunya. There are the A1 and A2 from terminals 1 and 2 respectively. Tickets cost €5.90 for a single or €10.20 for a return per person. If you are travelling late at night, there are the N17 (for T1) and N16 (for T2) night buses to Plaça de Catalunya. Intercity travel buses can also be taken if you re travelling beyond Barcelona to another city. Names such as Hife, Mon-Bus, Alsa, Empresa Plana and Sarfa are present. Prices and destinations vary.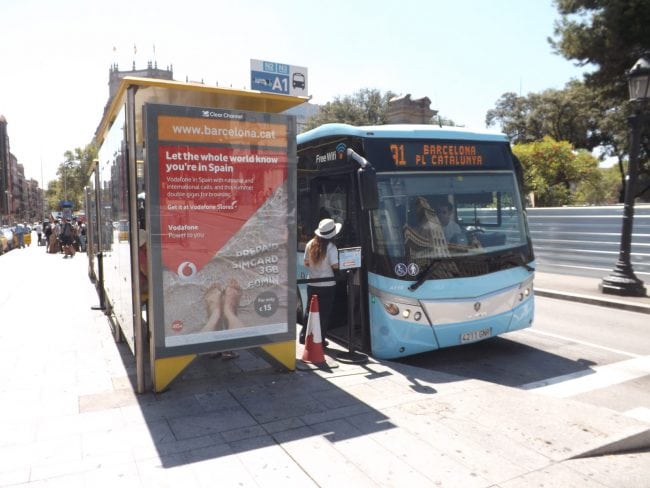 Train
The suburban R2 line from the airport northbound towards Barcelona Sants station, Passeig de Gràcia and towns north of the city itself. They are only 2 zones away so the train cost is €2.55 a trip. The airport has its own station off-site from the terminals. The train comes every 30 minutes with around a 30-minute journey to the city centre.
Hire Car
If you wish to hire a car for your stay in Catalonia, there are a number of companies offering hire services. There are also a large number of parking spots at the airport. Hertz, Europcar, Sixt, Avis and Enterprise Rent-A-Car are some of the common names available at the airport.