Over its 2,200 years, this spectacular city has seen many civilizations, which not only have been instrumental in its growth, but they have given Seville its unique and charming personality. The picturesque city of Sevilla has been built with an eclectic and inspiring mix of Roman, Moorish, Castilian, Renaissance and Mudéjar architecture making it one of the most historically unusual cities in Spain. With so much rich historical beauty, it can be hard to know where to start. That's why we've put together a list of the must-see historical sites in Seville.
Not only is the Royal Alcazar Palace one of Seville's most important attractions, but it's also one of the most stunning. This impressive architectural masterpiece was started in the 10th century by the Umayyads, and completed in the 12th century when the Almohad Dynasty attached their royal palace. Due to some spectacular renovations in the 19th century, the Royal Alcazar Palace is an impressive mix of Moorish, Renaissance and Mudéjar architecture, not found anywhere else in Spain. Wave to the Spanish royal family who still resides in the upper levels of the palace and marvel at the palm tree-lined gardens in the courtyard. For any architecture lover, this is easily one of the must-see historical sites in Sevilla.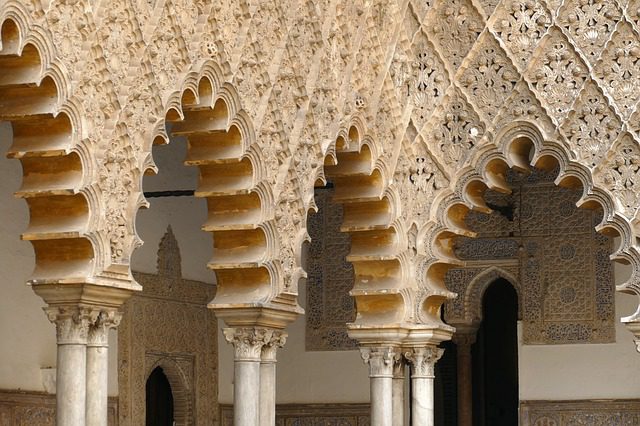 Possibly Seville's most famous historical landmark is the grand Giralda Bell Tower. This towering feature in the middle of the city is all that remains of Seville's great mosque, and it has since been made into the cathedral's bell tower. Originally, the minaret was proudly topped with two giant copper globes, quite a special sight in the 1300s. However, during an earthquake in 1365, the globes tumbled down into the streets of Seville. The conquistadors who ruled at that time then decided to top this large minaret with a Christian cross and a large bell, perhaps taking the destruction as a little nudge from God.
Since we've mentioned the impressive Giralda Bell Tower, it's only right to talk about the stunning architectural masterpiece that it's attached to. Without a shadow of a doubt, the Cathedral is one of Seville's top historical sites. This enormous structure contains 80 individual chapels, breathtaking stone flourishes, impressive relics, and countless historical artifacts. Once you step into this amazing cathedral, it's no surprise that Sevilla Cathedral is the largest in the world and has been named as a UNESCO World Heritage Site. Step back in time in the orange tree-lined courtyard, and be sure to get a photo inside the haunting tomb of Christopher Columbus. You can easily lose an entire day exploring this magnificent historical site in Sevilla.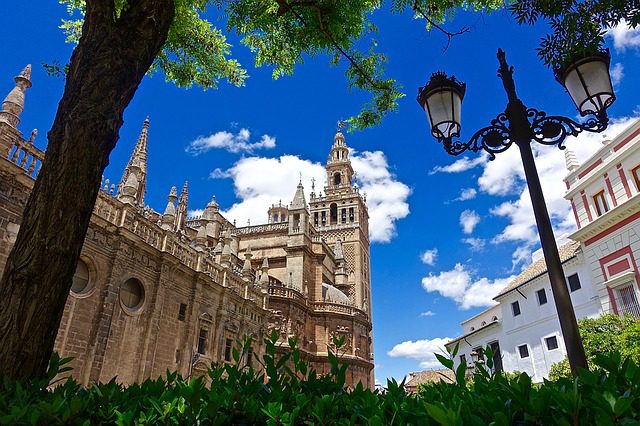 This picturesque 16th-century mansion is one of Seville's lesser-known historical sites, but with its spectacular gardens, that easily rival those of Alcázar Palace, it's one of the must-see historical places in Seville. This classic Mudéjar structure was built in the late 1400s by the extremely wealthy Mayor of Andalucia at the time, Pedro Enriquez de Quiñones. Designed around a stunning central courtyard, the sheer beauty of Casa de Pilatos has earned it a featuring role in two films, Lawrence of Arabia and Knight and Day.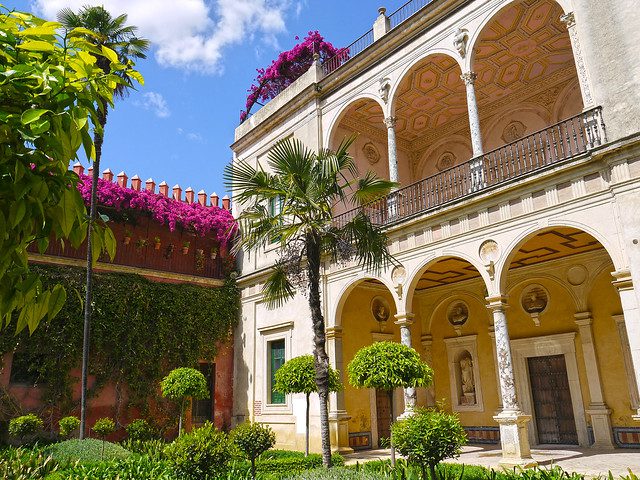 Whether you're a lover of Shakespeare, or simply a fan of love, the Romeo and Juliet Balcony is one of Seville's top historical sites for you. Down one of the many winding streets in the very heart of Seville, you will find a special alleyway, shaded from the hot afternoon sun. A stroll down Calle Agua will bring you to a surprising end… the ridiculously romantic Plaza Alfaro. Here, the mystery will end, as you see bustling tourists all pointing their cameras at one specific place, the balcony that is said to have been the inspiration behind Shakespeare's Romeo and Juliet. Whether you believe it or not, there's no mistaking the sheer beauty and romance behind this enchanting scene.