Mykonos is a gorgeous island of the Cyclades group, nestled in the open blue waters of the Aegean sea. All around the island are a number of stunning beaches, which total to over 25. Amongst them is a diverse range of setups for every type of person. There are family friendly beaches, party beaches, beaches for relaxing and wilder, secluded beaches. Mykonos has a reputation for being a windy island, so there are also many great opportunities for water sports at various beaches. Here we cover many of the best beaches and their relation to the main town of Mykonos, also known as Chora.
A great beach to start with, is the beach at Ornos Bay. It is a fairly calm beach which is well-organized, with plenty of sun loungers and parasols. It is also very family-friendly, so it's a good place to bring children. It can get quite busy, but there is plenty of room to relax and for the kids to play. It is surrounded by a number of tavernas and is only 3km south of Chora.
Another calm beach and also fairly well located is this one at Aghios Stefanos (Saint Stephen). Close by and extremely accessible from the New Port, this is also a very child-friendly beach. It is less organized than Ornos, but also less crowded. It is about 3km north of Chora and has stunning views across the sea to Delos island.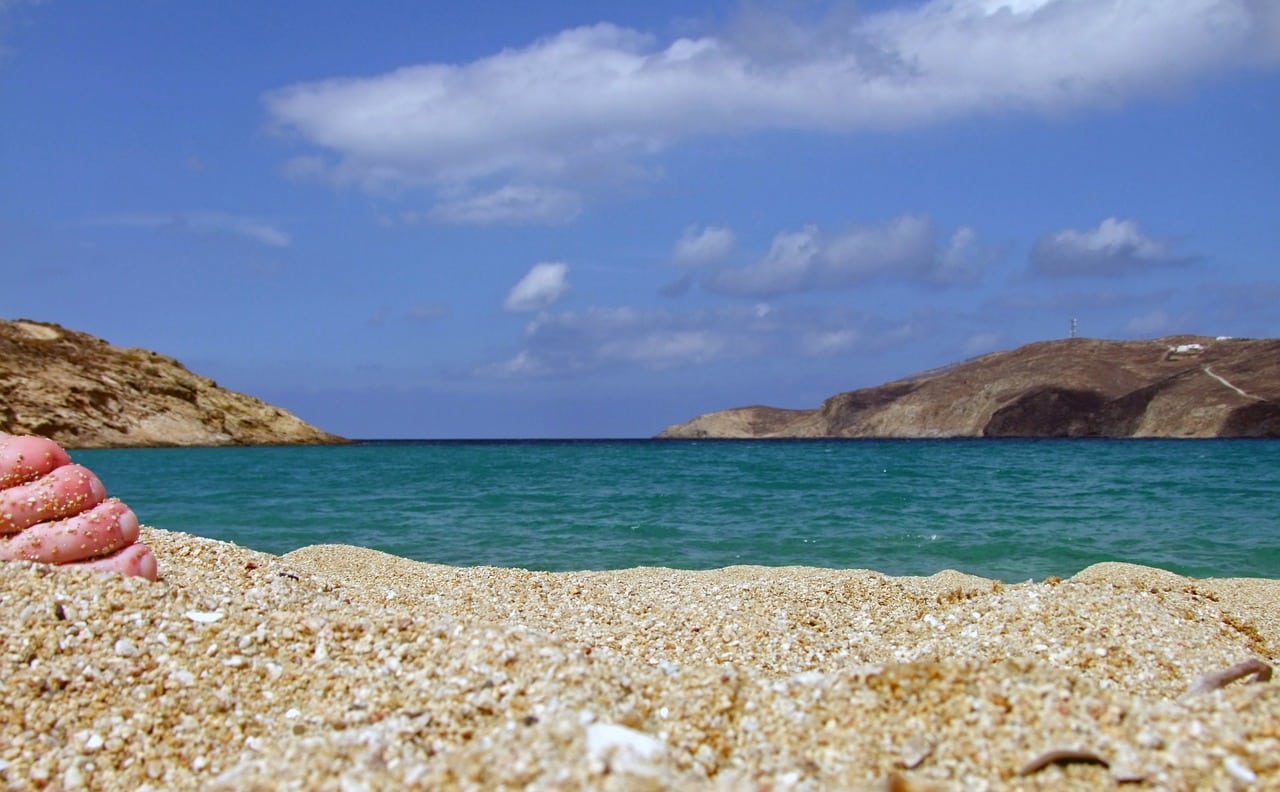 Just along the way from Ornos is one of the most famous beaches on the island, Platis Gialos. It is very developed here, with many sun loungers and umbrellas, restaurants, hotels and even a mini-market nearby. Here is where you can get the Water Taxis to one of the more difficult to reach beaches. It is located about 5km south of Chora.
Close to Platis Gialos is Paraga beach, another very famous beach on Mykonos island. It is a long stretching beach, with one side developed and bringing the party mode, whereas the other side is quite calm. It is overall a very busy beach and has plenty of places to eat and drink. A good choice for a beach club atmosphere.
This small beach between Platis Gialos and Paraga is a very quiet and relaxing beach to be on. It is organized, but not overstuffed with loungers and beach bars. It is another excellent place to bring children.
A much more secluded beach, 6km to the northeast of Chora is Panormos, an incredibly beautiful place which is not particularly crowded. It is, however, a little difficult to reach without your own transportation. Partially organized, the lounges can be very expensive, but there is plenty of space on the beach to bring your own umbrella and lounge out on the sand. It is also a nudism friendly beach.
Another well-known beach and for good reason, Elia is located about 11km southeast of Chora. It is the longest stretch of beach on the island and is well organized, with plenty of sun loungers. The water is incredibly clear and the view all around is fantastic.
A very attractive beach, it is well known for its water sports organization thanks to the decent level of wind that is present. It also has very fine sand and extremely clear water, making it a fairly family-friendly place as well. It is a semi-organized and a nice mellow place. It is located on the east side of the island, 12km east of Chora.  
A stunning bay that is in the clear, semi-circle dip at the north of the island, it is a very undeveloped beach and not one often visited by tourists. It is also an attractive place for people wanting to do windsurfing, due to its fair wind levels. Located very close to the site of Ancient Ftelia, so you could combine history and a great beach in one trip. It is just up from Ano Mera village and 10km east of Chora.
One of the best-known places for a party that goes on all throughout the day and night is Paradise Beach. There are beach bars which play music all day and serve drinks and food and turn into beachfront nightclubs at night. The beach is very crowded and has a lot of sun loungers and places to purchase refreshments. Perfect for young people looking for a party atmosphere. There is also a scuba diving club that can be found here. Located 6km southeast of Chora.
Another beach located just down the way from Paradise beach, with a very similar concept. There are 4 big bar/restaurants that own the beachfront and have many sun-loungers and facilities to keep you refreshed at the beach. There is loud music played all day and the area becomes a nightclub when the sun goes down. It is also very crowded and busy, although less organized than Paradise. There are some water sports you can do here.
One of the wilder beaches of the island because it is notoriously difficult to reach, Agrari beach is the opposite of Platis Gialos. The sand is rougher than other beaches and the water gets deep very quickly, making it unsuitable for children. There is also a nudist spot at one end of the beach, so it is a great place to remove any tan lines. Here you can find a gorgeous little chapel right on the beach. It is located 10km southeast of Chora.
Another secluded beach with no tourist facilities or buses going there, it is the definition of peaceful. It is also a fairly long way away from the crowds of the southern beaches. Therefore, it is a very calm and relaxing place to go, as well as having an absolutely fantastic taverna that will feel like a step back in time. One end of the beach is also nudist friendly. It can be found 13km east of Chora in the northeast corner of the island.