Santorini is a small island, with a few larger villages and a number of little villages scattered around. It has a diverse number of attractions, beaches and historical sights to be found across the whole island. The total area size is roughly 38 square km, and it is connected by a well-maintained road network for vehicles, as well as donkey/mule trails.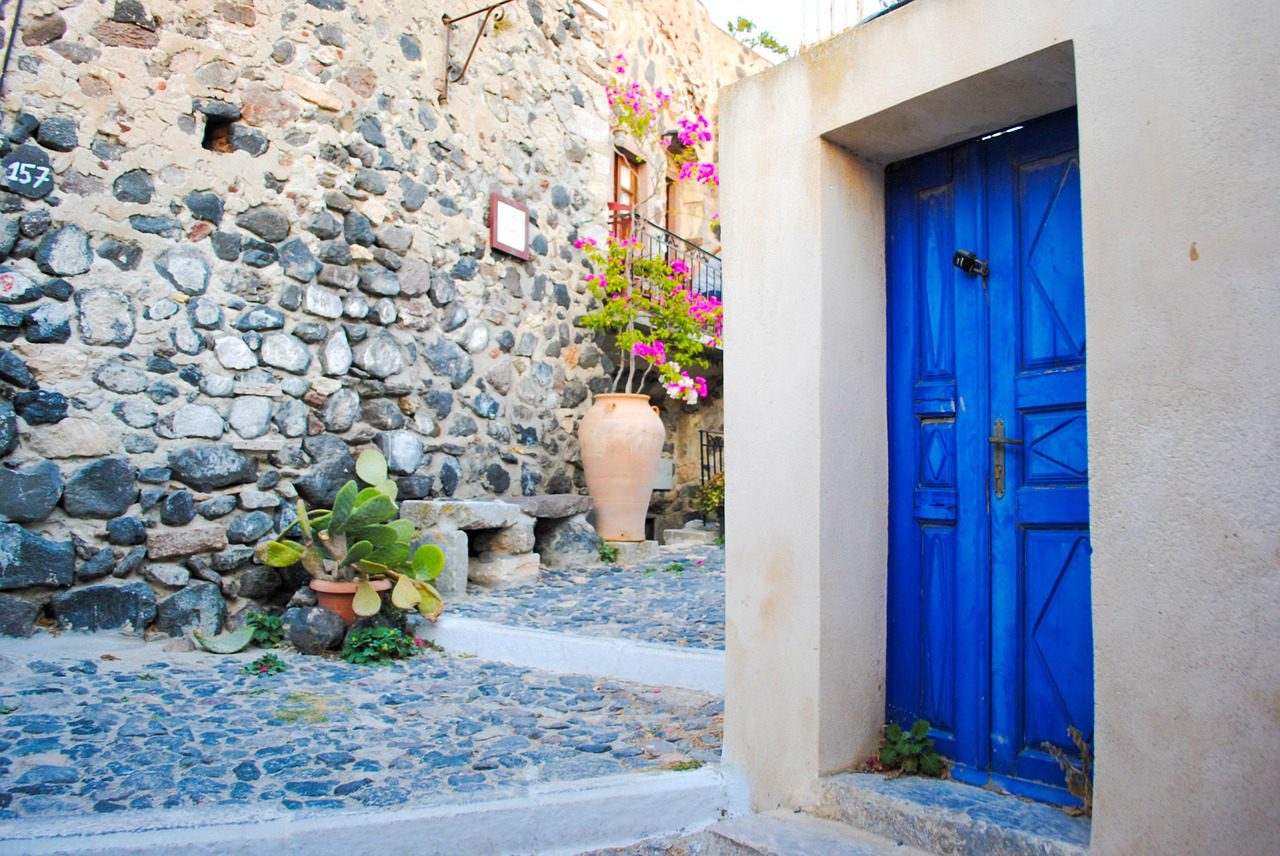 Santorini on Foot
Due to its long history of inhabitation, well before the common use of motorised vehicles, Santorini has many single trail paths that connect the major villages like Fira and other villages together. This can be one of the most fantastic ways to travel throughout Santorini, as you will always be rewarded with beautiful views and a spacious feeling that wouldn't be the same through a vehicle. If you wish to walk the island in the summertime, it is advisable to bring plenty of water, a hat and suntan lotion.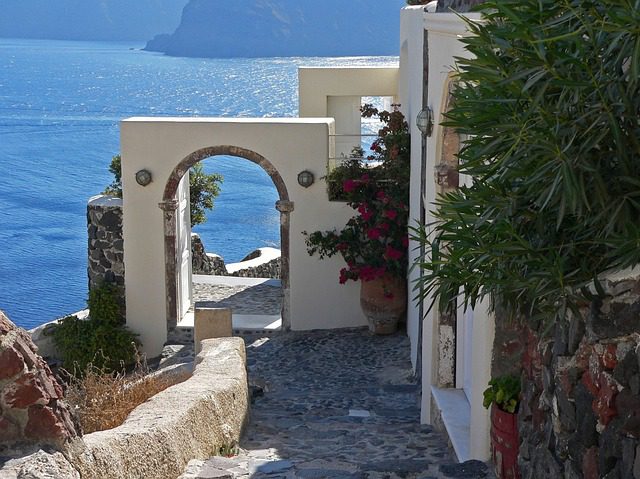 Traditional Donkey Walk
The time honoured tradition of getting around Greek islands is of course on the back of donkeys. In traditional weddings on the island, the bride is carried to and from the ceremony on a donkey back. It is possible to travel the whole island with donkey back tours, making use of the many rough trails that are only for use by donkeys. Views from the donkey trails are beautiful, featuring the sparkling blue waters and the verdant nature, local to the island.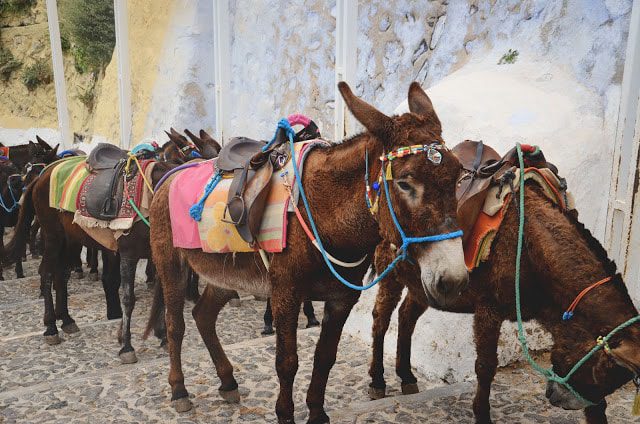 Taking the Bus 
There are many coaches operating throughout Santorini on a regular basis, with more frequent service during peak season. They are typically a to-and-from service to a specific destination (eg. Akrotiri) from Fira, the island's capital. The buses can be found at the central bus station, located just off the main square at Fira. It is likely that if you wish to travel from one place to another (eg. Akrotiri to Oia) you will need to take one bus to Fira, and then catch a second to Oia. There are now some routes that cover multiple destinations and make a round trip back to Fira. The routes can be found at bus stations and print-outs of the bus schedules can be obtained from the Santorini KTEL (local bus) website. Bus fares are €1.80-€2.50 per person and are only single journey trip for that one bus. They can be purchased on board from the driver or conductor. The bus service runs until midnight on weekdays.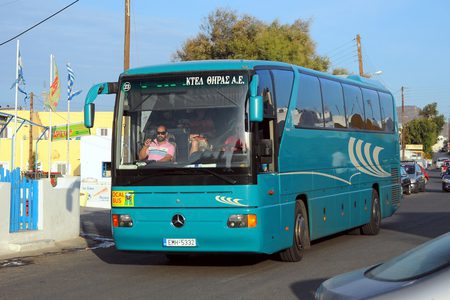 Car and Bike Hire
For a more flexible way to get around the island using vehicular transport, there are many companies offering car or motorbike hire. These can be found at Athinios port, as well as in Fira and other locations. Car hire typically begins from €25 a day in the lower season and can go up to €35 or higher per day during the summer season. Motorbikes can be lower. It is worth noting that if you're arriving in low season and there are not many customers, you may be able to get a deal on cheaper vehicle hire. You will need to have a valid EU driving licence or the necessary papers with your international licence to drive in Greece. Like the rest of Greece, Santorini drivers drive on the right-hand side of the road. Although the roads are in good condition generally, they can be a bit bumpy at times and have many sharp turns, particularly higher in the hills, so it's wise to drive carefully, particularly in the dark.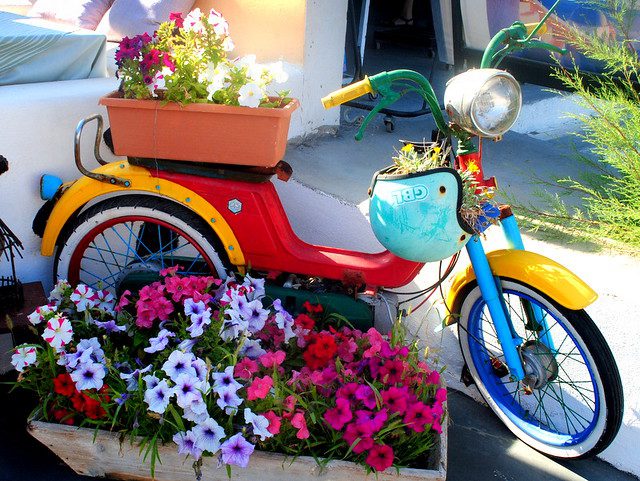 Taxi Option
Taxis are commonly available throughout Santorini, particularly within the larger villages like Fira or Oia (there's a dedicated taxi stand at Fira's main square). They are a very convenient and flexible way to be able to get to whichever destination on the island you need to. The cost will depend on the time of day/night and how far the distance is and can be anywhere from €4 to €25 euros. There are a number of taxi companies or applications that you can organise a taxi through if you can't find one.
Boats Daily Excursions
There are a number of daily excursion boats that take you from the ports to the volcano site, to the islet of Thirassia or to the location of the hot springs of the island. It is also possible to hire boats or take tours at the Caldera area with catamaran tours, giving you the chance to access some less visited area and explore some hidden secrets in the area where it is speculated to be located the lost city of Atlantis.