Santorini Airport
Santorini has one of the biggest airports of any of the islands in the Aegean- known by the code JTR- and therefore has a frequent service. Flights come to Santorini from domestic locations within Greece- such as Athens and Thessaloniki- as well as some charter flights across Europe in the higher season months of summer. If you're coming from outside the European Union, you'll likely come via Athens airport (as it is the largest international airport in the country) and transfer from there on to Santorini. 
Arrivals
Santorini airport is very small, and so it is not a complicated affair to make your way through. That being said, Santorini has seen exponential growth of foot traffic over the past 5 years, which is showing no signs of slowing down. There is a plan to expand the airport in size and capacity to meet demand, but until this is realized, there is a high chance of crowds, particularly when arriving at peak time during the high summer season. There is a single luggage carousel after having gone through passport control, so be aware another flight might take priority over yours. When arriving landside, you will find a few shops such as the Hellenic Duty-Free Shop and Connect Phone for any last minute accessories. You'll also find lost and found, first aid, a currency exchange kiosk and ATMs for cash withdrawal.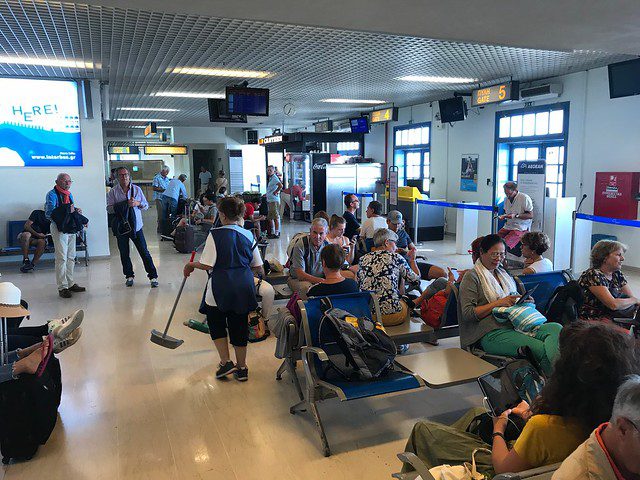 Departures
If you're departing from Santorini airport, it is worth factoring in plenty of time before your flight departs, particularly if you need to check in onboard luggage. The airport has a reputation for being quite slow and disorganized, and with high outdoor temperatures and many people in a small place, it can easily get hot and uncomfortable. Although new measures are on the way to expand the airport, they are not due to be finished until 2020. Until then, it is highly recommended to give yourself plenty of time to check in your luggage and pass through security. There is a wifi service and there are cafes on both landside and airside of departures. You'll also find Hellenic Duty Free once you've passed through security, with a range of perfumes, cosmetics and Greek gourmet treats to bring home. You can also check out the airport's complimentary magazine 'Grec14n'. There are only 5 gates currently used at one time, so once through security, it's easy to find your way.
Ports of Santorini
Undoubtedly, the most breathtaking way to travel to Santorini is via the open sea that surrounds it. Situated in the southern Aegean, you can choose to take the slower pace of 7-8 hours, admiring other Cycladic islands as you pass by, and bask in the warming sun on board. Alternatively, there are fast ferries that can speed through the waves like a gull wetting its feet, arriving into Santorini in 5 hours. It is likely that you will set sail from Piraeus port, the major port adjacent to Athens. Santorini's ports are also connected with other islands in the Cyclades, such as Naxos, Paros, Kos, Syros, and Ios, so you may arrive from there, too. 
Old Port- Skala Fira
Skala is the official name of the old port that is situated at the foot slopes of the town of Fira. This is the docking hub that has served the island and the many cruise vessels across the years and still continues to be the port that cruise ships come to. So if you're traveling to Santorini as part of a cruise, you will anchor at the old port, below the cliffs of Fira. Due to the size of modern cruise liners, however, the ships will not actually dock up at the port, but instead will set the anchor by the cliffs. You will be transported ashore by small 'tender' boats. It is important to be aware, that cruise ships carry many passengers and you could be waiting for some time before you get ashore. Furthermore, with up to 5 cruise ships arriving in a morning at peak season, you may find the port to be extremely crowded.
When you step on dry land, you'll be greeted by a promenade with a number of small cafes, taverns, souvenir shops, and boat rentals. For your ascent up, there are 3 options. The quickest and most convenient is to take the 'Teleferik' cable car up the cliff. It is a steep ascent but it takes less than 5 minutes, with excellent views of the sea and the cliff face headed up. Tickets can be purchased for €6 for adults and €3 for children. Alternatively, there are donkey rides up the donkey trail, which are traditional but take a lot longer. Tickets are €8 per person. And lastly, you can climb the 580 steps that follow the winding donkey road. Once you reach the top, you'll be able to rest and take a look at the beautiful views from the town of Fira.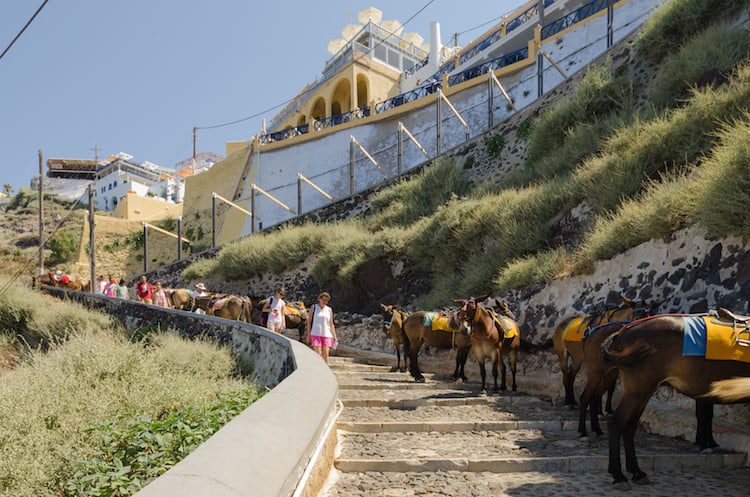 Athinios Port
The main port of Santorini, Athinios is where you will arrive if you take either a fast or regular pace ferry boat, from Piraeus port or from one of the other Cycladic islands connected with Santorini. It is located about 10 km from Fira, the capital of the island, as well as being well connected via small boat tours to the nearby islet, 'Therasia', and to the volcano site. Much like the port at Skala, this port is small and features a promenade with some cafes, mini markets, and travel agencies to help you with organizing your excursions. As this port is relatively remotely located, there are often a large number of taxis and coaches to transport you to Fira, to other villages, to popular beaches and other sights. Athinios is a small port with many ferry boats docking up, which can make it quite crowded to navigate.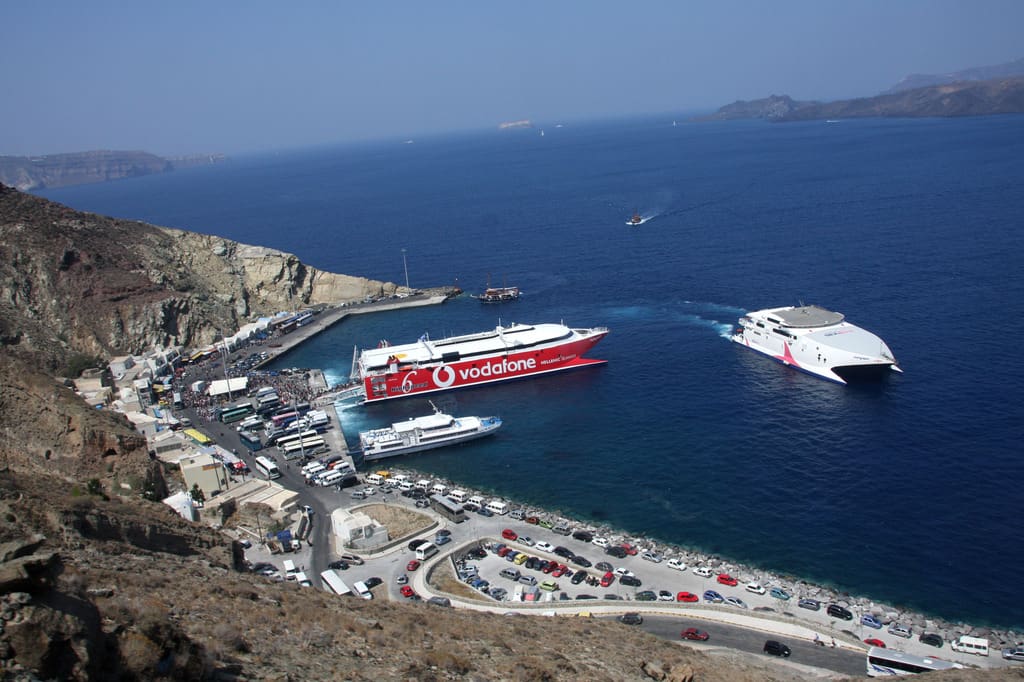 Reaching the Centre of Santorini
Welcome Pickups Transfer
Whether you're newly arriving into Santorini or visiting again, you're going to need to know how to get to your hotel or guesthouse. The airport is located in the southeast of the island centre, just north of the village Kamari. Welcome Pickups is here to help. By providing a handpicked, local taxi driver, we'll transfer you from the airport to your accommodation in style. Your driver will pick you up, bring you your Welcome pack (including your local sweets, map, cold water, and pre-booked essentials) and transport you with an air-conditioned taxi to your final destination. You will also get the insight of a local, as your driver will give you tips for the best way to enjoy your holiday to the full. And all this is at the same flat rate as an ordinary taxi.
Bus
After exiting from the arrivals there is a bus stop to the left which has a modern coach service, running from the airport to Fira, stopping at the villages of Karterados and Messaria on the way. Tickets cannot be pre-booked and must be bought from the driver in euro cash only. The journey time is roughly 20 minutes. Please note these buses won't run after midnight.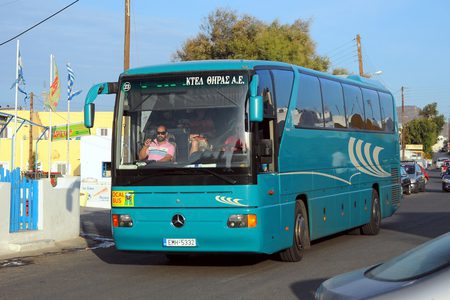 Hire a Car
Another popular transport method for tourists is to hire a car. This gives a great opportunity to travel and see the island by yourself. Prices and car styles start from budget hatchback rentals to larger minivans and even some stylish sports cars. Well, known companies such as Avis, Hertz, Thrifty, and Enterprise all operate from Santorini airport.