Ready for your flight to Milan? If so, let's go through a short and useful Milan airport guide which will introduce you to the 3 most visited airports in Milan and answer most of the questions a less experienced traveller might have. If you've booked your tickets already, we suggest taking a look at this Milan Airports guide as you'll find all the relevant information about transportation, shopping, layover at the airport, and all other services provided.
Malpensa airport, located 50 km from the city centre, is the largest in the metropolitan area of Milan. Every year it serves millions of passengers and in 2017 it was listed as the second busiest airport in the country (after Fiumicino in Rome). It has two terminals T1 and T2, the first serving most of the flights to and from Malpensa, and the latter one holding EasyJet budget flights. There is a frequent terminal shuttle which runs every 7 min in the daytime, and every 30 min starting from 22:45 pm to 05:00 am. To get from one terminal to another, you'll need about 15 min.
Getting From Malpensa to the City Centre
To get from Malpensa airport to the city centre, you can take either a taxi, a train or an airport shuttle. The price varies depending on your needs. A convenient 24/7 available Malpensa Taxi ride will cost 90€ and you will reach the city centre just in 50 min.
Another option is taking the Malpensa train which goes directly from Terminal 1 to Piazza Cardona or the Central Station. The price is 13€ one-way only, and you reach Piazza Cardona or the Central Station in 29 min or 52 min, respectively. The train departs every 30 min, starting at 05.26 am. The last train from Malpensa to Central Station leaves at 00.40 am.
Finally, you might consider reaching the central area with the Malpensa airport shuttle. It's a convenient option if you're leaving from the budget airlines terminal (T2) since you don't need to catch the terminal shuttle – you can go directly to the city centre. Airport shuttle runs approximately every 15 min, and the price of the one-way ticket varies from 8-10€.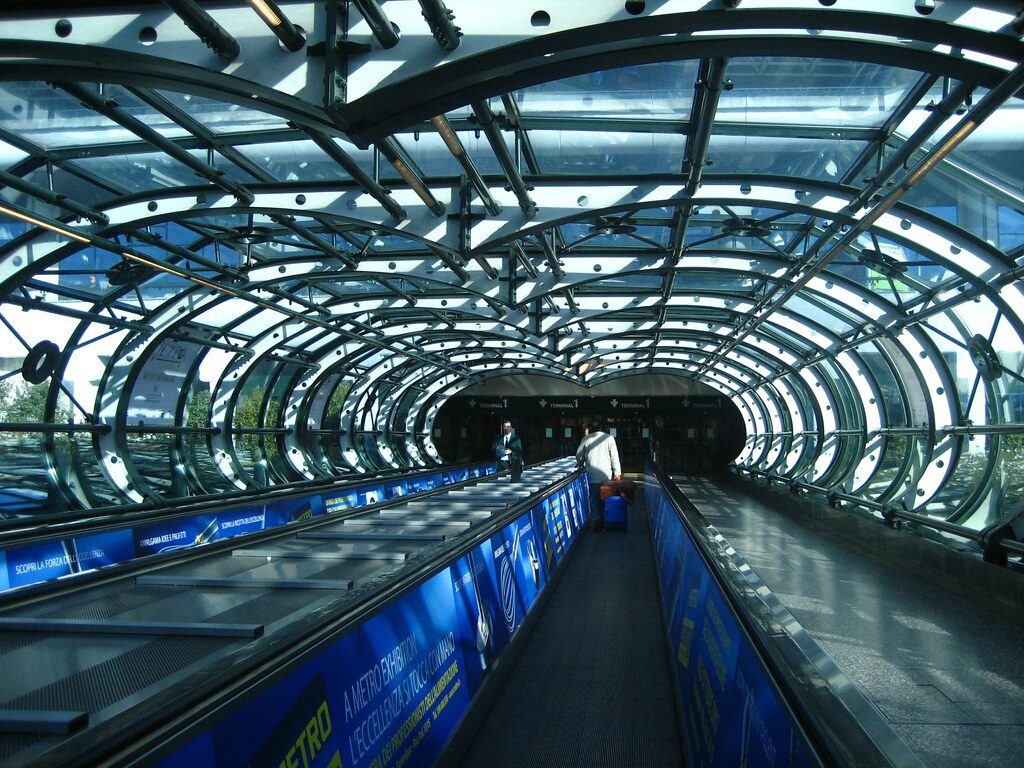 Shopping & Food
If you have more than enough time to wait at Malpensa airport, there's a variety of shops to visit. Many popular brands locate their shops at both terminals T1 and T2, even though you'd be more interested to start your shopping at the first one.
Terminal 1 divide the shopping areas in so-called piazzas. Even though Piazza del Lusso opened just recently, it already welcomes world-known luxury brands, such as Armani, Gucci, Hermes, etc. There are stylish places to have coffee when you need a break from shopping. You'd be surprised to see that Piazza del Lusso commercial gallery design resembles the famous Galleria Vittorio Emanuele, so there's no doubt that you'll feel the Milanese spirit right after you step out of your plane. Piazza del Pop is the second commercial gallery in Malpensa airport, focusing on fashion brands like Zara, Benetton or Bluespirit. Also, this area has a huge variety of restaurants, coffee shops, and snack bars, so you'll definitely find a place to taste Italian pizza or cannoli. If you're departing from terminal 1, a perfect place to wait for your departure is Piazza del Gusto. You will recognize it by Ferrari Spazio Bollicine refreshment point and Caffe Milano nearby. Venchi store, Briciole bar, a place to buy famous Italian chocolate Turin, and much more is also in the same shopping area.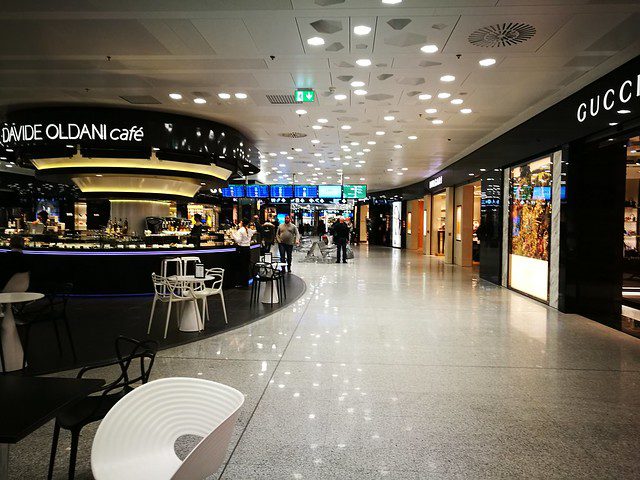 Layover at Malpensa Airport
Sometimes there's no other way but to spend a night at the airport. Great news! Malpensa airport allows staying at the airport during the night. Terminal 2 has a quite silent arrivals hall which travellers consider a good place to sleep. Terminal 1 is way busier during the night so you may find it difficult to fall asleep. Nonetheless, there are good-rated hotels near the airport where you can have a good rest before or after your flight. Malpensa airport also has VIP business lounges at Terminal 1 which are a perfect place to work or relax a few hours before the departure. Most of the lounges are open from 06:00 a.m. to 21:00 p.m.
Car Rental Options
Car rental services are available at both terminals of Malpensa airport. Terminal 1 offers a variety of options since more than 10 rental companies locate their point of rent there. Among the most famous brands, you will find AVIS, Budget, Hertz, Sixt, Gold Car, etc. Terminal 2 has less rental companies around. Still, you'll find the most popular ones, including AVIS, Budget, Europcar, SIXT, and Locauto Rent.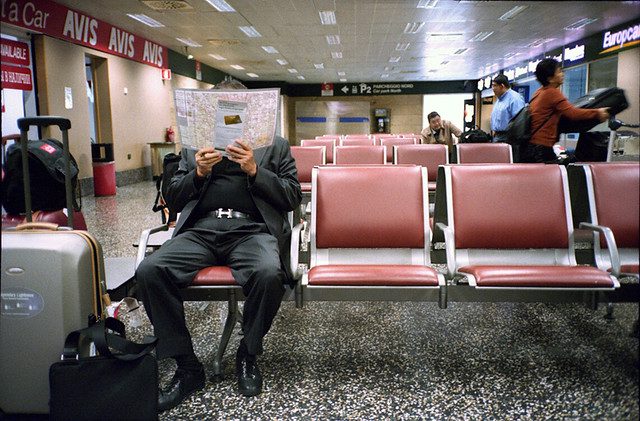 Luggage Services
There's nothing worse than carrying a heavy suitcase with you. To avoid this, Malpensa gives the option of leaving your bags at the airport. Luggage Storage is located at the arrivals hall B, terminal 1. It's open every day from 06:00 a.m. to 22:00 p.m. and the price for left luggage varies from 4.5-5€/day.
Probably the most convenient way to reach Milan by plane is via Linate Airport (LIN), located only 7 km away from the city centre. Linate airport, named after Enrico Forlanini, is the fifth busiest airport in Italy, serving around 9.5 million passengers per year. The airport was being built throughout the 20th century and now it's a three-floor terminal, serving domestic and international flights that come from the European Union. Most of the flights to Linate Airport come from the capital Rome and Southern Italy. Alitalia, domestic airlines in Italy, is by far surpasses foreign airlines that also operate in this airport.
Getting From Linate to the City Center
As soon as you step out of the plane, you need to come up with a plan on how to get from Linate Airport to the city centre of Milan. Unless you're travelling to other parts of the region, there are two main options to reach the centre of Milan, taxi and bus. The cheapest option to reach the city centre is by bus. You can choose between urban and private buses, the latter being more expensive.
Urban buses 73 and X73 will take you to San Babila metro station. The red metro line (M1) stops in San Babila, as well as other important parts of the city, such as the Duomo. The line 73 departs every 10 min, throughout the week while X73 runs every 20 min, excluding weekends. The price of the ticket is 1.5€. The first local bus leaves around 6 a.m. and the latest 12:40 p. If you see that urban buses are too crowded or the schedule doesn't fit, you might consider private buses, such as Starfly or Air Bus. For a one-way ticket, you'll pay 5€ and for a return ticket 9€. Buses run every 20-30 min and you'll reach the city centre in approximately 25 min. You can find the timetables on their official websites.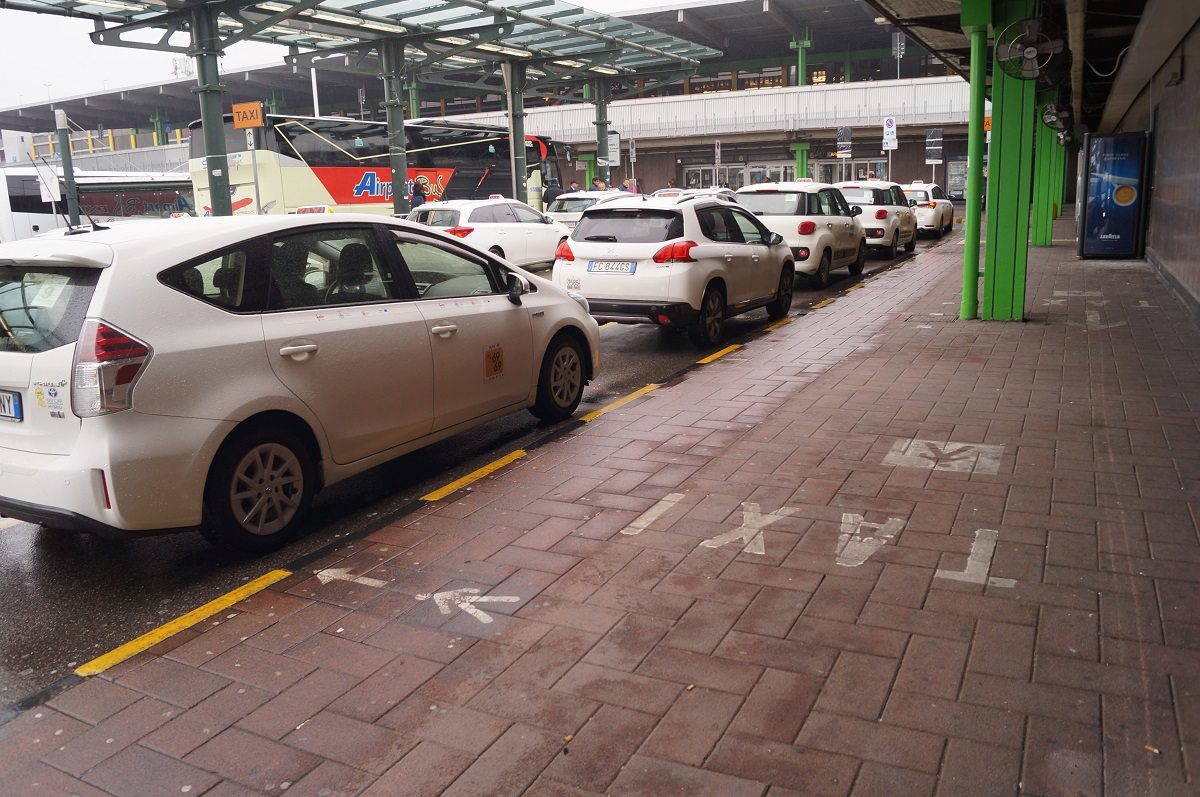 Travellers who are willing to pay more for comfort and convenience, taxi is an option. On average, it takes only 15 min to reach the city center, unless the traffic is really heavy. The price of the journey is around 40€ but you need to follow taximeter to know the actual cost. However, catching a taxi might be stressful, especially if the airport is very busy. Those who would like to avoid any possible worried should check Welcome airport transfer option. The English-speaking drivers will greet you at the airport with a welcoming gift bag, and answer all your questions about the city. Free high-speed Wi-Fi is also included in the fixed service fee, which is 45€.
Shopping & Food
Your boarding pass always reminds you to arrive at least 1.5 h before your departure. When you're done with the security check, there's nothing left but to stroll around the airport's shops or have a coffee break at one of the restaurants. At Linate airport, you'll find famous designer brands such as Burberry, Hugo Boss, Intimissimi, PINKO, and much more. If you like shopping for accessories, you might take a look at Swatch, or Victoria's Secret. Caffe' Milano, Motta, Moka' and many more coffee shops are waiting for sleepless, coffee loving travellers, while McDonald's, Pizza Chef, as well as more fancy restaurants like Michelangelo will be a perfect lunch stop.
Layover at Linate Airport 
Spending a night at the airport is not the best experience that you can have but sometimes there's no other choice. Linate Airport allows overnight sleeper in the check-in area but keep in mind that the terminal is old and the metal seats are far from comfort. If you have trouble falling asleep at the airport, use the free Wi-Fi connection which will help pass the time. For those who'd like a peaceful and comfortable place to relax, the VIP business lounges is a good option. Though the times might differ, most lounges are open from 06:00 a.m. to 22:00 p.m., so it's definitely possible to take a good rest before a sleepless night or long-haul flight. Business lounges offer high-speed Wi-Fi with no limits, real-time information about your flight and all possible delays, as well as buffer catering service and helpful staff.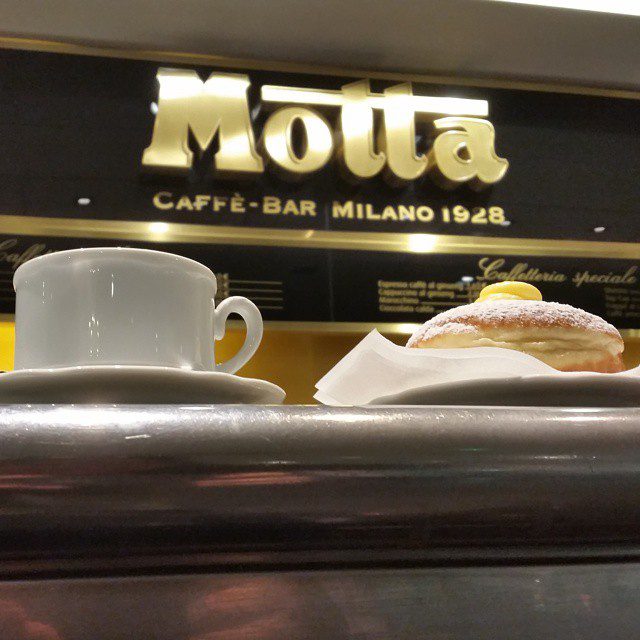 Renting a Car
Like at most airports, a variety of car rental options are available at Linate Airport. Among the most famous names, you'll find Hertz, AVIS, SIXT, Goldcar, Budget, etc. Their offices are located in the arrivals hall.
Luggage Service
Carrying heavy luggage can feel like torture, so it's good that you can leave all your bags at Left Luggage Storage. It's located on the first floor, in the public hall near the arrivals area. The service is open daily from 6:30 a.m. to 9:30 p.m. They charge from 4.5-5€ for one piece of luggage, depending on the size.
Flying can get really cheap, especially if you're travelling with budget airlines that operate in smaller airports, located further from the large city. Surely, such airports are not so fancy but it doesn't mean they fail to attract people. Orio al Serio International Airport in Milan, actually, is quite the opposite – every year it serves around 11 million passengers! Orio al Serio International Airport can sound unfamiliar – it's because a lot of travellers (and even several airlines!) call it Milan or Bergamo airport, though it's not a part of the official naming. Orio al Serio is located 45 km northeast of Milan and less than 4 km from the city of Bergamo, and both of them are easily accessed by bus, taxi, or car.
The airport has only one passenger terminal and despite being the smallest out of three airports around Milan, it's the third busiest in the country. Many travellers come in Orio al Serio with domestic flights but those don't' surpass the number of passengers from London. Every year the number of flights from the capital of the UK increases – last year it was more than 400 000 passengers. Don't get surprised if you see Ryanair planes all around the place. Other budget airlines, such as Wizzair also operate in Orio al Serio but Ryanair uses it as one of their hubs which means that you can choose from a vast number of destinations all over Europe.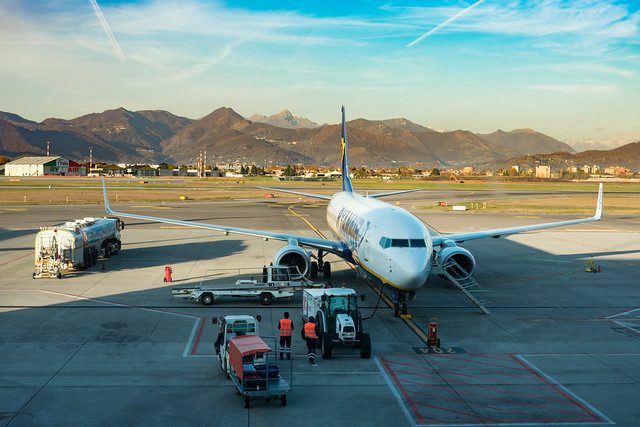 Getting From Bergamo Airport to the City Center
If you're travelling with a group of friends, family or have no time to wait for the bus, the fastest and the most convenient way to get from Orio al Serio Airport to the city centre of Milan is taking a Welcome taxi. There's no fixed fee for this 50 min journey, but it usually ranges from 85-100€. Welcome Pickups offers an extraordinary chance to book a high-quality taxi service online. If you book in advance, you don't need to look for a taxi in a busy airport, you may get a better price, and avoid any possible stress. Welcome service is not only convenient but also highly customer-oriented. The English-speaking driver greets you at the airport with a welcoming gift bag and shares his/her local knowledge about Milan with you. Besides that, free high-speed Wi-Fi is provided in the car.
The cheapest alternative to reach the city centre of Milan is taking a Terravision Bus – it's a company providing airport-city transfers all over the country. The price for a single ticket is 5€ while a return ticket costs 9€. Since the traffic at Bergamo Airport is really heavy, it's recommended to book your tickets in advance. The buses depart every 20-30 min, from 4 a.m. to 1 a.m. and the journey lasts approximately 1 hour. There is a third option to reach the city of Milan, though the most complicated. You can take a bus from Orio al Serio Airport to Bergamo city and from there a train to Milan.
Shopping & Food
Bergamo Airport is quite small, so the selection of shops and cafes, compared to Malpensa or Linate airports is moderate. Still, you'll find great duty-free shopping areas with all kinds of perfume and cosmetics, typical Italian food, wine, souvenirs, and much more. There are 8 bars/cafes/restaurants to have a lunch break. Agropromo Bergamo offers a traditional North-Italian cuisine and Juice Bar is waiting for those who want something refreshing, like smoothies, fresh yoghurt, light breakfast, etc.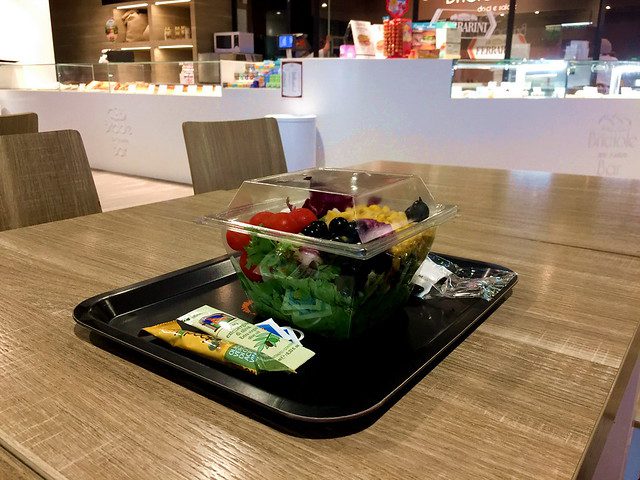 Hardcore shoppers should not get disappointed if their plane departs from Orio al Serio Airport. Just across the highway, in front of the airport, is one of the largest shopping centres in Italy, the OrioCenter. With more than 200 shops, cinema theatre, and a variety of food courts, even the pickiest customer will find all he/she needs. The shopping centre is open every day from 09:00 a.m. to 23:00 p.m., except for Saturdays – from 09:00 a.m. to 01:00 a.m. 
Layover at the Airport
If you don't have an option but to spend a night at the airport, it's possible to sleep at Orio al Serio. The airport is crowded during the night so it might be difficult to find a comfortable and quiet spot. You will see many people sleeping on the chairs as well as on the ground but keep in mind that there are some areas where you can't lay your sleeping bag (if you have one). You will always be disturbed by the cleaning ladies and security staff so it can be really hard to have uninterrupted sleep, especially if you're not a heavy sleeper.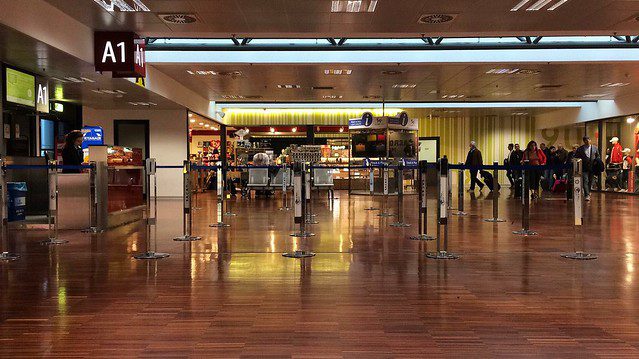 Car Rental Options
Leaving the airport in a car is very convenient. If you don't have your own, you can rent one at Orio al Serio Airport. In the arrivals area, you will see the Tourist Information Center where you can ask about car rental options or you can go straight to the AVIS office, on the right of the centre. Other famous brands, such as Europcar, Firefly, SIXT, etc. also rent cars at the airport. Most of them can be found outside the airport.
Left Luggage & Other
Sometimes you just need to leave heavy bags at the airport. You'll find a left luggage service at Bergamo Airport located in the arrivals area, near the Terminal parking entrance. It's open every day, from 08:00 a.m. to 23:45 p.m.