General Tips When Travelling on a Budget
Travelling to world-famous cities such as Milan can get really expensive, especially on a high-season. However, there's always a possibility to save some money, especially if you're willing to give up some extras and carefully track your spending during the trip. For those who are ready for some penny-pinching, we introduce a few tips that might be useful when planning a budget trip to Milan.
Choose Travel Dates Wisely
The first thing to start with is the purchase of flight tickets. Even though there are other ways to reach Milan, flying is usually the fastest and the cheapest option. It's always good to know the duration of the high season because flight tickets are way more expensive then. Milan faces heavy traffic of tourists from June to August, so, if it's possible, try to plan your Italian holidays before or after the summer. Also, we recommend flying to Orio Al Serio (Bergamo) Airport which hosts popular budget airlines such as Ryanair or Wizz Air. If you have enough time, look for flight deals at least one month before the trip and if this option doesn't work for you, check the last minute offers.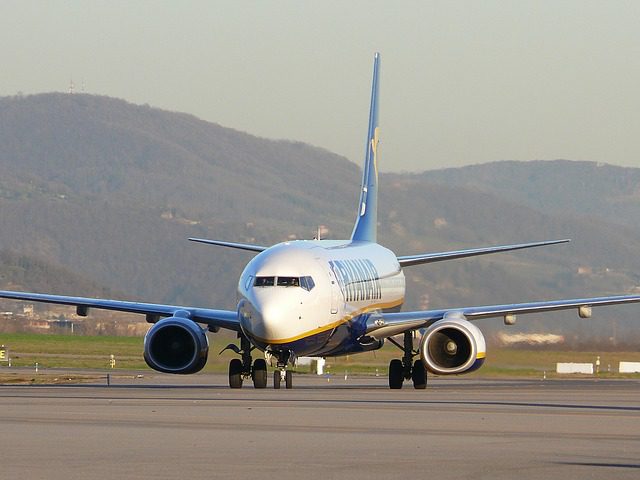 Don't Spend Too Much on Accommodation
Some of us can spend hundreds or even thousands of dollars on accommodation, but for budget travellers, it's a must to find a cheaper place to stay. In the end, for most people travelling is not about fancy hotels but more about experiencing local culture, tasting delicious food and seeing as much of the city as possible. If your philosophy is the same, look for a hotel or apartment that is located further from the main touristic attractions, i.e. Sforza Castle or Duomo di Milano. The prices should go down at least by 10-15 dollars per night if you don't mind changing location.
Also, did you know that there's a chance to get accommodation for free almost anywhere in the world, including Milan? Sounds unreal, but it's actually true, thanks to the Couchsurfing platform. It connects people across the planet who are interested in meeting travellers, sharing their own experiences or listening to their stories. All you need to do is to create an account and start looking for a host. You can apply filters based on your preferences, needs, and interests, so you feel more comfortable during the stay. Hosts will offer different options, a shared bed, a private room, and sometimes if they're busy, even the keys from the apartment. In addition, you will get local tips which will help you find the best aperitivo bar, top-rated pizzeria, and many more great places in the neighbourhood. For those people who don't admire the idea of sharing an apartment with someone else, Airbnb or Booking.com could be helpful while looking for the best place to stay. It's always possible to find great deals on both of these platforms – just set the optimal price range and book as early as possible.
Public Transport It Is…
Of course, the cheapest option to get around the city is by foot, though sometimes it can eat up too much of your energy and time. In this case, it's more convenient to switch to public transport. Transport network in Milan is well developed, so you'll be able to access almost any place both inside and outside the city centre. The best way to see the main attractions of the city is to take bus line 94. Single 90 min ticket costs just €1.5.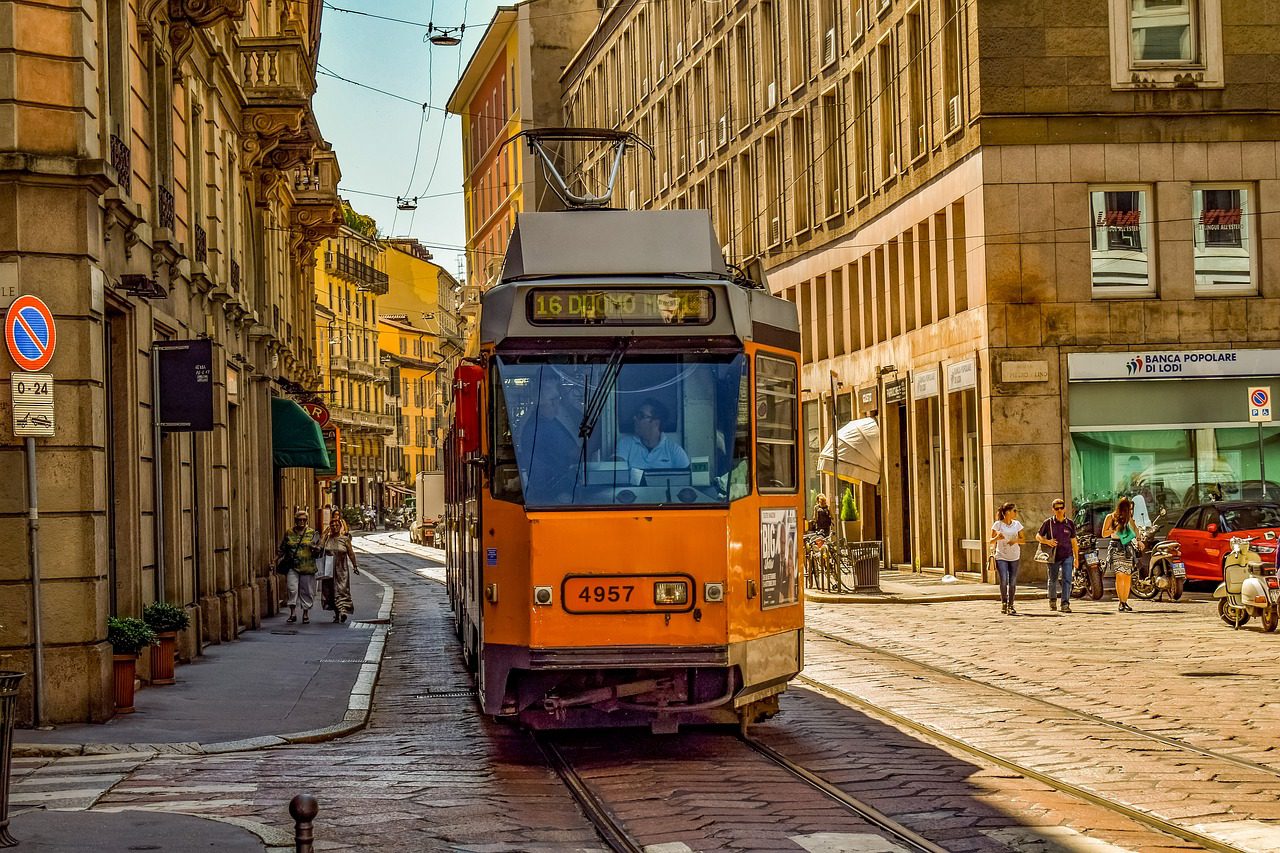 Avoid Fancy Restaurants
Who doesn't love pasta, pizza, gelato, cannoli, or any other food-masterpieces originating from Italy? If you're as much an Italian cuisine fan as we are, you should know that Milan has many great places to eat which won't hurt your wallet. As simple as it may sound, to have a good meal at a reasonable price, you need to avoid fancy polished restaurants and cafeterias, especially those that persistently ask you to come in. Milan is full of touristic places that usually don't deliver the quality one would expect. For pizza lovers, we recommend Piz or Pizzium Via Procaccini in Milan. The interior is simple and clean, so all of your attention is focused on food.
11.2.2019NUOVO MENU..Dopo due anni Pizzium si veste di nuovo. Un menu con tante novità, ma tranquilli le pizze cult…

Posted by PIZZIUM on Sunday, February 10, 2019
If you have a sweet tooth, take a look at local bakeries. Usually, they have mouth-watering Italian pastries or savoury snacks with a price range of €2-4. For those who want to cut their expenses, even more, we suggest buying fresh Italian bread in the local market and some toppings, i.e. prosciutto ham/cheese/tomatoes, etc. You won't spend more than €2.
Drink Aperitivo
Every local knows that aperitivo is the best way to start a night out in Milan. It's also the cheapest option to have an alcoholic drink, complemented with a small snack. Usually, the so-called 'Italian happy hour' lasts from 19:00 p.m. to 21:00 p.m. and during that interval aperitivo costs about €10.
Currency in Italy
Italy is one of the founding states of the European Union, so it's no surprise that she was among the first to join the Eurozone. Since 1999 the official currency in Italy is the euro, which facilitates the exchange processes for travellers of EU member states with the same monetary unit. Of course, it's not the case for everyone. Those who are coming from countries with a different currency, an exchange is a must. Though you can pay by card in most of the stores, cafes, and restaurants, it's always good to have some cash for shopping in the local market, paying for a taxi or leaving a tip for a waitress.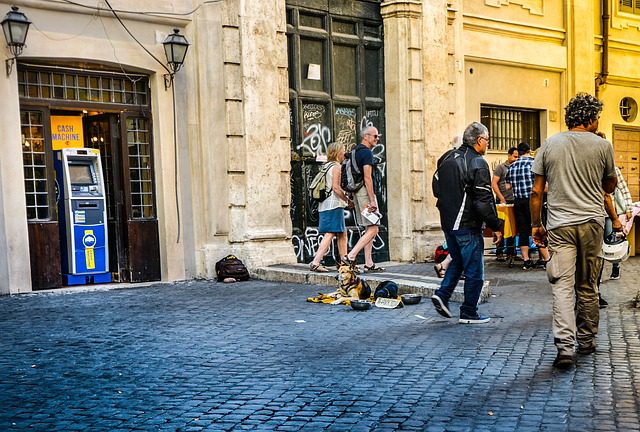 Exchange Offices
It's always better to exchange the national currency to the euro at home because buying it at exchange offices in Milan, as well as in other Italian cities, is more expensive. Exchange services can cost even more than expected at the airport, city centre, central station, and all other the places with a high flow of tourists. However, if it's a must, you might look at AFEX or Ria Money Transfer&Currency Exchange offices which are rated as the best in Milan. Keep in mind, that it's good to check the exchange rates of different companies online before buying foreign currency.
Still, the easiest and fastest alternative to exchange money at the best possible rate is an ATM. Milan is a large city so it won't be a problem to find an ATM. You'll recognize Euronet ATMs by dark blue and yellow colours. It's easy to notice UniCredit ATM in Milan, framed in bright red. The price of exchange depends on the credit card you have and your deal with the bank. Usually, a specific exchange fee is applied.
Avoiding Exchange Fees
To avoid any currency conversion charges you should consider registering for a Revolut debit card. One of the fastest growing financial services start-ups in Europe, Revolut offers its customers free transactions, wireless payments, online shopping, hotel booking, free ATM withdrawals of up to €200, and zero percent currency conversion charges up to €5000. What's even more convenient, Revolut users can use their mobile application to monitor monthly expenses and buy travel insurance.
Mobile networks
As you probably know, Italy, like other European Union countries, doesn't apply roaming charges for international calls and texts. It means that communication via mobile will cost you the same as inter-Europe calls and texts at home. Depending on your mobile plan, you can even use mobile data up to some limit for free or for a very low price per megabyte. If you're staying in Milan for a longer period of time, you'll end up paying less by switching to the local mobile networks. All you need to do is to buy a sim card in one of the shopping centres or kiosks, you'll definitely find those in Milano Centrale or next to the Duomo, and you'll get free calls, texts, and mobile data. It's surely one of the most useful things in a foreign country (imagine if you need to find a superb place to eat and there's no Wi-Fi available around). The most popular mobile operators in Italy are Vodafone, Wind, and Tim. For example, prepaid Vodafone SIM card for 15€ will give you 400 min of free calls, 100 SMS and 2 GB of mobile data.