Τhe Βest Places in Navigli – from cocktail bars to late-night food restaurants
We all know how fascinating the city of Milan is. Full of attractions and magnificent architectural masterpieces, it's also a perfect place to get your hair loose and party all night long. One of the best districts for a night out in Milan is the Navigli district, located in the southern part of the city. Having a variety of excellent cocktail bars, clubs, and much more, it falls among the most popular areas οf Milan and is favoured not only by locals but also by travellers from all over the world. The Navigli is framed by two canals – Naviglio Grande and Naviglio Pavese. When the sun goes down, you can take a romantic stroll along Naviglio Grande and admire the reflections of illuminated Milan, but… as soon as the clock strikes the aperitivo hour, the late night adventures begin!
Unforgettable Cocktails
If you see people crowding in Via Angelo Fumagalli street, you should know they're coming for drinks at Rita&Coctails bar. Listed among the top 10 Italian cocktail bars, Rita&Cocktails surprises everyone with high-quality drinks, made from only natural and fresh ingredients, thoughtfully selected whiskey, gin, rum, etc. This place is a reliable pick which will never leave you disappointed. Taste the miraculous Gin Zen to make sure. The bar is opened every day from 17:00 p.m. to 02:00 a.m.
Opened in 2013, the UGO cocktail bar attracts hundreds of people every week. Perfectionist bartenders will introduce you to the rich cocktails' menu and will treat you like a VIP. The vintage interior creates a cozy retro atmosphere which is highly admired by UGO guests. Locals say that you can't go wrong with any of their cocktails. Open every day from 18:00 p.m. to 02:00 a.m., except Mondays.
Dance & Music
Nidaba is a theatre with a history and a unique style. Opened in the late '20s, it's a home for great live music shows. Various local and international artists come to Nidaba to play jazz, blues, folk, and soul rhythms, keeping the old-styles alive in the overwhelming pop-culture. The theatre is a top-attraction for both locals and tourists who praise not only the atmosphere but also good drinks and friendly prices. Open from Tuesday to Saturday, from 21:00 p.m. to 02:00 a.m.
Opened in 2013, Bobino is a trendy club based in a modern and spacious building on Naviglio Grande street. The classy dark-coloured interior and leather furniture give a luxurious feeling right upon entering the nightclub. Besides great dance music and the charming public, the disco bar is ready to surprise you with superb food selection and drinks. Keep in mind, that a lounge-like palm garden is open from May to September. Bobino Club is open four days a week, from Thursday to Saturday, from 19:00 p.m. to 03:00 a.m.
Late-night food
There's nothing better after a good party than having a portion of delicious fries. For those who like to stay up late, Amsterdam Chips offers a late-night food break. Serving good quality, Belgian style fried potatoes, it's one of the most popular places in Navigli. The price for a small portion with the sauce of your choice is 3€ but you can also choose special deals like potatoes and nuggets for 8€. The place is open every day from 00:00 a.m. to 02:00 a.m.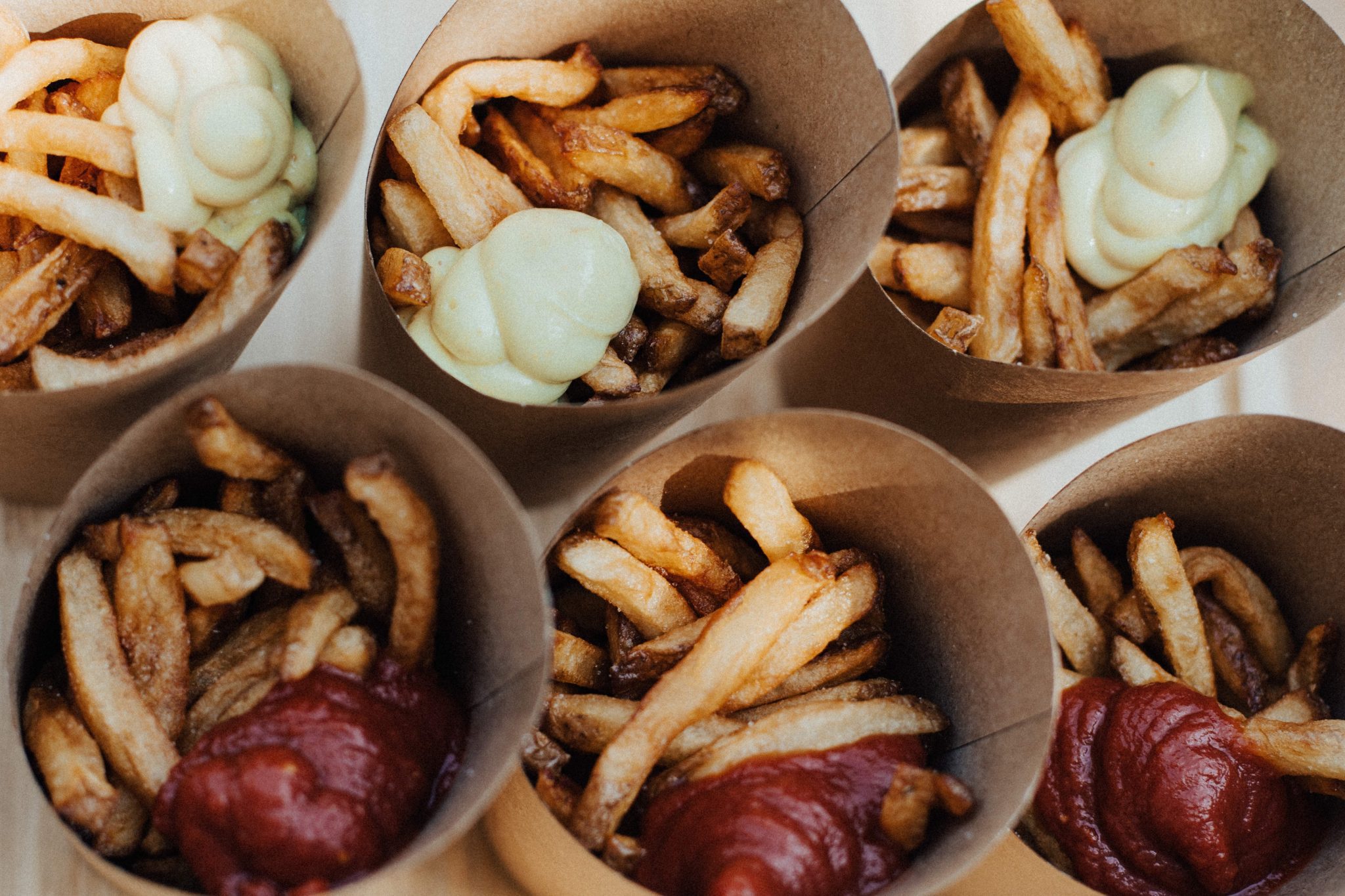 If you feel like starving late in the evening, don't worry, Flower Burger will make your stomach blossom! Though this place closes a bit earlier, it's definitely one of the best burger restaurants in the area. Flower Burger serves home-made vegetarian burgers with excellent oven-baked potatoes. Try Classic Cecio burger with chickpeas and barley patty or Cherry Bomb with lentil patty. A cool thing is that buns of the burgers are coloured with natural ingredients, (such as beetroot or parsley) so you can have a pink or even green burger! And don't bother if you're not vegetarian – the staff will recommend you something that tastes as good as juicy beef. Open every day from 12:30 pm to 15:30 p.m. and 19:00 pm to 23:00 p.m.