Where to Enjoy the Amazing Nightlife of Kuala Lumpur
Although Malaysia is a predominantly Muslim country, their fascination with global trends has given way to a vibrant nightlife. Once the sun sets over Kuala Lumpur, the streets come alive with modern speakeasies, sleek cocktail bars, live music venues, rocking nightclubs and spectacular rooftop bars. Whether you want to dance the night away, enjoy a cocktail under the stars or watch the city lights twinkle below you, we have it all in this ultimate guide to Kuala Lumpur nightlife.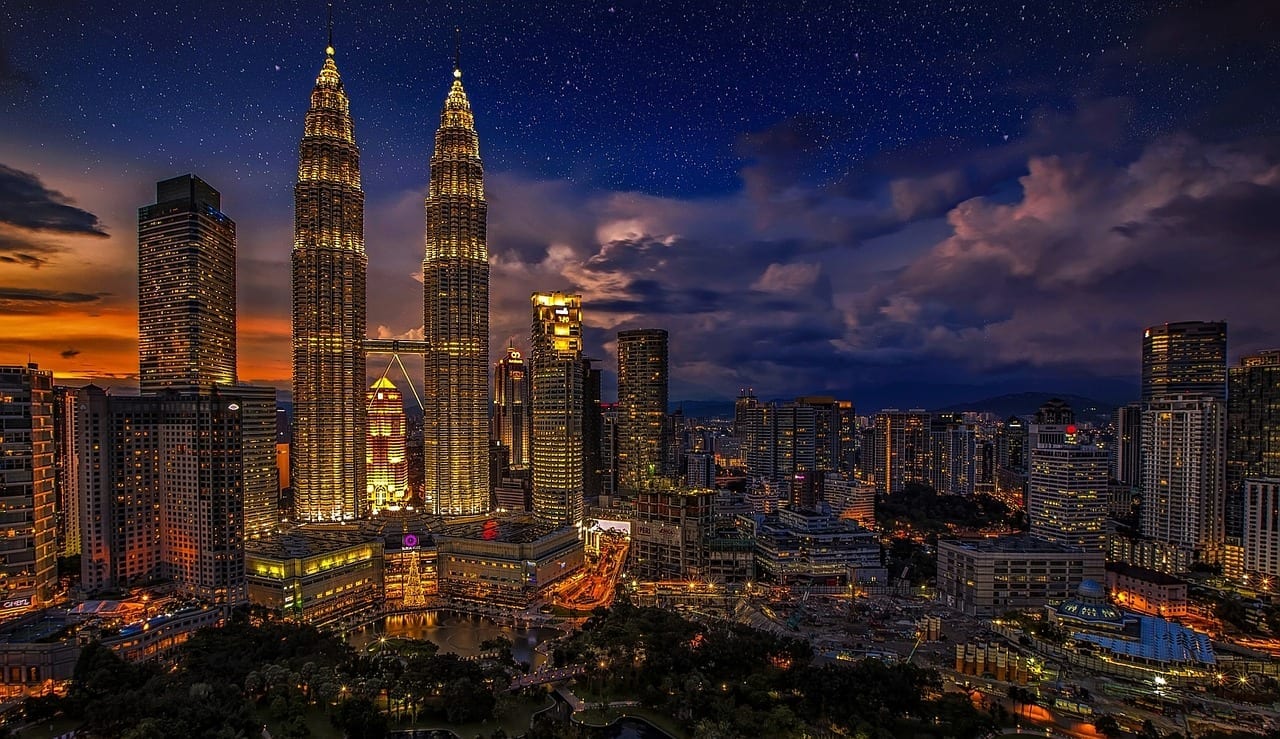 PS150
This swanky speakeasy is hidden in the heart of Chinatown behind the very believable facade of a vintage toy shop. Although this once-brothel has now been converted into an ultra cool cocktail bar, you can still see little nods to its sorted past. Once you pass the toyshop, walk down a long corridor of lovers' booths, through a sexy courtyard filled with reclaimed wood and leather, and into the very heart of PS150. At the very center, you will find a neon-lit bar filled with Cantonese signs and witty quips, this is where the magic happens. PS150's impressive cocktail menu is scrawled inside Malaysian school books and is nothing if not creative.
View this post on Instagram
You must try the Salty Chinaman, Assamboi Margarita and the deliciously refreshing Lychee No.3 Martini. Nowhere in the world will you find a bar quite as quirky as PS150, that's why its one of the best places to enjoy the nightlife of Kuala Lumpur.
JungleBird
When you think of a tiki bar, the first thing that pops into your mind is hula girls, drinks with paper umbrellas and general tackiness, but JungleBird is nothing but tiki-chic. Kitted out with natural bamboo and rattan furnishings, on-trend palm wallpaper and staff in slick Hawaiian shirts, this bar has the perfect balance of playful and sleek. Owner Joshua Ivanovic, an English Expat, wanted to create a "tropical house of rum inspired by Old Malaya", and he definitely succeeded. JungleBird serves over 100 different rums from all over the world, including a vibrant Agricole from Haiti and high ester rums from Jamaica. However, one of their most famous cocktails doesn't have one drop of rum, the legendary 'Closed on Mondays'. Tequila, coconut milk, salted egg yolk, curry leaf syrup and red chilli, a nod to one of Kuala Lumpur's most famous dishes, salted egg squid.
To make this top nightlife spot in Kuala Lumpur even more special, they showcase live DJs every Thursday, Friday and Saturday, so the tiki fun never ends.
Heli Lounge Bar
Have you ever thought to yourself, "it would be really nice to enjoy a refreshing cocktail while sitting on an active helipad"? Well, at the Heli Lounge Bar now you can. Every evening from 6pm onwards, the helipad of Menara KH office building transforms into a trendy bar. As the sun sets over Kuala Lumpur, you can enjoy spectacular 360-degree views of the city below, unhindered by walls or even safety barriers. To access this secret rooftop experience, you must first enter the bar on the 34th floor and order a drink, if you are wearing the correct attire, you will then be guided up to the swanky Heli Lounge Bar to enjoy the rest of your evening.
View this post on Instagram
Breathtaking views, fantastic mixology and a once in a lifetime experience, Heli Lounge Bar is easily one of the top nightlife spots in Kuala Lumpur.
TREC
Taste, Relish, Experience, Celebrate, or TREC for short, is the largest and most happening entertainment hub in the city. This vast complex is the epitome of nightlife in Kuala Lumpur, with clubs, bars, restaurants, live music and even comedy venues all under one roof. Locals always champion Zouk as one of the best nightclubs in the city. With its 11 rooms and constant upgrades, it's not hard to see why.
View this post on Instagram
For a more relaxed nightlife experience, you can try Como, a lovely Spanish resto-bar that hosts live music and DJs, or IKKI, an English gentleman's style speakeasy bar that serves the best Japan influenced cocktails. If you're in the mood for a little bit of fun, then check out Friendscino, a very popular darts bar, or iPong KL, a hilariously energetic beer pong bar.
The Bee
This is the place in Kuala Lumpur to see live music acts, be it local or international. The Bee is the brainchild of the creative team that hosts the annual Urbanscapes music and arts festival. they wanted to create a place where people can come and "listen to good music, period". As soon as you walk into this creative space with neon lyrics emblazoned on the walls and lines of vintage pinball machines, you can feel the love of music thick in the air.
View this post on Instagram
Although they focus on live music and DJs, The Bee also offers a vibrant showcase of talent from across the region. From side-splitting comedy and raucous quiz nights to experimental dining theatre, you can always find something happening at The Bee. For a nightlife experience filled with live music, cold beer and good friends, then a visit to this rock 'n' roll venue is definitely recommended.