Rijksmuseum
Perhaps the most popular and well-known museum in the city. The Dutch national museum is well worth a visit for anyone who even has a slight interest in arts. The building also, as well as the surrounding area is pretty nice on the eyes! Make sure you get your tickets in advance, though, as the queues can be very long! Set aside a few hours as Rijksmuseum has on display 8,000 objects of art and history. Book your Skip the Line tickets in advance with Welcome!
Happy to share this spectacular photo by @gkossieris. We'd love to see your pictures of the Rijksmuseum. So don't hesitate to share!https://bit.ly/1fKLioC

Posted by Rijksmuseum on Saturday, March 16, 2019
Anne Frank House
Another very well-known attraction and well worth making time for is the Anne Frank house. An emotional and surreal experience that will be a definite highlight of your trip. Again, it is best to book tickets in advance. Note that the tour involves lots of steep stairs and narrow spaces – so be prepared before your visit!
Van Gough Museum
Another great museum with a modern feel. All of Van Gough's most famous works can be found here (Sunflowers etc) and the area surrounding is a park, so make a whole day of it by grabbing lunch or dinner before or after you head to see the museum. Make sure you book in advance, the museum has a reputation of being very punctual. You can also book your Skip the Line tickets with Welcome.
Vondelpark 
You will find Vondelpark in the Museum district and no matter what season you're in Amsterdam a walk around the park will be a well-spent day out. Full of lakes, streams and a variety of flora the park has much to see. Bike tours around the park are available especially in spring or summer. Having a picnic is a great idea as there are plenty of nice places to sit or alternatively some cafes in the middle of the park are available and not too expensive. 
The Jordaan
The Jordaan is a small neighbourhood within Greenwich Village and is a wonderful place to wander for a few hours and top for a coffee. The area is filled with flowers, quirky cafes and winding streets dotted with 17th century houses. Simply awesome in spring!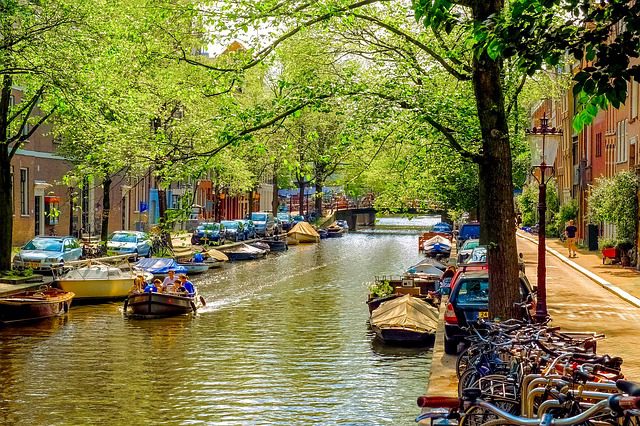 Heineken Experience
An interactive and exciting experience for beer-lovers and anyone interested in how Heineken came to be one of the most well-known beers in the world. There're some tastings, some 'how to brew' experiences and most important they're open late, so you can likely fit it in, no matter what your schedule is. Tickets are available through Welcome.