What to pack for Amsterdam Music Festivals
The wonderful city of Amsterdam, with its young and cultured population, puts on an array of world-class music festivals all year round. You can hear everything from hip hop to techno, and Classical to EDM. Amsterdam truly is the city of music, but with many people travelling from all over Europe to see these festivals, it's hard to know what to pack.
You wouldn't want to take your glow paint and bikini to the prestigious Prinsengracht Concert, and you shouldn't be caught dead in anything other than orange at the Kingsday Festival… So, to avoid any mishaps, check out our suggestions on the packing essentials for Amsterdam's best music festivals.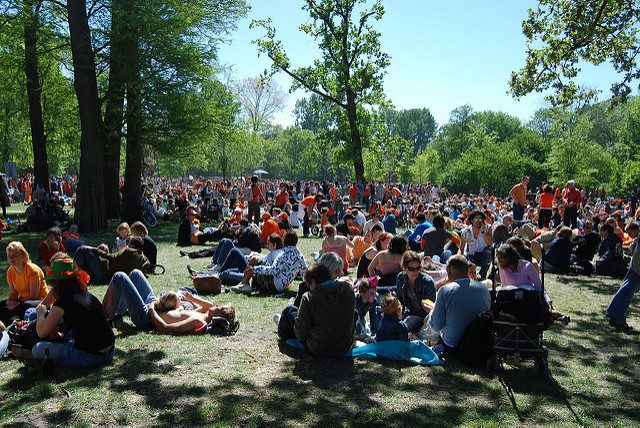 Vondelpark Festival
Every summer, the breathtaking Vondelpark puts on a fantastic free music and arts festival. The festival runs from May to September, with acts performing every single weekend. Located in a beautiful open-air theatre in the very heart of Vondelpark, this Amsterdam music festival is the perfect place to enjoy a sunny summer's afternoon. Be sure to bring your blanket to laze about on the grass, some picnic snacks, a hat and sunscreen, as summer in Amsterdam can get pretty hot, and a light jacket for the evenings.
Amsterdam Dance Event
This world-famous event attracts tens of thousands of people every single year and is Amsterdam's biggest dance music festival. ADE spreads out across the entire city with countless sub-events and concerts throughout October. This outstanding music festival showcases anybody who's anybody in dance music, so you can find anything from hardcore EDM through to the minimal house. As the event is all over the city, with different artists playing every day, be sure to bring some extremely comfortable shoes, layered clothing for the Autumn weather and your craziest rave outfits for the headlining acts.
Amsterdam Music Festival
Almost every people on the planet knows what the Amsterdam Music Festival is, and if they don't, they should. This world-class music festival runs for one night, and one night only, right in the very heart of Amsterdam. Every year this event proves why Amsterdam is the very counterpoint for electronic music in Europe. As AMF is located inside Amsterdam Arena, you don't need to worry about packing warm clothing or sensible outfits, you can let your crazy EDM flag fly. Grab your neon paints, your coolest gear, your camera and your glow sticks because this is going to be one hell of a crazy night.
Prinsengracht Concert
This unusual music festival is one of Amsterdam's annual highlights. The Prinsengracht Concert is a classical extravaganza that takes place on the very canals of Amsterdam. In the middle of August, locals grab their boats and cruise along the canal to a specially erected pontoon in the very centre of the city. It's on this pontoon that the very best classical musicians come to perform for the many star-struck spectators. If you don't have a boat or a friend with a boat, don't worry. There's always plenty of space canal-side for you to pop up your foldable chair or lay out your fluffy blanket, and listen to the blissful music under the stars. It's also advisable to bring a jacket for the evening as the nights can get a little chilly on the water.
Kingsday Festival
On the 27th of April, the entire Dutch nation leaps into party mode, singing in the streets, drinking the day away and painting the streets bright orange. All in celebration of the King's birthday. It's on this very day that the Kingsday Festival kicks off. The Olympic Stadium heaves with the most excited and boisterous crowds you'll ever see. Artists such as Knife Party, Deepend and Kygo take to the stage and the whole music festival comes alive. You can't attend this traditional Amsterdam music festival in any other colour than orange…So pack your bright orange, tops, skirts, jeans, hats, sunglasses, jewellery and body paint, and get ready for one tango-tastic time.