Zaanse Schans
Zaanse Schans is a neighbourhood near Amsterdam, where you will experience all things quintessentially Dutch – cheese and clog making with a backdrop of windmills. Bliss! The region also features an open-air history museum and picturesque streets to wander through. A great and easy day trip with some memorable experiences. Book your day trip with Welcome and visit the amazing cheese and clog making places, as well as the combo trips to the top 3 Dutch Provinces of Zaanse Schans, Volendam and Marken. 


The Hague
Hague is located on a port (seaside!) around 50km from the city but is worth the trip. The city houses "The Girl with the Pearl Earring" in the Mauritshuis Museum and is similar in glory to the Rijksmuseum in Amsterdam. The city obviously is the seat of Parliament and presides over International Law in the Peace Palace. The Hague also has some great all-night beach parties, so head along to these if you plan to stay a little longer (recommended!). Welcome offers a great tour of the city on a day trip.  
Rotterdam & Keukenhof Gardens
Rotterdam is a wonderful, hip city that should not be missed on any trip to Amsterdam. Located 35 minutes from the city, the city is a treasure. There's a large market hall, and the cube houses and the street of Pannekoekstraat. The Delfshaven area has some of the buildings that survived WWII. Keukenhof Gardens is a huge flower garden that features almost 7 million flowers, worth visiting. You'll find amazing flowers of every colour and variety and its definitely a spectacle to witness, especially in mid-April as all the flowers will be in bloom, as well as the famous tulips. There're cafes throughout the gardens which are great to stop at for a break, and they're located around 40 minutes' drive from Amsterdam.


Utrecht
Described as a 'smaller and more relaxed' version of Amsterdam, a visit to Utrecht is a must-do for those in The Netherlands. The city is home to the biggest university in the country and has many canals, churches and museums to visit. Check out the view of the city from the Dom Toren, though it is a bit of a stair climb to reach the top! It's around 40 minutes away from the city, so easily done in a day!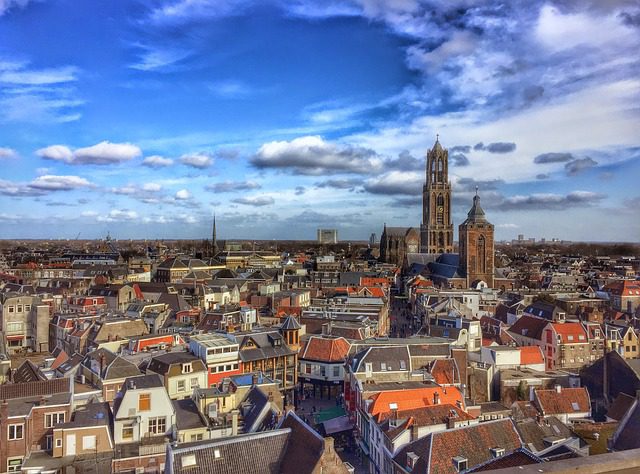 Gouda Area
Located 55km away from the city centre of Amsterdam, Gouda is much more than cheese (although it is delicious cheese). Be sure to head to the cheese market here, check out the cheese making too and have some Stroopwafels and beer, go on, treat yourselves! The architecture, as elsewhere in The Netherlands, is stunning. Churches, courtyards and beautiful facades and houses. There's so much to see In Gouda!