Quirky and original, the cocktails at this bar are elegantly and carefully constructed to ensure maximum flavour and great experience. The staff is wonderful and the place cosy. You'll probably never be able to have a basic cocktail again after this experience! Make sure to book a table if you have a group of 4 or more, especially on weekends as the bar is small and can get very busy!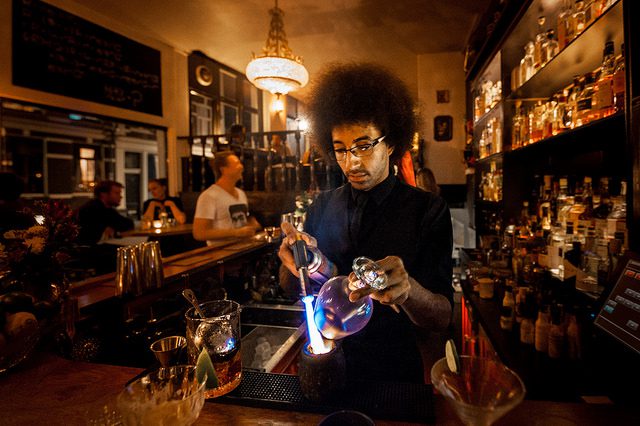 Very unpresumptuous, this bar is so popular for a reason. Delicious beers and a great vibe, this bar is named the friendliest in Amsterdam, which you can be sure is the truth! There's a nice relaxed atmosphere with some great live music and a wide selection of drinks. You'll be sure to find this place homely and worth visiting at least a few times during your stay.
Gorgeous cocktails and a range of interesting flavours to boot, Tales and Spirits is a cocktail bar and restaurant that will be sure to leave you wanting to go back. There's a great range of signature, favourites and house cocktails where you can get new and exciting ones a go or stick to the old classics. They do dinner too a few nights a week as well as bar snacks while you sit down for your drinks.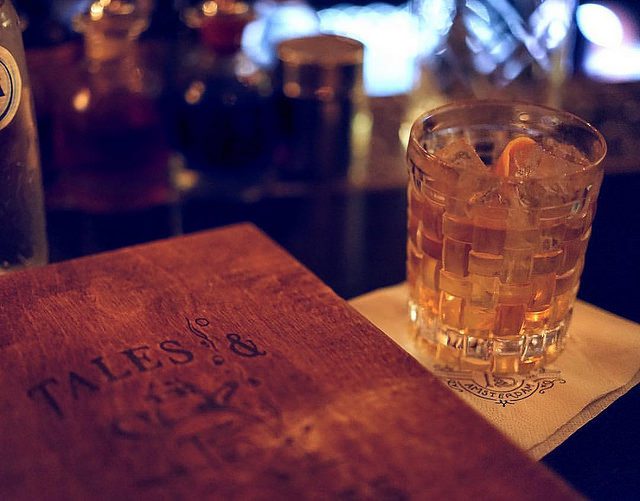 Vesper is a great speak-easy cocktail bar decorated in James Bond Memorabilia with a great atmosphere. The menu is awesome too; serving a 'best of' from their experiment with a menu that changed every month – so you can be sure you're ordering something special from this one! Making their own unique cocktails which encompass exciting flavours and ingredients is something that the bar takes very seriously, so it's worth spending an evening here trying them out.
Party all Night in Amsterdam
Former blues club Bourbon Street is now the place to be for any live music in the city. There's a variety of shows on every weekend, from high-level cover bands to local musicians for an intimate gig. If you're into live music, make sure you head along any day of the week – there's always something going on. Be aware that there's a small cover charge for some nights – but for entertainment into the wee hours (later than most ~4/5am) it's worth it!
Paradiso is a huge music venue located in an old church in the city and has become the cultural and music centre for tourists and locals in the city. The club has hosted some rather famous guests in the past (The Police, The Rolling Stones, Madonna, Metallica, to name a few) and is well worth visiting to get involved in the atmosphere for a night. There's an opportunity, with multiple stages, to see some small local acts or some bigger ones, depending on what's happening while you're there!
Dutch for 'Milky Way', Melkweg is a popular music venue in Amsterdam located in the middle of the nightlife area of the city. It is housed in an old milk factory (hence the name) and contains a variety of entertainment 'zones' – cinema's, restaurants and four concert halls for different types of music.  It has hosted some famous musicians and even today is the main hall for parties. It's a great place to spend the evening and you might even catch some big-name performances here!
Hosts a variety of regular club nights with DJs and different types of music (think techno, house etc). It's a great place to go and get your dance on and even catch some live acts (though not as often as the other two venues). The place befits the nightlife, only opening at midnight and keeping its doors open until around 05:00 am, if you can keep dancing that long!