Relax at the Most Beautiful Beaches in Lisbon
Portugal is surrounded by 600 miles of glittering oceans and soft sandy beaches, but some of the most spectacular shorelines are found in Lisbon. The beaches of Lisbon are stretched along very different coastlines, all of which provide a very different experience. From unspoiled, virgin beaches and wild untamed seas to family-friendly spots filled with activities and amazing facilities, there's truly something for every taste. So, whether you're a sun worshiper, an adrenaline junkie or just looking to relax, here are the most beautiful beaches in Lisbon for you to enjoy.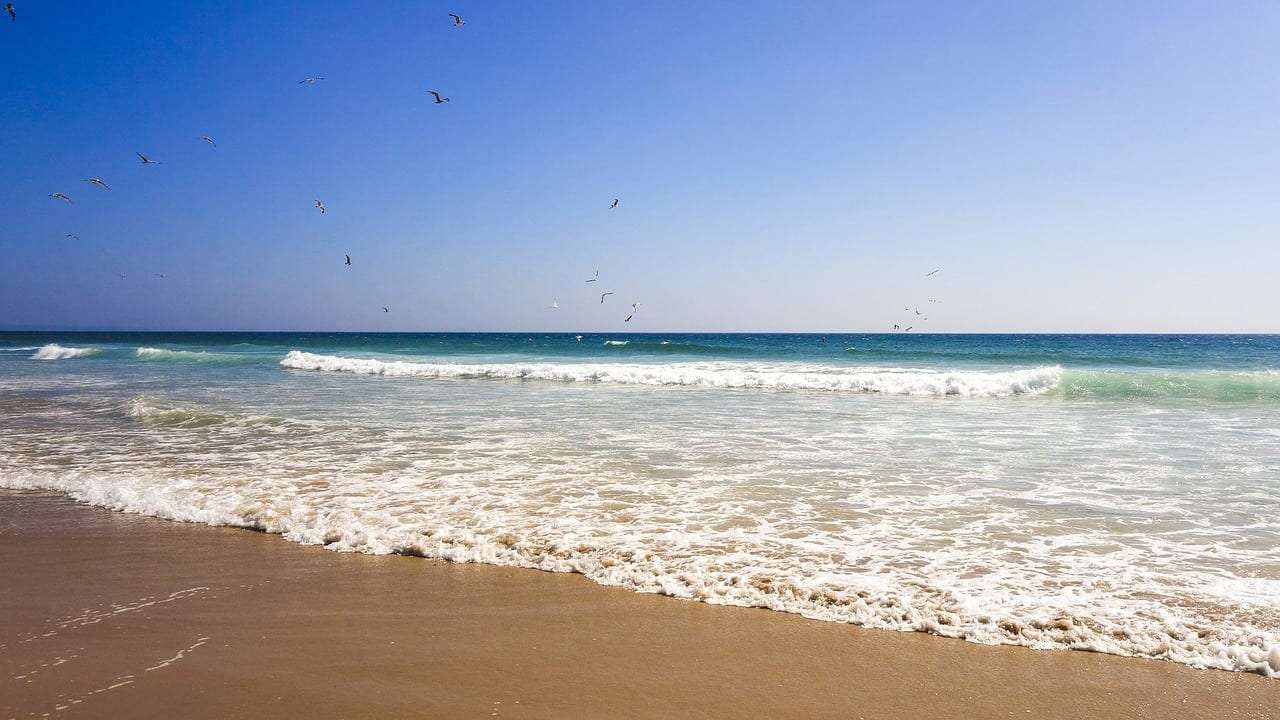 Visit paradise at Portinho da Arrábida
This stunning white sand beach, with its calm turquoise waters and tranquil atmosphere, is something you'd expect from the Caribbean, but it's only a €4 bus ride from the centre of Lisbon. Laying in the stunning Serra da Arrábida National Park, Portinho da Arrábida beach is known as one of the seven Portuguese natural wonders and it's easily one of the most beautiful beaches in Lisbon. Many people will spend the morning hiking through the rugged surrounding terrain before slipping down to the soft sands to relax in the afternoon. This beach has kept its natural splendor, so there aren't any organized beach chairs or beach bars around, but it's the perfect spot to enjoy a picnic next to the ocean.
Bring the family to Carcavelos
This family-friendly beach is one of the easiest to reach from the center of Lisbon as it has a direct 20-minute train line. With its golden sands, cool waters and excellent facilities, Carcavelos is one of the most beautiful beaches in Lisbon. Rent a beach umbrella and read a good book in the shade, enjoy a game of volleyball or sip on a refreshing cocktail in one of the many surrounding beach bars. Due to its vast shoreline and close proximity to Lisbon, Carcavelos can get rather busy during the summer months, but there's plenty of room for everyone and the hustle and bustle of excited beachgoers only adds to its unique atmosphere.
Enjoy some water sports at Guincho
If your heart begins to beat faster at the sight of unspoiled natural surroundings, cool waters and killer surf, then Guincho is the beach for you. If you're looking for a spot to relax and soak up the sun, then this virgin beach probably isn't the one for you, the strong winds and even stronger waves are suited to a more adrenaline filled day. Grab your surfboard and dive into the Atlantic ocean, where fellow windsurfers and kitesurfers will be enjoying the amazing waves. There's no better feeling than looking out onto a beautiful sand dune-backed beach while catching the best surf of the day.
Have fun in the sun at Costa da Caparica
Just a 20-minute drive from Lisbon center is the coveted seaside town, Costa da Caparica. This wonderful stretch of golden sand is a favorite amongst the Portuguese, with many traveling from far to stay on this stretch of coast. Aside from the deep blue waters and stunning surroundings, the best thing about Costa da Caparica beach is its eclectic mix of traditional and contemporary. In the morning, you will see the colorful local fishing boats selling their daily catch, then in the afternoon, the beach bars come alive with local DJs and beach games. This popular beach is frequented mostly by families and a younger crowd thanks to its endless activities and second-to-none facilities.
Lay like royalty at Praia da Rainha
This breathtaking cove is literally translated as "The Queen's Beach" and was named in honor of Queen Amélia, the last queen of Portugal, who often visited this little beach. Enclosed by towering cliffs, Praia da Rainha is given shelter from any strong winds, so the sea is always perfectly calm. This picturesque cove is the perfect sun trap for soaking up the rays, relaxing with a good book or simply taking a dip in the cooling waters. In the afternoon, you can head up to the Largo da Praia da Rainha, a square filled with little eateries where you can enjoy a delicious lunch while looking out over the beach below. Fit for royalty, Praia da Rainha is easily one of the most beautiful beaches in Lisbon.