Things to Do in Barcelona in 3 Days
Barcelona is one of the most vibrant and exciting cities to visit in Spain. It's an eclectic mix of bustling city, relaxing beaches and rugged mountainside make finding things to do in Barcelona a breeze. Most places in the city are easily walked to, and strolling from one point of interest to the next is the best way to get to know Barcelona. However, if you prefer a more relaxing trip, or if you have lots of places you want to cram into your 3 days in Barcelona, then you can take the very efficient subway or public bus system. Whether you want an active day out exploring the mountains, a historical afternoon viewing some of the best Spanish architecture, or a morning full of colorful shops and restaurants, Barcelona has something for you. With so much to do, it's hard to see it all in a short period of time. However, with this guide to Barcelona, you will get to see a bit of everything in just 3 days.
Welcome Pickups Transfers
Wasting time at a busy airport can be difficult and challenging after a long flight. For a personalized and convenient ride, Welcome Pickups taxi services are the best option. Get to know all the available transport options from Barcelona airport to the city centre, and if comfort is what you are looking, then consider pre-booking a Barcelona transfer with Welcome Pickups. Welcome operates globally and provides next-level customer service. Welcome offers so much more than just a transfer, providing offers, promotions, and services that will give you the best start or conclusion to your holiday!
Day One
This iconic symbol of Barcelona amazes visitors from all over the world with its sheer size and magnitude. La Sagrada Familia is a World Heritage site designed by the famous Spanish artist, Antoni Gaudi. Although much of his outstanding work can be found all over the country, this is by far his most famous piece of work. The breathtaking gothic church stands proudly in the heart of Barcelona and reaches an impressive 170m in height. Visitors can enter the spectacular Art Nouveau doors and explore the nave, crypt, gift shop, dedicated museum, and even two of the 100m high towers. Any fan of gothic architecture or Gaudi's work should make La Sagrada Familia a must see when in Barcelona. With Welcome, you can book your tickets in advance and avoid all the long queues.
How long to spend there?
To truly explore the outside, inside and museum of La Sagrada Familia, you will need around 1 hour and a half. If you also wish to visit the shop and climb the towers, you may need a little longer.
Opening hours
La Sagrada Familia is open to visitors from 09:00 to 20:00, but you can explore the outside any time of day.
Best time of day to visit
La Sagrada Familia gets extremely busy in the late morning and afternoon, especially in summer, so to avoid the crowds plan to visit around 09:00 or 10:00 am.
Ticket Price
Ticket prices range from 15€ for a Basic Ticket to 29€ for a Top Views pass, which includes tower access.
How to get there
La Sagrada Familia has a dedicated subway station, that is situated just to the right of the church. You can reach the station by taking the L3 or L5 metro line. Public buses 19, 33, 34, 43, 44, 50, 51, B20 and B24 also stop next to La Sagrada Familia.
Tips
To avoid queues, book your tickets in advance online. Be sure to walk around to the back of La Sagrada Familia, as the architecture there is just as impressive and totally different to that of the front.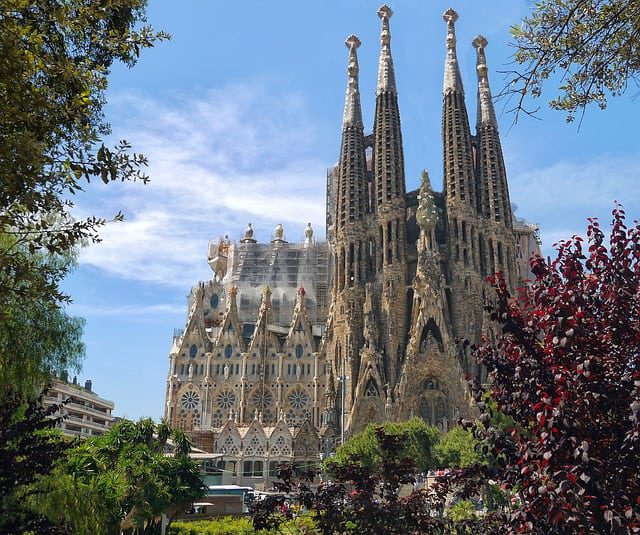 Almost as famous throughout Barcelona as the amazing La Sagrada Familia is the modernist Casa Batlló. This marvel of Art Nouveau was designed by no other than Antoni Gaudi himself and stands in one of the most prestigious shopping areas of Barcelona. Casa Batlló was originally built for an urbanite family looking to live in the very centre of Barcelona but now acts as a stand-alone piece of art. The entire house is built seemingly to avoid the use of straight lines, and the roof resembles the back of a skeleton. It's not much of a surprise that the structure is known as the "house of bones" to the locals. The entire structure is covered with brightly coloured mosaic tiles, which form a sort of floral pattern, and at night reflect the lights of the city beautifully. Book your tickets in advance with Welcome and worry no more!
How long to spend there?
It shouldn't take more than an hour to see both the outside and the inside of Casa Batlló.
Opening hours
Casa Batlló is open from 08:30 am to 21:00 pm.
Best time of day to visit
I suggest visiting Casa Batlló during the day, so you can gaze at the architecture and explore the inside, and then again at night, as the building looks truly spectacular lit up.
Ticket Price
Ticket prices start at 23.50€ for a basic pass and go up to 36€ for a special event pass.
How to get there
As Casa Batlló is in the centre of Barcelona, you have many transportation options to get there. You can take metro line L2, L3 or L4 to Passeig de Gràcia station, take the public bus line H10, V15, 7, 22 or 24, or take the City Tour bus 3A to Passeig de Gràcia-Casa Batlló.
Tips
To skip the queues, buy your tickets online in advance. If you want to fully avoid the crowds, 10 people can enter before opening time each day if they book tickets online in advance. The price of this ticket is 36€.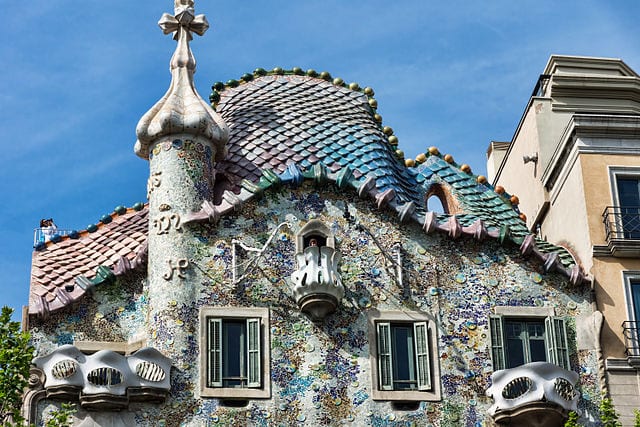 One of the most famous areas in Barcelona is the bustling Las Ramblas. This collection of pedestrian streets are a lively network of restaurants, shops, bars and outdoor markets. This is the perfect place to experience all the sounds, sights and smells of this vibrant city. The main tree lined street is always heaving with infectious energy and excited tourists taking in all the sites of Las Ramblas. If you want to experience a quieter side of this fascinating district, then simply head down one of the many smaller side streets, where you will be greeted by friendly locals, quaint live music venues and lovely little souvenir stores.
How long to spend there?
I would recommend spending at least 3 hours exploring Las Ramblas. There are so many little streets to visit and countless places to stop for coffee or a bite to eat.
Best time of day to visit
Visiting Las Ramblas is a treat at any time of day. If you wish to avoid the crowds, it is advisable to go earlier in the morning, and if you wish to see it at it's bustling best, then visit in the afternoon.
Ticket Price
It's completely free to visit Las Ramblas, however, you can take a walking tour for around 20€.
How to get there
You can walk to Las Ramblas from anywhere in the city centre in around 15 minutes as it's situated right in the heart of the action. However, if you are staying on the outskirts of the city, you can take the metro line L3 to the Liceu station which will drop you right at the top of Las Ramblas.
Tips
As Las Ramblas is usually extremely busy, you should be aware of pickpockets, and keep your belongings in sight at all times. The souvenir stores on the main street are always more expensive than the ones down the smaller alleyways.
Day Two
Barcelona is home to one of the most extensive collections of Picasso's artwork in the world. The Picasso Museum features over 4,000 works from the world-famous artist's formative years. This fascinating museum was opened in 1963, showing the intimate and strong bond that Picasso had with Barcelona. The museum occupies five large 13th-15th-century town houses, which spread out along the beautiful street of Carrer de Montcada. Walking through these historical buildings, you can experience the evolution of Picasso from his childhood years up until his later works in 1957. If you wish to dive even further into the history and mind of Picasso, you can pick up an audio guide, which will explain each piece of work as you walk through the museum.
How long to spend there?
To give yourself enough time to absorb all the amazing history and artwork, you will need to spend around 2 and a half hours in the Picasso Museum.
Opening hours
The Picasso Museum is open from 09:00 am to 19:00 pm, with late openings until 21:30 pm on Thursdays.
Best time of day to visit
To avoid the crowds, you can visit early in the mooring, around 09:00 am or 10:00 am, or late in the evening, around 18:00 pm.
Ticket Price
Tickets for the museum and main exhibition cost 11€ per person.
How to get there
There are plenty of transportation options to get to the Picasso Museum. You can take the metro line L4 to Jaume I station, take public bus line 120, 45, V15 or V17 to the Via Laietana stop, or if you have your own car, there's ample parking available outside the museum.
Tips
The sale of tickets can end before closing time if the museum has sold out. To avoid this, and any long queues, book your tickets in advance from the Museum itself or online. Any extra exhibitions cost 4.50€ on top of the regular ticket price.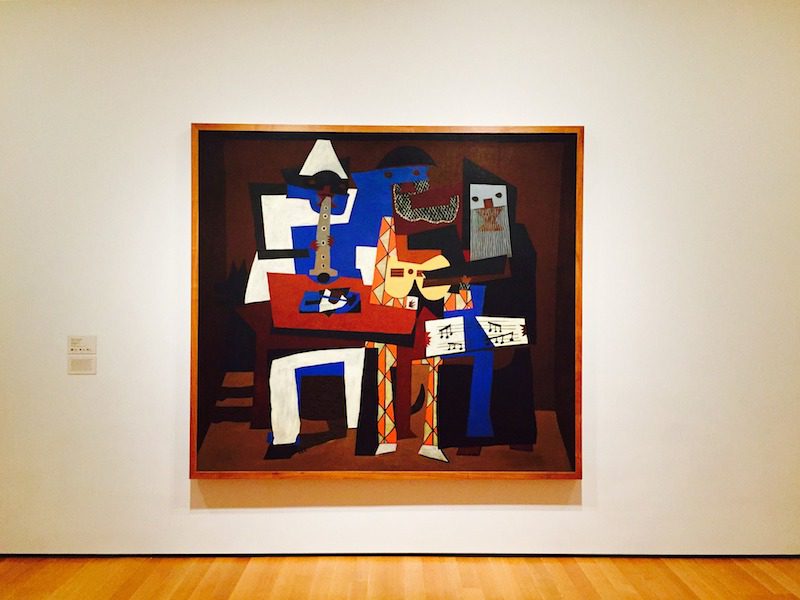 This artsy district is a fantastic alternative to the Gothic Quarter of Barcelona. Borne is full of the traditional winding streets and gothic architecture you imagine when you think of Barcelona, but it has this amazing modern and almost hipster twist. Some of the top-rated restaurants, bars and shops are found in this neighbourhood, and it is rated the best area to live by the locals. Every single corner you turn, you're met with a new and fascinating building, storefront or artistic mural. If a spot of European shopping is on your list, then this is the place to do it. Borne is home to the largest collection of private artisan and designer-owned shops in Barcelona. It's the perfect place to snag yourself a one-off designer bag, a handmade dress, or a made-to-order canvas print.
How long to spend there?
You could spend an entire day wandering the streets of Bourne and sampling the delicious food and drink in the area, however, you can get a true feel of the district in around 3 hours.
Best time of day to visit
Bourne is a great place to visit any time of day. In the morning the streets are much quieter, and you can enjoy the architecture in peace. In the afternoon the streets become alive with artists and students and shoppers looking for inspiration. At night the bars and restaurants come alive, serving up some of the most delicious dishes in Barcelona.
Ticket Price
Walking around Borne is completely free.
How to get there
Walking to Borne from anywhere in the centre of Barcelona is easy and enjoyable. However, you can also take the L4 metro line to Jaume I station.
Tips
Be sure to take money in the form of cash, as some of the artisanal shops or pop up stores can't accept card payments.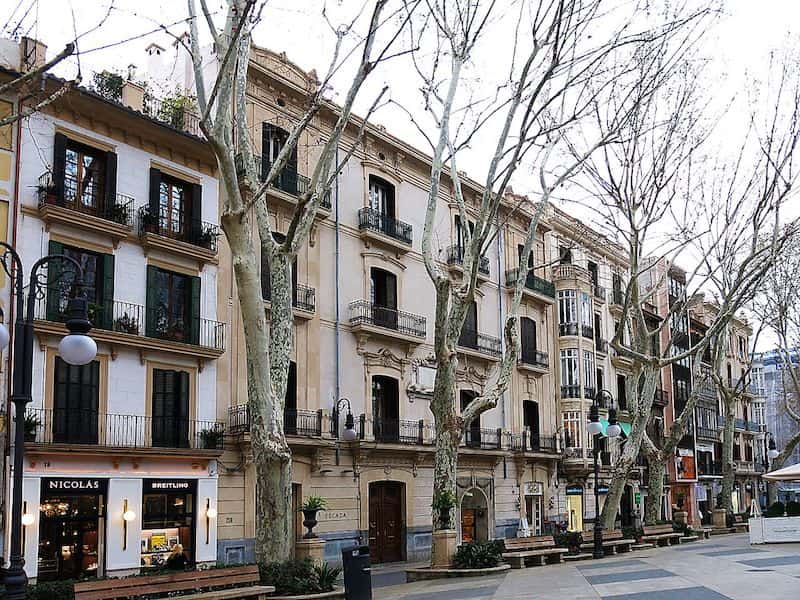 Day Three
Park Güell is a fantasy world and brain child of the infamous Antoni Gaudi. Possibly one of the most famous of his creations throughout the world, this collection of mosaic buildings and unusual structures astonishes millions of people each year. Take some time to learn about the history of the park and Gaudi's intriguing building methods in the visitor centre, or just stroll around the strange structures dotted around the area. Magical gingerbread-esque houses, the iconic mosaic lizard, and the world's longest bench all call park Guell home. However, it's not only these artistic masterpieces that draw in the crowds. Park Guell is set upon one of the most stunning wooded areas in Barcelona. The winding footpaths, breathtaking views of the city and vibrant flower gardens will keep you busy for hours. You can also book your tickets in advance with Welcome!
How long to spend there?
There's so much to see at Park Guell. If you want to explore the gardens, the mini museum in the visitor centre and see all the mosaic structures in detail, it will take you around 3 hours.
Opening hours
Park Guell is open from 08:00 am – 20:30 pm, but the surrounding gardens are open to the public 24/7.
Best time of day to visit
Park Guell can get extremely busy in the summer months. It's a good idea to get up early and visit the park as soon as it opens at 08:00 am, then take your time to enjoy the gardens afterwards.
Ticket Price
Tickets for Park Guell cost 8€ from the park and 7€ when bought in advance online.
How to get there
It's possible to walk up to Park Guell, but it can be a rather strenuous and long uphill climb. If you prefer a more relaxed journey, then you can take the public bus line H6, 32, 24 or 92, the metro line L3 to paradas Vallcarca or Lessepsline station, or a taxi.
Tips
Lines for tickets can become extremely long, and entry to the park is staggered into hour time slot. It is advised to book your tickets online and turn up 10 minutes before your allocated time slot. Be sure to walk up to the top of the park outside of Park Guell for some outstanding views of the city.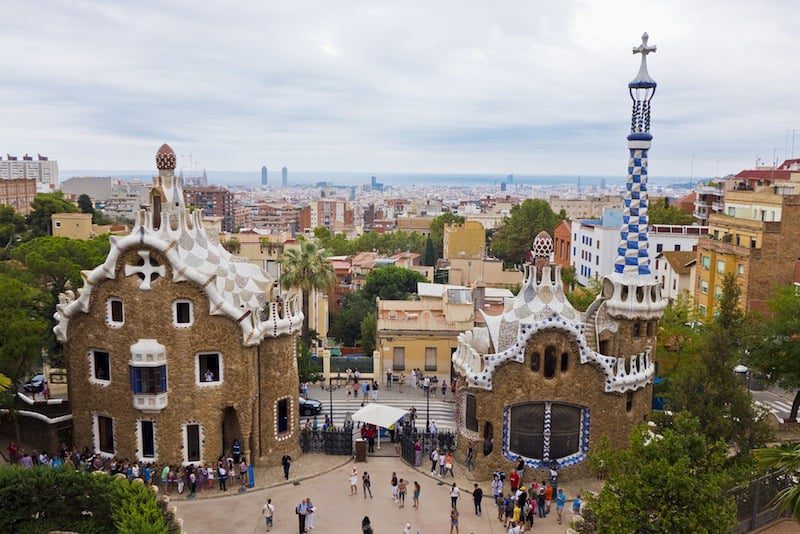 If you are looking for the most spectacular and breathtaking views of the city then this is the spot you absolutely must visit. Bunkers del Carmel is situated just to the right of Park Guell and offers sweeping views of the entire city unlike any other. Bunkers is largely unknown to the regular tourist, so you can usually enjoy these views with little to no people around. The walk up to this viewing area is fairly difficult and strenuous, but the scene at the top is more than worth it. Visit during the day to see everything from the bustling city, the marina, the glistening sea and the mountains below, or visit at night to see a sparkling carpet of lights and rushing cars.
How long to spend there?
A visit to Bunkers is as much or as little as you make it. You can take a picnic and stay for a couple of hours, you can jump off a bus, take some photos and jump back on again, or you can walk around the surrounding woodland and make an afternoon of it.
Best time of day to visit
As long as it's a clear day, there is no bad time to visit Bunkers. However, it's a fantastic point to see the sunrise or sunset.
Ticket Price
Visiting Bunkers is completely free, so you can always head up there in the morning, and go back to see the sunset later another day.
How to get there
If you're feeling energetic, you can walk up the hillside to Bunkers del Carmel, or you can take public transport. The 119, N4, N5 bus lines all go to the nearby Gran Vista bus stop. Or, you can take the metro line L5 to the El Carmel station and walk down to Bunkers.
Tips
Even on a sunny day it can be very windy and cold at the top of Bunkers, take a thin jacket and maybe a scarf for the visit. Wear comfortable shoes if you are planning on walking up to or down form Bunkers.