The food culture of Germany's capital reflects the cosmopolitanism of its residents, as well as its commitment to progressive values and innovation. This means that you will be able to find an extremely broad diversity of cuisines, throughout the city, as well as traditional establishments or those that serve twists on classic German fare. From the city favourite 'Imbiss' snack bars to gastropubs or fantastic restaurants, there's something to suit every traveller in Berlin. Most restaurants also cater to vegetarian and vegan customers. Reservations are important to make when eating out, as well as having enough cash with you, as accepting cards is still rarer than in other cities. Here's a selection of some great restaurants and eateries to get you started.
If you're looking to quickly sink your teeth into some German food that also comes with a slice of elegance and flair, then this is the place to be. Renger-Patzsch is a small enough place with a classic interior, serving up plates of delicate yet hearty food inattentive style. With its emphasis on German foods, expect to find mains of veal, quail, smoked sausage and sides of dumplings and seasonal vegetables. For every course, there are fantastic vegetarian and vegan alternatives. Paired with a nice side wine or cocktail, you'll be sure to enjoy yourself here. Prices are reasonable and service is very professional and discreet. It is located on Wartburgstrasse 54, with opening hours from 18:00-23:30 pm.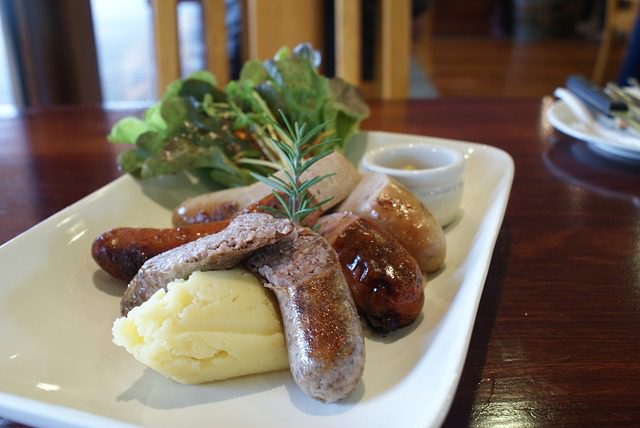 In Germany, an Eck is a local pub/tavern, where you can find traditional German food and an assortment of beers. Whilst many of them have a poor reputation, the Sophieneck stands out. A time tested favourite, it is an excellent choice to go out for both lunches or a hale and hearty evening meal with company. The portions are large, the beer is excellent and the service is great. It is located on the corner of Sophienstraße and Gross Hamburger Straße. With a cosy interior and a friendly atmosphere, the prices are always very reasonable. The menu is frequently updated, so there is always plenty of choices. Opening hours are 12:00 pm-01:00 am or until 02:00 am on Friday & Saturday.
Located in the Wannsee district of town, with a spectacular view overlooking the lake, this place is a great choice throughout the day. Day time charms highlight the natural beauty, whereas the evening and night exude romantic ambience. The food here is another pitch at German cuisine twisted with a perfect variety of contemporary flavours. Once again, the menu is highly friendly towards vegetarians, with a fantastic range for those who don't eat meat. The staff are very friendly and there are great wines to pair with the food. You'll find it on the Scabellstrasse, open from 13:00-21:00 (15:00-21:00 Fri & Sat).  
A charming little restaurant that is situated inside an old apothecary. Complete with many old jars of preparations, instruments and dark wooden cabinets to add to the decor, you really feel a slice of European history here. The aim of Ora is to have a menu full of locally sourced and organic dishes, with options for vegans, veggies and omnivores alike. The food could be considered modern central European, will all the elegance and taste to go with it. A popular spot with locals for brunch, it is open until late for an excellent evening meal as well. The drinks are extraordinary to match, with a number of unique house cocktails, as well as great beers and wines. You will find Ora on the Oranienplatz, at the corner of Erkelenzdamm street. The restaurant opens up from 12:00-01:00 during the week and 09:30 am-14:00 pm on weekends.  
Founded by a crowdfunding venture that raised over €10,000, Häppies is where the best of Berlin really shines through in contemporary cuisine. As such, it is a huge hit for the many customers it has every day. Germknödel is a type of dumpling common in parts of Germany and Austria. The foundation of the dishes at Häppies are these dumpling, filled with a creative diversity of ingredients from across Europe. There are six different savoury dumplings to choose from, as well as the classic sweet one, with plum jam. Most of the options are vegetarian-friendly, and there is a lovely assortment of drinks to go with the food. It is located on Dunckerstrasse and is open from Wed-Sun, 12:00-20:00 pm.
hello "helga" ? our new sweet beauty is filled with fresh organic apricot ? salted breadcrumbs, vanilla ice cream on top & sweet rosemary pesto ?

Posted by häppies on Friday, June 29, 2018
*Extra Tip
Tipping is a common practice in Berlin, however, leaving change on the table in a restaurant is considered rude. Instead, tell the waiter how much you would like to pay, rounded up to nearest euro- about 10% extra.