Upselling is truly one of the best ways to provide your guests with added value and a great experience while generating more revenue for your hotel, it's a win-win. However, it can sometimes be difficult to pinpoint where you need to make upsell investments within your operations or guest-facing offers. Luckily, GuestJoy has reviewed a whole year's worth of data, across 25 countries and 1000 hotels, and has compiled a list of exactly what you should be upselling.
Overview
From the data collected throughout 2019, we can clearly see a pattern that guests are looking for more experiences, not products of physical assets. Across the board, hotels that offered spa and wellness services upsold these the most. However, not all hotels or vacation rentals offer this. Removing this factor, we can see that room upgrades and taxi transfers come in first and second position every time. Room upgrades constitute around 20% of hotel sales, hotel transfers 18% and restaurant offers make up 16% of overall hotel sales. 
Upselling room upgrades
Room upgrades are easily the top contender when it comes to upselling to your guests. Not only does this provide a heightened experience to your guest, but it's also one of the easiest to accomplish for you. Rooms are already available, take no extra investment or arrangements and have the highest profit margin. 
In both large (100+ rooms) and medium (60-100 rooms) hotels, room upgrades perform incredibly well, especially during the summer months when sales increase by 4%. However, in smaller hotels  (<59 rooms) or boutique rentals, they only make up 14% of the overall sales. Still one of the most profitable upsells, but not as potent as they are in larger hotels. 
If you're looking to push room upgrades and generate more hotel revenue, then we suggest utilising an automated program such as Wishbox or UpsellGuru which will do most of the legwork and guest-facing interaction for you.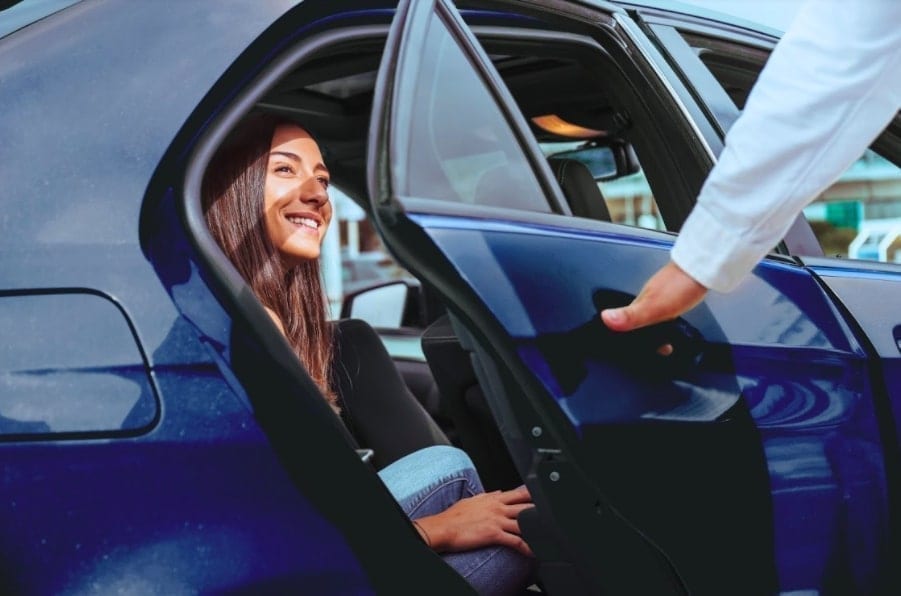 Upselling hotel <> Airport transfers
Throughout all hotel sizes, taxi transfers are a great upselling avenue. Travellers want to get to their accommodation easily and safely, so being able to book this in advance through your trusted hotel is a huge plus. Although in large hotels hotel transfers are booked more by guests in winter, in smaller hotels and vacation rentals, transfers are king all year round. In fact, taxi transfers can make up to 50% of all sales in boutique hotels and Airbnb rentals.  
However, setting up hotel transfers for your guests can be difficult and time-consuming. You have many variables such as flight delays, different taxi companies, fluctuating prices and guest questions. All of these things will need to be addressed by your front-desk workers, which can take up at least an hour of their day.
This is why we suggest using a partner company such as Welcome Pickups for all your guest's transfer needs. Welcome Pickups are scaling up the hotel offering with automation, integration with your current PMS, and real people that can take care of any support request or questions that might be needed from your guests. It's also known that most taxi offers yield a very low profit, not increasing hotel revenue by much. However, with Welcome, the partnership service is completely free and provides healthy commissions for every traveller that books through you, eliminating the upsell investment fee and providing passive hotel revenue. More than 1,500 hotels already use this service and give it excellent reviews on Hotel Tech Report. 
Upselling restaurant offers
Throughout medium and small hotels, restaurant offers were consistently the third most profitable upsell. They provided 16% of overall hotel revenue annually, with this number increasing by up to 6% during the summer months. This reflects the fact that during summer, people want to splash out on food and beverage in the morning and night at the hotel, so they can then get out and explore the city during the day. Having said this, in large hotels, it's a different story. Although restaurants come in a close 3rd or 4th in larger hotels for upselling profitability, they make up only a 5th of the overall sales.
Takeaway message
From the top three hotel upsell revenues, it's clear to see that guests are seeking out ways to upgrade their travel experiences. They want to stay in nicer rooms, have a more relaxing transfer and enjoy local cuisine. Hotel size and seasonality also play a big role in the services guests choose and the frequency in which they use them. So, it's important to try and align your marketing strategies and points of sale with these hotel upsell trends. If you wish to look into the research and statistics more thoroughly, you can check out eHotelier's in-depth article here.