Who knew at the start of the year, that 2020 would turn out to be such a milestone year? Ever since the first case of Covid-19 in Europe back in January, we've experienced much change. From lockdown and quarantine to a slow and steady release back into society.
As such, social distancing has become a new way of living. Yet, perhaps one of the most challenging issues we face is travelling around. Many of us may still need to drive, take public transport, or a local taxi to visit friends and relatives, attend medical appointments, go to work and much more.
In May Welcome Pickups launched GoSafe, a new taxi service that puts priority on safety, so people can travel around their city risk-free. The launch city for GoSafe was Athens. With this in mind, we decided to take a study to better understand how people are travelling in Greece. Were they affected or worried about the lockdown and what can we do to be more responsible as business owners?
Here's what the independent report found.
Half of the respondents are worried about taking public transport
With buses, trains and subways rife for people mixing, it's no surprise that half the population (51%) would rather avoid public transport until a cure or vaccine for Covid-19 is found. This rose to 67 % for people aged 45 and above and dropped to just three percent for those aged 18-24.
That said, 14% of youngsters said they would 'very likely' carry on using public transport.
51% of the population would rather avoid public transport until a cure or vaccine for Covid-19 is found
How users view taxi travel
That's not all. In taxi news, fears around taxi travel remain high, especially with age.
Over half of those surveyed (aged 45 and above), would not use a taxi booked by radio or mobile app until a cure or vaccine is found. This compares to just nine percent of youngsters (age 18-24) who would not use radio or mobile called cars.
Even less popular than a pre-booked taxi is one that is hailed taxi from the road. A sizeable 61% of people age 45 or over would not use a hailed taxi until a cure or vaccine for Covid-19 is found.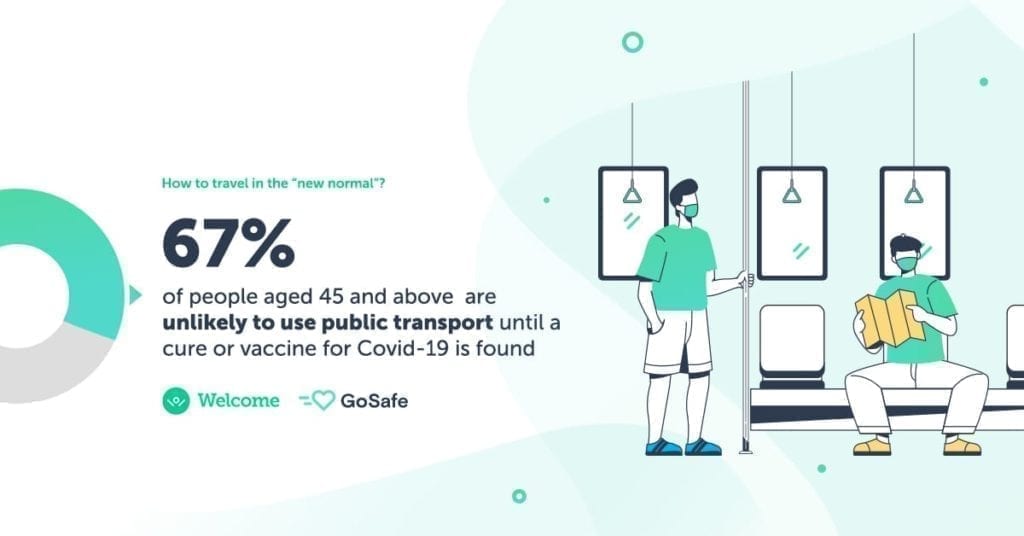 Men are more trusting
The study, which interviewed 630 citizens, found that men tend to be more trusting than women on certain issues. Over 64% said they would trust a taxi driver to follow safety precautions, compared to just 36% of women.
That's not all, the findings showed that men are also more likely to pay for additional taxi charges for safety measures than women (58% of men versus 42% of women).
This might be for measures to disinfect the taxi, or to have a separation barrier in place. On that note, the biggest health concern for taxi travel with men is for the taxi driver's temperature to be taken. Conversely, for women, their preference is for a divide separating them from the taxi driver.
Over 64% of men would trust a taxi driver to follow safety precautions, compared to just 36% of women.
The cautious middle-age group
An interesting find is that those aged 45-55 years old are amongst some of the most cautious age groups. They were the least likely age group to hail down a taxi down in the street until the pandemic is over, and the least likely age to trust taxi drivers to follow safety precautions.
Paying for peace of mind
It can be no surprise that respondents said they felt safest using private cars. However, that's not always practical for getting around. 
One of the other themes to come out of the study, was the demand for a safer way of travelling, particularly using local taxis, which many people are reliant upon.
The findings revealed that people are willing to pay for the privilege of peace of mind. The majority of those surveyed (62%) admitted that they would pay a small surcharge of two euros to travel by safe taxi. These include regular disinfecting the car and having physical barriers in place.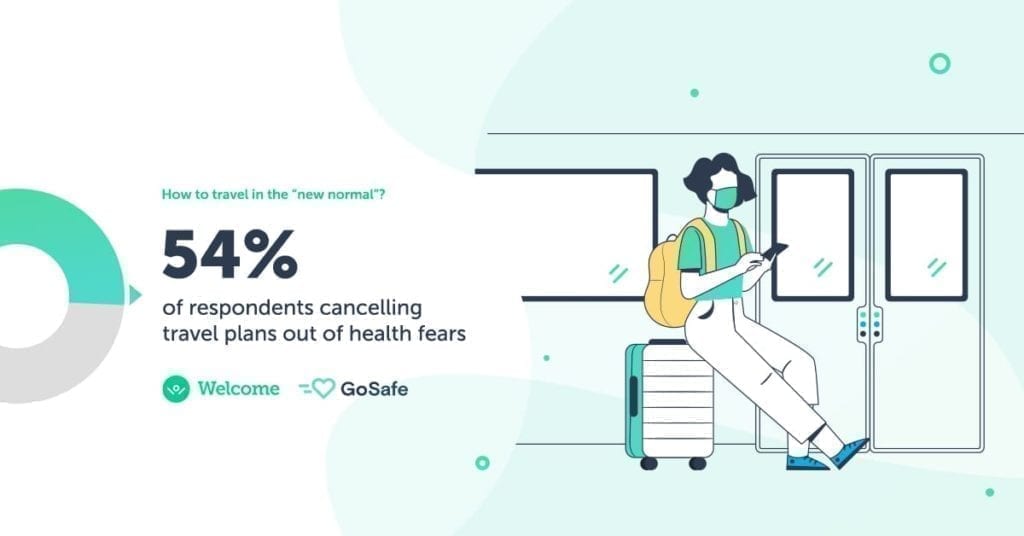 So what does this mean for the future of travel?
Leading the way in responsible taxi travel, GoSafe CEO Alex Trimis, said: "Now more than ever, people need peace of mind and reassurance. The world has had to adapt, and we're proud to lead the way in safer local taxi travel. We train all our taxi drivers in Covid-protocol measures and have taken important steps to minimise the transmission of the virus".
 "We understand that life has to continue, so we've implemented these measures for the long-term to support and reassure customers and drivers".
Some of the important measures taken by GoSafe include:
 

Regularly disinfecting cars

 

Providing hand gel to customers

 

Drivers wearing gloves and masks

 

Using a small pool of drivers that can be trained on necessary protocol measures

 

Putting a separator barrier in place

 

Contactless payment options
Taxi travel, the 'new normal'
With great uncertainty around Covid-19, it's likely that transport companies will need to adapt to the 'new normal' with safety measures in place.
Only then, can we start to reopen society up in a more safe and responsible way. 
* The independent survey was undertaken by Pollfish, interviewing 630 respondents in Greece.
** GoSafe was launched in May 2020, in response to the coronavirus pandemic. It offers a premium taxi service with safety in mind.
***  For any press inquiries, please contact us through our Newsroom