Prague shopping is unlike any other shopping in Europe. A treasure trove that you're sure to find yourself treated to a great variety of shopping experiences in; from high-end fashion to second-hand vintage books. Each unique little shop houses an array of goods for you to sort through, discover and fish out bargains ensuring a fun activity as well as a great reward. Prague's shopping scene is also different for its types of shopping experiences. You can either visit some of the many shopping centres where you can find shops containing all different brands and goods under one roof or alternatively seek out something particular in one of the many specialized shops that are Prague's statement for shoppers.
Old Town
Prague's major shopping scene is hidden away from the major streets in Old Town. If you're looking for all your basic fashion stores, these are quite visible around the touristic areas of Prague. As well as this, there is the avenue of Parizska. Due to some years of repression, Prague's fashion scene hasn't flourished as quickly as the other major hubs in Europe, however, now you can find all the numerous chain stores you can expect down here as well as a great number of interesting and unique luxury boutiques. This is a great time for Prague fashion as new, hip designers are bringing out a range of wonderful clothing that is proudly made in Prague, so what better time to delve into the racks of these amazing independent boutique stores? You'll be able to find something purely unique to ensure that you take a piece of the city home, as well as helping the local fashion scene. Check out Bohemia Design Market, Lay Sedláková and Timoure et Group for starters!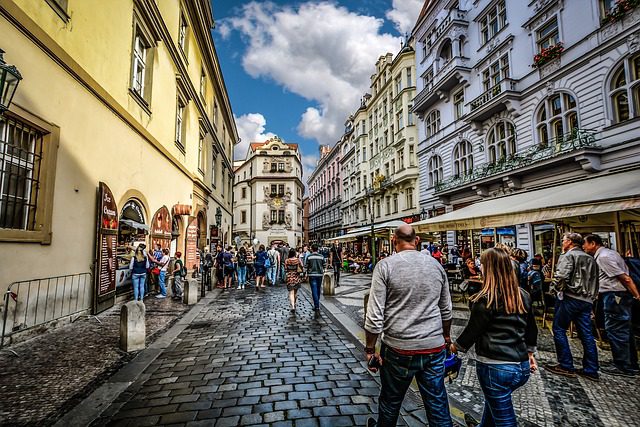 There are also plenty of shopping malls in the city to complement the growing fashion scene in Prague. Some malls are in new complexes and others, more culturally, are in renovated buildings. It's worth visiting some of the malls if you want to hide out and shop on a rainy day. However, if you're more into finding something special, hitting all the streets in the Old Town, traversing their maze-like passages and fancy promenades and arcades to find the real treasures that are simply nowhere to be found but in Prague. Here, especially around the Old Town Square, you'll find some great second-hand and antique stores such as Bric-a-Brac, Bohemian Retro and Old Toys – guaranteed to get you something unique for yourself or as a gift for your loved one. Here you'll also find some of the best bookstores in Europe; shops selling new and used books have become extremely popular and most are now even available online. Lots of local bookstores often contain cafes, too, so you can have a drink while you browse. The Globe Bookstore and Coffeehouse (Pštrossova 6) and Týnská Literární kavárna (on Týnská 6) are great places to get started.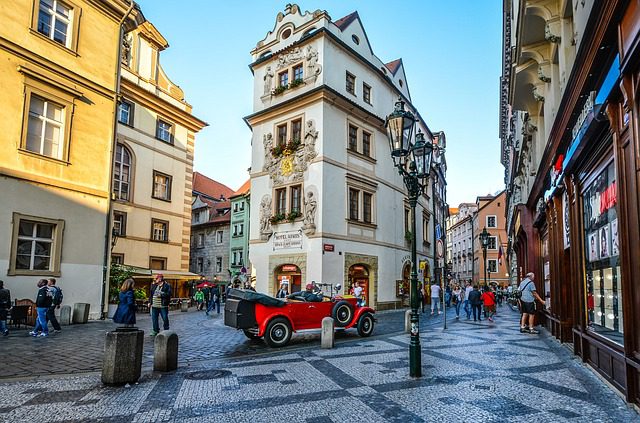 Artwork
One thing that you cannot avoid while in Prague is checking out some of the beautiful local artwork and food stores. Prague is famous for its fine art glass. You'll notice that almost every store sells some form of Czech glass, from jewelry to wine glasses. You can find some particularly high-quality goods if you check out local galleries, such as Futurista Universum, Kubista and Qubus, all within the confines of the city centre in Old Town. You'll also find Blue Praha stores dotted around the city and also at the airport if you are looking for modern and innovative glassware with more traditional Czech designs. A great place to go for quality, without too heavy a price-tag.
Local Delicacies
For a further local good exploratory journey, check out all the local specialty food stores. Great for perusing, these stores feature local delicacies and delightful imported goods. Each place specializes in a particular kind of food and often you'll find shops to tastings and local wine pairings. From organic food, Spanish and Italian delicacies, fresh bread, desserts, wine, and delicatessens, you'll never be wishing for more. Lots of places do beautiful luxury goods that make fantastic gifts, too. Find a great array of these shops dotted around the city (La Bottega di Finestra, Gastronomica, Prague Chocolate Hakarmel Cheese Shop)– mostly in Old Town, were a walk around the streets guarantees you'll stumble on one of these stores.
Harvel's Market
Lastly, Prague's market scene is worth exploring. There're two permanent outdoor markets to choose from; Harvel's Market (Havelske trziste) in the city centre, and Prague Market (Prazska trznice). Harvels is perhaps the most popular, open all year serving locals and tourist. There are arts and crafts, toys, flowers, ceramic goods and fruits, and vegetables. It's also a great place to go for some hand-crafted and cheap souvenirs. The market is walkable from the Old Town Square, located off Melantrichova Street.
Prague Market
The Prague Market is a little further out, just outside the city centre and is again open all year round. The market specializes in electrical equipment, clothes, and accessories as well as fruit and vegetables from local growers. This is more of a benefit to locals due to its contents and location, but it's still worth a visit for the atmosphere if you are interested. If you are in Prague around Christmas or Spring, there are some great pop-up markets that appear, as well as throughout the year around the city (mostly farmers markets and flea markets). The Prague Castle Christmas Market and the Old Town Square Christmas Markets are huge events and draw in many tourists. There are stages for entertainment, specialty Christmas gifts, food and drink, and an all-round unmissable atmosphere. Well worth the visit if you're here during these times!