Tegel is Berlin's primary international airport, and it is located only 8 km outside of the city to the northwest. It serves as a hub for Eurowings, as well as a base for Easyjet and Germania. The flight routes are typical to other European metropolitan and holiday destinations, with a smaller number of intercontinental flights. It consists of 5 Terminals, although they may be often referred to as 'halls' because they often coincide in the same building. As such, it is a relatively small airport for a capital city. In the primary hexagonal building is Terminal A, with Terminal B as an annex. Terminals C and D are separate buildings, which have been built to provide for the increasing demand. Terminal E is located in the lower level of D's building and is a dedicated arrivals hall. Terminal D/E is the only building open all night long at the airport. There is some controversy surrounding Tegel as the airport is scheduled to close soon, due to its close proximity to the city and how the air traffic noise affects local residents. The new and replacement airport, Brandenburg, is in its final stages of construction, but it isn't due to open yet until 2020-2021.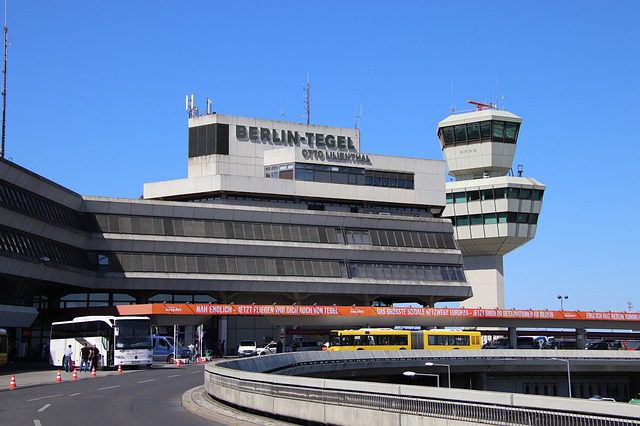 Arrivals
Arriving should be a straightforward process. Signage is available in German and English, including relevant international icons. Once you land, you can head through to security checks. The airport is within the Schengen agreement, so if you're coming from Schengen zone you can easily pass through with passport or ID card. If you're coming from outside the EU, you may have to present your passport and visa information. After security is the baggage reclaim zone. Once you have got your luggage, you will arrive at the public arrivals lounge. In the public area, you can find any necessary shops, such as a pharmacy, a bookshop, some fashion shops, and a Lufthansa world shop. There are also a number of landside eateries, bakeries, fast food and coffee houses if you are hungry after the flight. Services such as lost and found, currency exchange bureaus, ATMs, travel agents, and car hires can all be found here.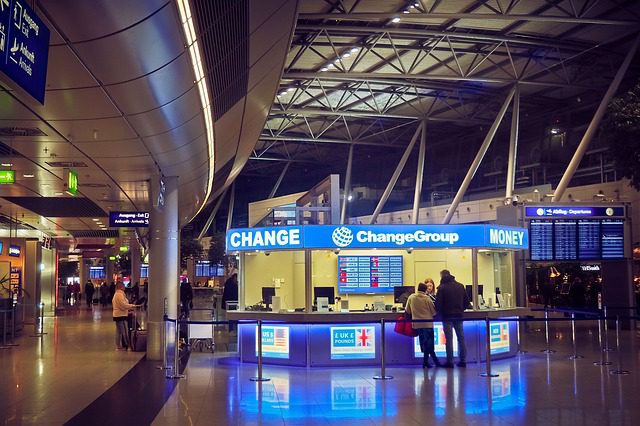 Departure
When it is time for you to depart on your return flight, you will firstly need to determine which terminal you will leave from, which should be stated on your boarding pass. Each of the terminals is very close to one another and are easily accessible by foot, therefore if you arrive at an incorrect terminal, it will be very easy to find your correct one. It is recommended you arrive at least 2 hours before a Schengen flight, and 3 hours before a long-haul flight. After you have checked in your luggage at one of the check-in counters, you can pass through security. For your entertainment, free wifi is available 24 hours a day at the airport. Airside, you can find a number of beer bars, restaurants, bakeries, and cafes. There are also convenience stores, a pharmacy, a duty-free shop, and a stationary boutique, but please be aware your options may be more limited, depending on which terminal you depart from.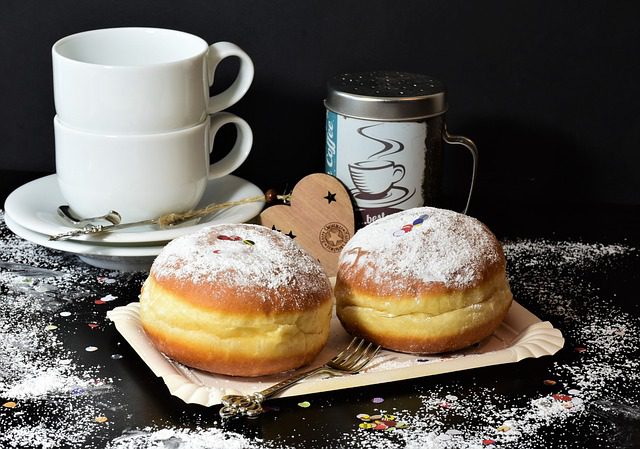 Overnight Layover
If you have an overnight layover, then there are some pay-at-the-door VIP lounges that you can find, after security, to relax in. There are also a number of sleep booths that you can pay to rest in, away from bright lights and noise of the bustling airport. They are located landside in Terminal B. If you choose to sleep in the airport itself, please be aware that the seating is often not suitable for comfortable resting, so you will likely have to sleep on the floor. The airport is not fully open throughout the night, and there are no 24-hour restaurants to choose from for overnight refreshment. There are, however, a number of hotels in the vicinity, including Mercure Airport Hotel, Central Hotel Tegel and Days Inn Berlin West. Alternatively, as the airport is very close to the city centre, you could arrange a transfer to a more convenient location for your night's rest. Transfers to and from the airport can be made at any time of day or night when booking with Welcome Pickups.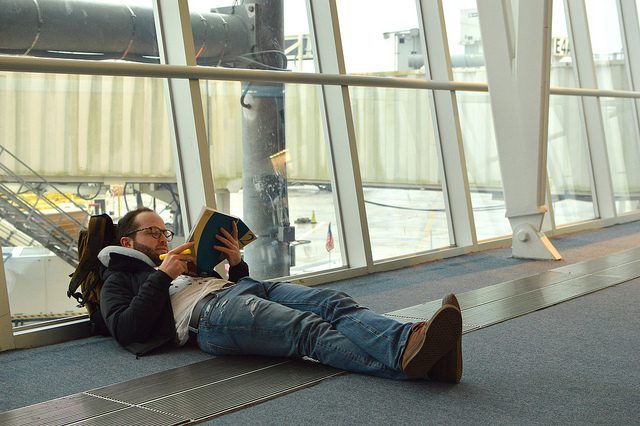 Schonefeld is the secondary airport which services Berlin, located 18km to the southeast in Brandenburg district. It was formerly built to serve as the airport for Eastern Berlin, but after the unification of the city, it has been incorporated and developed as an entryway to the whole city. Being the smaller of the two airports, it generally handles the low-cost flights and is a hub for EasyJet, Germania, and Ryanair. When the new city airport 'Brandenburg' opens, the existing infrastructure of Schonefeld will be incorporated into the new Brandenburg airport, servicing low-cost airlines and domestic flights. This is predicted to commence in late 2020. The size of the airport is relatively small, consisting of 4 Terminals: A, B, C & D. These are all adjoined with one another via an airside concourse and are situated next to each other. Each terminal does have its own separate landside area. The major airport building is terminal A, with terminal B as its side wing. Terminal C was originally an external VIP lounge, which has since been built upon to accommodate the growing number of passengers in the airport. The construction of terminal D finished in 2005 to accommodate the growth in foot traffic.
Arrivals
The largest arrivals area is located in terminal D area D2, so it is likely your entry to the airport will come through there. Signage is clearly available across the airport, in German and English language, with internationally recognizable symbols. Services arriving at the airport are of coming from countries within the Schengen agreement. If your flight is within the Schengen zone and you hold an ID card or EU passport, it is unlikely you will have to pass through security on entry into the country. Separate checks may be needed for flights coming in from non-Schengen countries or if you are an international traveler in the Schengen zone. Due to the airport's size, the number of services that are available is limited. Nonetheless, the essentials such as toilets, baby changing, lost & found, banking, tourist information a cafe and some general shopping are available at arrivals. Further services are available in the landside departures area. Car hire offices are also available at the exterior of terminal A.
Departures
If you are departing the city through Schonefeld airport, then you will first have to locate your correct terminal and check-in desk, if you have luggage to check in for your flight. The close proximity of the terminals and the small size of the overall airport means that it isn't a major problem if you arrive at an incorrect terminal. In the public area, there are plenty of shops, cafes and services. Here you can find VAT refund bureaus, to reclaim VAT, if you're a non-EU citizen, and the observation deck to pass your time. Free wifi is available throughout the airport with login '_Free Airport WiFi'.  It can be fairly crowded at security, especially around midday peak time, so make sure you have given yourself plenty of time to reach your boarding gate. If you're a holder of an EU passport or ID card, then passing through passport control should be fairly quick and easy. International passport holders who require a visa may have to have their papers checked. Once you are through security, there are more services, shops, and eateries. You can find newspaper, books, coffee, Duty-Free and general shops; bakery and fast food eateries. Some terminal gates have jet bridges, whereas others are walk-boarding.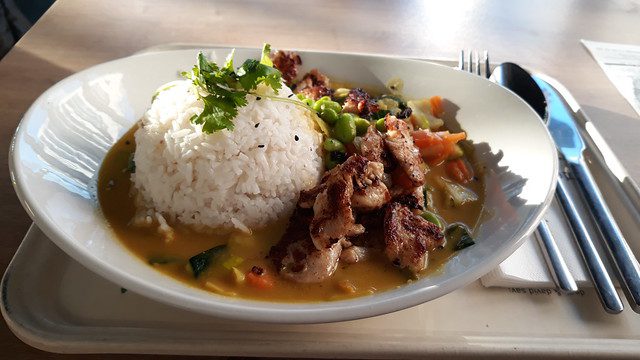 Layover at the Airport
A layover in Schonefeld is possible, particularly if you are heading on towards other parts of central or eastern Europe. The airport is located 40 minutes by transfer from the city centre, so with a few hours layover, it wouldn't be advisable to leave. With a longer layover (6 hours or more) you may want to consider a transfer to the city and back. If your layover is overnight, and you wish to get some sleep, you have a few different options. Sleeping at the airport is unlikely to be very comfortable. Although the airport is open 24/7, there are more sleeping options in the public area than past security. Furthermore, seating is scarce and there are no resting zones. If you wish to pay, there is one VIP lounge in terminal A. Floors are usually tiled, so remember to bring an extra blanket or sleeping mat if planning to sleep in the airport. Nearby, there are a number of hotels, such as Holiday Inn Berlin, Albergo Hotel Berlin, and Ibis Budget Hotel. Most run a 24-hour shuttle service to the hotel.
If you are considering your transfer from the airport to the city and back, or if you are looking for a quick trip to the city and back on a layover, we at Welcome Pickups are the best choice to make. Our service runs 24 hours a day, so no matter what time you need us, we will send a hand-picked, English speaking driver to take you to your destination for the same legal flat rate as an ordinary taxi. For more information on transfer options, we have written a dedicated article to this topic. Enjoy your experience at Schonefeld.