Mykonos is the heart of the Cyclades islands in the Aegean sea and one of Greece's gems. It is hugely popular with the locals and is a hotbed of celebrity culture in Greece. But it is also internationally famous, attracting the rich and well-to-do from around the globe. That doesn't make the island exclusivist, as it is also very popular with students and families. Therefore, there is a very inviting and cosmopolitan atmosphere throughout, which is only accentuated upon by the natural hospitality of the Greek locals. It maintains its reputation as a lively place with a great variety of activities going on across the island. It is also known as the biggest place for partying, which happens all throughout the night, particularly in the summer months. You can also find many beach bars and clubs to keep dancing during the day. This article will take a look at some of the amazing things going on on Mykonos.   
Chora
Chota is the name for the capital village or town of every Greek island and is always a special place to visit. It is usually where the majority of daily goings on happen and there is always a lot of life. On Mykonos, it is alternatively named Mykonos Town. If you are not staying here, then you will surely be visiting very often. With a host of great restaurants, bars, shops, and a charming open-air cinema, you can never get bored here. Chora is on the west side of the island and comprises of a warren of little cobbled streets. These are bedecked with marble and other stones, rendered in the iconic white and with blue borders, providing the wonderful character unique to the Cyclades. This coloring is perfectly complemented by the many bougainvillea plants that spread their pink flowers out in the bright sun. It is truly picture perfect.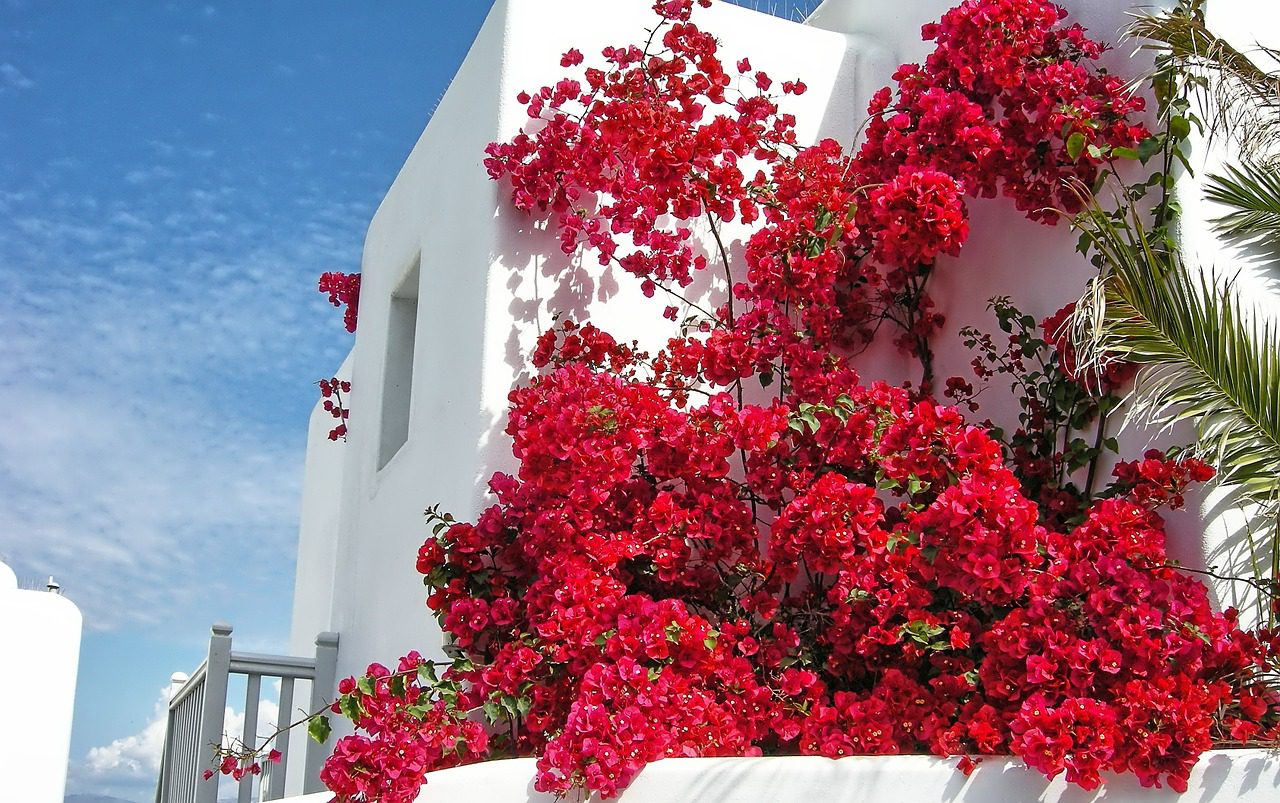 Little Venice
Adjacent to the scenic windmills and right by the waterfront, a very beautiful area is Alefkántra or Little Venice. It is known as this for its houses that are built right up to the waterfront, with colorful balconies and shutters. These create a perfect contrast to the classic whitewashed walls and the lapping ocean waves at their feet. It was constructed in the 18th century and features a number of grand captains' houses. As well as the many shops and restaurants here, it is a great place to relax at a waterfront cafe or bar and watch the heart-stirring, rosy sunset.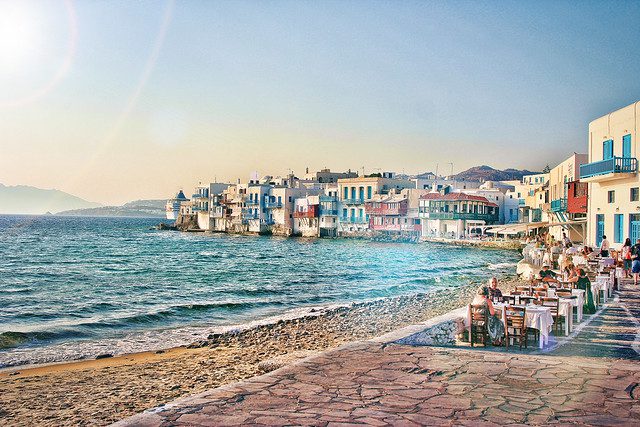 Cruise in the Open Sea
Being a hotspot for yachters and catamarans, there are many opportunities to take an organized cruise in the open sea. Usually, you will have to organize this through a company or hire a local skipper. Yacht or sailboat cruises can be taken to the uninhabited island of Rhenia, or a historic cruise to the island of Delos, the birthplace of the gods Apollo and Artemis. Romantic cruises at sunset, with drinks and meals, are also made possible in this gorgeous setting. For those who want to take to the sea, but are on a budget, water taxis are a common mode of transport. You can save your time from the winding roads by going to the beach over the sea instead!
Visit the Amazing Beaches
Probably the best-known attractions of Mykonos are the 25 beaches that surround the island. Whatever you are looking for, smaller and wilder beaches, or larger beaches of pristine white sand, you can find it here. There are also a number of beaches which are nudist friendly. Some which have party zones and some which are quieter. No matter if you want to party, sunbath, swim or play the locally ubiquitous 'racket', you won't be disappointed.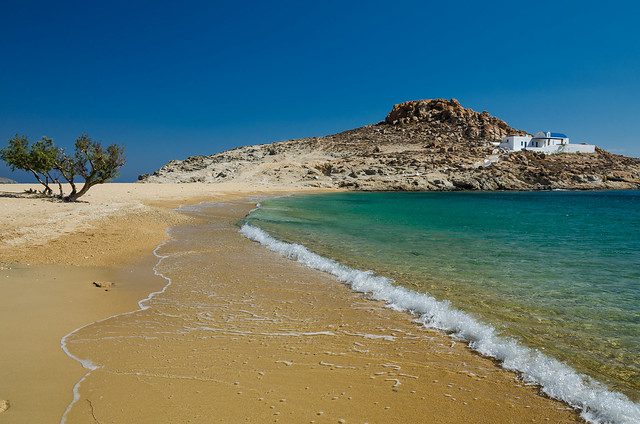 Water Sports and Diving
A very popular pastime for those of us who are looking for something of an adrenaline rush. Mykonos is known as 'the island of the winds', so naturally, it is a great setting for windsurfing, kite surfing, and sailing. You can also try the more high-octane wakeboarding, wakeskating, and flyboarding. Kalafatis and Platis Gialos are good beaches to find water sports organizations. Diving is also fantastic, with the island's pristine waters and beautiful Mediterranean underwater colors. There are many caves, coves, and wrecks to discover. A number of diving operators offer tours of all levels from first-time dives to advanced divers.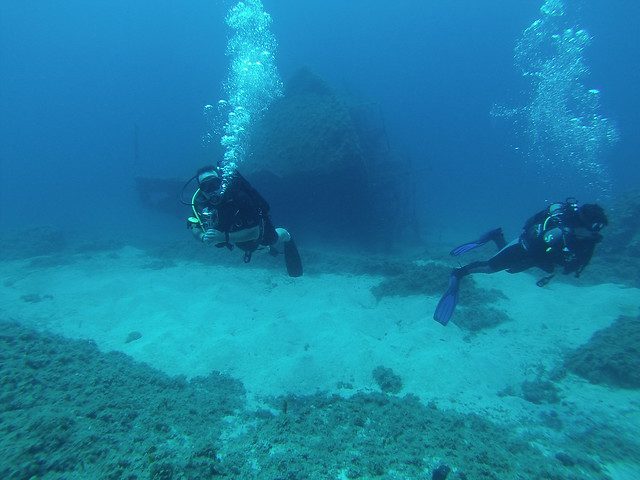 Mountain Biking Inland
Perhaps not what you think about when visiting a Greek island… The main thoughts people have are for the beaches and the open blue sea, as mentioned above. What often goes amiss is the island's inland, with its rugged and hilly terrain. As such, it is far more sparsely populated than at the coast. This does not, however, detract from its beauty. The tranquil and unspoiled nature serves as a perfect location for mountain biking across the unused trails. It is also a great way to access some of the lesser known villages and quieter beaches to the north of the island.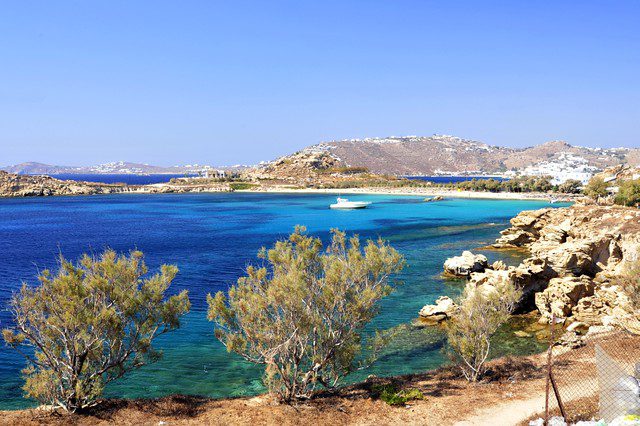 Wine Tasting in Mykonos 
There may be other Greek islands more internationally recognized for their wine producing, but Mykonos also produces its own unique wines. Through them, you can taste the unique character and charm of the island. Grape cultivation goes back thousands of years throughout Greece, so you can be sure they know what they're doing. Many vineyards offer wine tasting experiences, so you can enjoy many sensual delights, whether you are an expert or novice. Also, you can enjoy the ambiance of these tranquil, nature filled places, away from the large crowds.