Thessaloniki Airport
Thessaloniki Makedonia Airport (SKG), despite being one of the only international airports in the north and the second largest in the country, is not actually that large at all! The airport is located around 14km from the city centre and used to be called 'Mikra Airport'. There is only one terminal and no large carriers land. The airport services around 3.5 million passengers a year heading to the beautiful surrounding areas, islands and the city itself. The airport mostly services EU/small international flights due to its inability to host larger aircraft.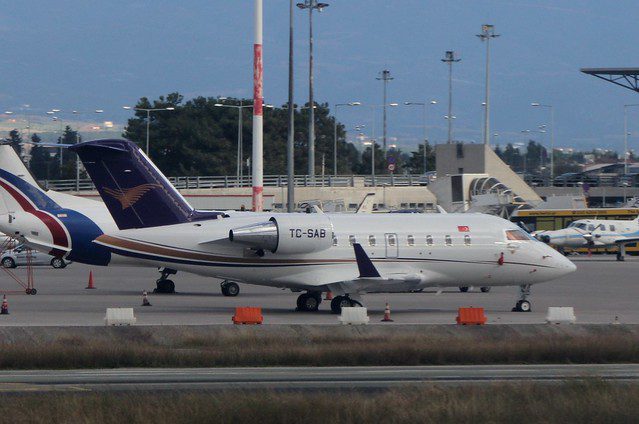 Services
Thessaloniki Airport houses a few food places, though none that will cater to your needs if you are after restaurant-type meals. There're mostly coffee shops and bakeries, however, they all provide a nice treat if you need to kill a bit of time. There're famous coffee stores such as Everest, FloCafe and KLEA for all your coffee and baked good needs, there's also salads, sandwiches and more available at these places. There's also a chance for you to grab a last-minute treat at the Bougatsa Corner (departures, landslide, 1st level) or Terkenlis bakery to make sure you don't forget that sweet taste of Thessaloniki. If you're looking for something a little more filling, you can find a Goody's burgers, delicious American style burgers and fries, or Forno Luca for some Italian cuisine, on the 1st level airside to quell your appetite.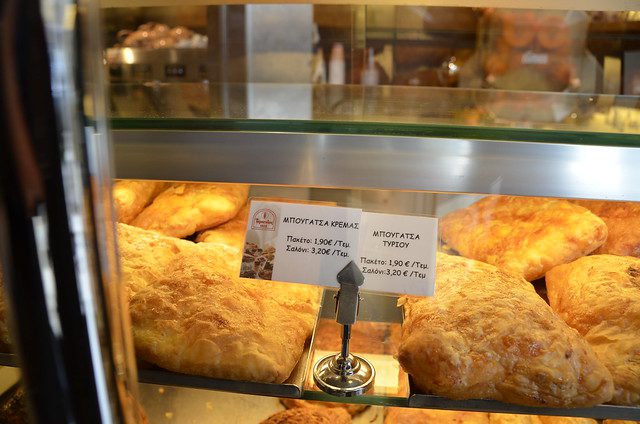 Layover in Thessaloniki Airport
Unfortunately, Thessaloniki airport has nowhere, for overnight passengers, to lay their heads in designated rest zones, but the airport is open 24/7. The seats are large metal but do not have any armrests so you might find some to lie down. Most food and beverage places are only open until around 23:00 pm. There are also no showers available in the airport. Although there is a lounge available to purchase access to ( Skyserv Manolis Andronikos Lounge, Airside, A3) you will need to be an internationally departing passenger and there are no showers or sleep facilities (though you will have access to nicer seating).  The lounge is only open from 08:00 am – 20:00 pm.
Is there a place to stay?
There are numerous hotels located close to the airport which are a better option for those who would like a more peaceful nights' sleep and hot shower.
Iris Hotel

– budget accommodation, small but good for a night. Located around 20 minutes' walk or a 5-minute drive from the airport. However, there is no airport shuttle available for here.

Hyatt Regency

– located around a 5-minute drive from the airport, the hotel is nice for those who are looking to rest their head for the night. There is a shuttle available that leaves from the parking area of the airport.

Avalon Hotel –

located around 5 minutes from the airport and includes a free buffet breakfast for those who stay there. The airport shuttle is free for the roundtrip, on request.
Shopping
In terms of shopping, there are a few stores for you to browse. Shops like Accessorize, Sunwear and SugarFree are located in the airport, selling an array of accessories and clothes for those who like a broad selection of in-fashion options, or something they may have forgotten for the holiday ahead! If you're looking for gifts, or something a little more special, head to Oro Vildiridis for beautiful jewellery, or Aisso for Greek-made heritage gifts which will be perfect to take home. There's also a health store/pharmacy for any last-minute needs or emergencies! The Hellenic duty-free stores are available airside and have a great range of locally made or speciality products; food, olive oil, beauty products, alcohol and more. Its worth having a browse, as there are surely some things that you will want to take home.
Amenities
The airport is undergoing some pretty major renovations as of 2018, so you may find some places are off limits and the work does tend to limit the spaces a little. However, there is still a number of seating available, but unless you go through security to the departures area you might struggle to find a comfortable place to sit and set up camp for a while. For smaller flights, there is even less seating available in the departures area, so this is not ideal if you need to wait for a while. There are ATMs available as well as various airline help-desks, free WiFi throughout the airport and luggage storage at a reasonable rate, which is available for 24 hours. All stored items are monitored by CCTV and your bags will be X-rayed when dropped off. Cost is varied depending on bag size, weight and number of luggage – however, is reasonably priced. 3.50€ per bag for small bags up to 6 hours, 7.50€ for large items. There are also luggage wrapping facilities and a post office located on the 1st floor. Below the main terminal, there are numerous car-rental desks and facilities such as Hertz, Sixt, Budget and more, though you will often need to take the free shuttle bus to get to the off-site place for rental vehicles.
Parking
Parking is available at the airport and is divided into Short and Long Term Parking options. The parking blocks are located opposite the airport building and operate 24 hours/7 days and do not require a reservation. The parking areas are monitored 24/7 so you'll be sure you're leaving your vehicle securely. Parking is very affordable. Short term parking is free for the first 20 minutes and is 4.00€ for the first hour (over 20 minutes) and 2.00€ for 1-2hours, and 0.50c for each subsequent hour. At the longer-term parking is available for a similar rate up to 2 hours but will increase by 2€ an hour until reaching day rates (over 5 hours). There are also cards available for purchase at a monthly rate of 80.00€ for P6 & P7. For more information on parking prices and special offers, head to the Thessaloniki Airport website at https://www.skg-airport.gr/en/category-detailed/ctg_id-34/nd_id-424.
How Far is the City Centre?
Luckily the airport in Thessaloniki is not located too far out from the city, so it's possible to head there and enjoy some of the sights before you leave. It's possible to hire a tandem bike and quickly get down the promenade or take a short boat ride out onto the waterfront to capture a bit of the city. There is also a hop-on-hop-off bus tour available throughout the tourist season, so you can get a feel for the city while you're there in a short time.
Welcome offers some unique tours and services that you can use during your stay in Thessaloniki. Depending on when you arrive and how long you have to stay, you can choose a tour that best suits your needs. Our drivers will help you with your bags, meet you at the arrivals lounge and help you experience the best tour, complete with local insider information and knowledge. Choose from Welcome's Best of Thessaloniki in 2 Hours tour, our Thessaloniki by Night Tour or our Half-Day Highlights tour, so that you can leave feeling like you've had a taste of what this great city has had to offer; and utilized every minute of your stay!