Shopping in Thessaloniki
Thessaloniki is a great place to shop and you can find a large array of shopping to suit various tastes and budgets if you just walk around the city. High fashion, local boutiques, discount outlets and markets and a great range of home stores are just some of the great shopping you can find in Thessaloniki.
Main Shopping Streets in Thessaloniki Centre
The best place to find the majority of shopping is in the central city. Down Via Egnatia, Agias Sofias and Tsimiski are where you'll find most of the chain stores and fashion stores you'll need for major brands. Sephora, Bershka, Zara, H&M, Marks and Spencer and more are found down these streets, dotted with some more high-fashion boutiques such as Max Mara. There are also some larger department stores found here, which host a great range of brands. You may even find some bargain finds on big brands here so it's worth a look. You'll also find some nice stores on Agias Sofias St, recently converted into a pedestrian area where you can browse the numerous fashionable stores. You'll find also NYX Makeup, Toy Stores, some local, cheaper fashion boutiques and shoe stores as well as French Connection and some delicious bakeries and coffee shops should you need a break from the shopping.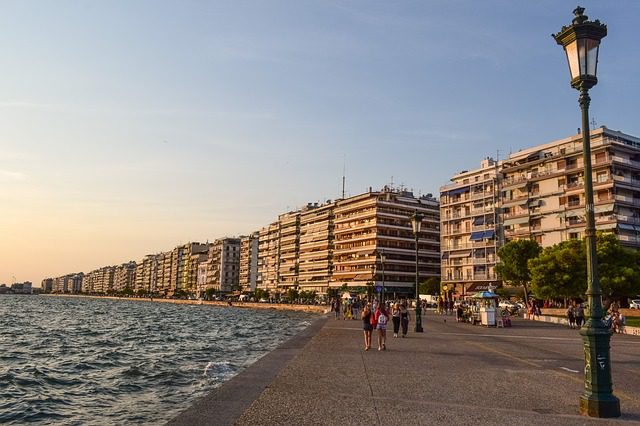 Head further down either end of Egnatia and you'll find some cheaper fashion stores, bakeries, shoe stores and bookshops as well as cheaper homeware stores like Tiger and Vikos. The street is usually busy, especially in peak times, but is a great place to walk down and browse the stores. There's so much to see down here you could easily take hours. Westward down Egnatia will see you end up in Aristotle Square, where there is often live music and a hustle and bustle of people shopping, eating and drinking. The square is lined with some souvenir shops, small takeaway coffee and food outlets and a couple of fashion stores. The major department store here is the Hondos Centre, which has multiple levels for homeware, fashion, beauty and more and often has some great deals available on good brands. Further down Egnatia, you'll find some nice hotels and bars for a great view out over the waterfront from the top of the square.
Proxenou Koromila is a short street located just up from the promenade and hosts more pricey haute couture brands (Burberry, etc) and just up from here, on Mitropoleos Avenue are some smaller boutiques and patisseries and elegant coffee shops for those who wish to shop for some more expensive gifts or treats for themselves.
Outside of the city, you can head to the Mediterranean Cosmos Centre, located on the way to the airport. There are a number of well-known fashion outlets and food courts here as well as a large cinema. This is a great place to go to visit electronics, fashion and more and the surroundings are filled with delicious restaurants and bars to keep you occupied well into the evening.
There are a couple of great outlet malls too, the One Salonica Outlet Mall, located just on the outskirts of the western end of the city, houses awesome brands (Adidas, Lacoste, Puma and more) at reduced prices. A similar mall, the Mega Outlet is located on the eastern side of the city, towards the airport. 
Local Markets
There are some great markets where you can pick up an awesome deal in the city. Food, trinkets, handmade items, crafts and more are available in these markets. The largest one inevitably stumbled upon during a walk around the city centre, is the Mondiano Market. This huge flea market houses fresh bakery goods, meats, fish, vegetables, nuts, seeds and more on one side and on the other, clothes, gifts, shoes, leather items and crafts.
The most famous and traditional market in Thessaloniki is Modiano. This market has been a gathering place for Thessalonians for over 80 years and is located right in the very heart of the city. Walking through Modiano will instantly transport you back to the early 1900s, where the hustle and bustle of the local market was a part of daily life. The market was designed and constructed in 1922 by Eli Modiano. Eli was the son of a much-loved banker in Thessaloniki and studied architecture in Paris. Upon returning to his hometown, he began constructing some of the city's most famous and beautiful buildings, including Modiano Market. Today most of the shops and stalls inside Modiano Market are food stores that sell fish, meat, exotic spices, cheeses, delicatessen items and fresh fruits and vegetables. You can also find a few taverns, cafes and restaurants, where you can sample some of the locally grown food.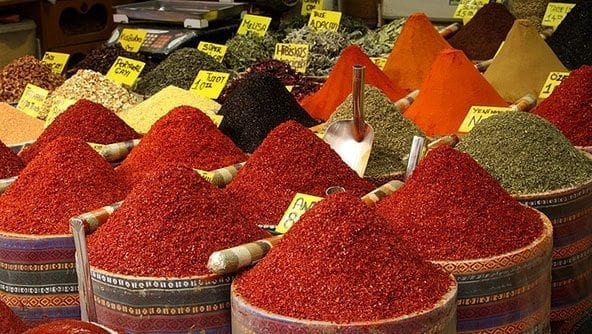 Just a few steps away from the beautiful Aristotelous Plaza, across the street from the famous Modiano Market, you'll find the city's oldest open market, Kapani. This vibrant market has been around for centuries and looks slightly out of place with its now modern surroundings. However, Kapani Market is still very much loved by the locals who tend to buy their weekly shopping there. Much like its neighbour Modiano, Kapani Market also sells meat, fresh vegetables, fish and dairy products, but you can also find many household items and cleaning supplies. Take a walk down the narrow alleyways, and experience the noisy, fast-paced buzz of a truly traditional Thessalonian market.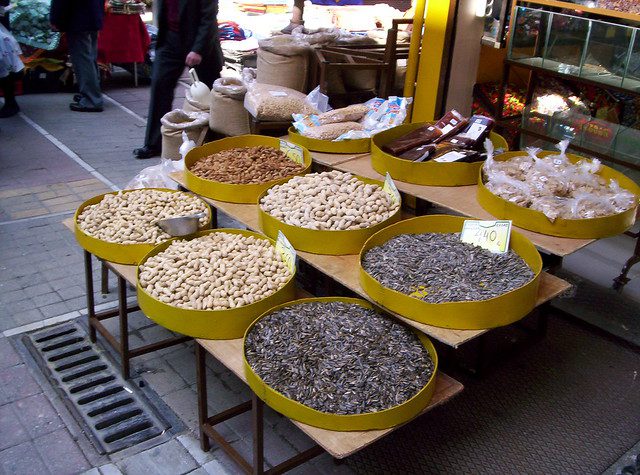 A little to the east of the Roman Forum is the magical Bit Bazaar. This is the market to visit if you are interested in vintage items or antique shops. Founded in 1928, Bit Bazaar was the place to find second-hand wares, barter to your heart's content and even make some very profitable trades. Today, many of the old stores have been transformed into cute little taverns and bars. However, many of the second-hand and antique stores remain open, and they are the absolute best place to find a bargain.