Gelato Origins
You may have a hundred very personal reasons to call Milan a must-visit destination, but there is one that comes to mind for sure. What's your guess? A small hint – it was made famous by the buy a guy named Buontalenti who tried to impress the Great Duke of Florence. Not helpful at all? Well, to put it another way, Italians count it by scoops and produce more than 6 billion of it each year. Of course, it's the very famous and delicious gelato which all of us are dying to taste.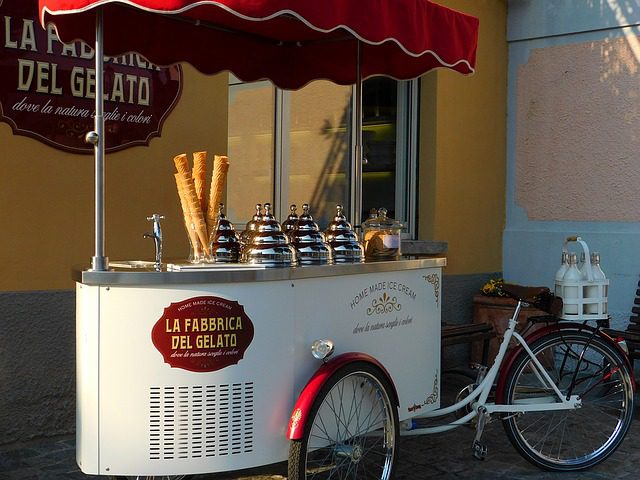 Gelato is sure an Italian invention but there's no clear evidence where it did originate from. The saying goes that in the 17th-century chef Buontalenti spent four months trying to create a dessert just to impress the Great Duke of Florence. Thank God he eventually came up with gelato. Today, it's not that important in which city or village gelato was made in the first place. We know that gelato is the product of Italy and we all want to taste the original, well-made gelato during our trip.
The 5 Best Gelaterias in the city of Milan
Milan is one of those cities which has so much to offer that sometimes you just face the paradox of choice. Too many cool shops and coffee places, too many beautiful churches, too many well-dressed fashionistas on the street, and, of course, too many ice-cream shops…In such a big city like Milan, you can easily get lost choosing the best place to eat gelato. Especially, when there are many not-so-Italian ice-cream shops on your way to Duomo di Milano. To help you get the best gelato tasting experience ever, we suggest visiting any of the 5 gelato places listed below. It's all approved not only by TripAdvisor or Foursquare, but also by locals, so there's no way you're gonna regret it. Pick the one that's closest to your hotel and Buon appetito!
Located in Via Lodovico Castelvetro street, between Domodossola and Gerusalemme metro stations, Il Massimo del gelato is a top-rated gelateria in the heart of Milan, opened in 2001. Unlike other tourist-friendly ice cream shops, this place doesn't offer extravagant flavour savors. Instead, they specialize in making the very best original gelato made from high-quality ingredients. For those who enjoy creamier ice-cream, we suggest trying almond or pistachio gelato and for those who are more into fruity tastes – lemon or mango sorbet.
This little ice-cream shop offers one of the best gelatos in the city. Not only they use fresh and local ingredients, such as Lombard cow's milk, for their original gelato, but they also update the menu according to the season. You will always find great variations of sorbets made from fresh seasonal fruit and, of course, the classic stracciatella or pistachio. They have vegan-friendly and lactose-free options as well.
Further from the city center, in Via Savona street, you will find a lovely gelateria Gusto 17. Their philosophy is to look for flavors that don't exist but are very familiar to each of us, such as a flavor of our grandmother's cake. Giusto 17 makes the most delicious chocolate ice-cream made from the highest-quality cocoa. They also follow the seasonal path and use only the fresh fruits that are available during the season. Vegan options found here as well.
La Gelateria Della Musica definitely is one of the most popular in Milan. Not only you'll hear music in the background all day long but also find that they name every flavor after a different song or singer. They have a lot of interesting flavors to offer and they change their menu almost every day, so make sure you come earlier and take a spot on the line – it gets really crowded there, especially during the mid-summer season.
Even though Pavé Gelati & Granite is a less known gelateria in Milan, locals say that this is one of the best places to taste Italian gelato. It has a clean and minimalist interior which immediately catches your attention and invites to come in. The flavors of their gelato are beyond the limits – they make gelato inspired by the recipes of various pastries, such as Tonka, Tea and Biscuits, and much more. Of course, they don't forget the classics as well. Vanilla, pistachio or hazelnut are among the best in Pavé Gelati & Granite.