Amsterdam by Bike
Anyone that has tried to drive through Amsterdam will know that this city is owned by cyclists. Motorized vehicles drool and bikes rule! In the early 80s, all Dutch cities put the squeeze on cars and began promoting cycling. This was due to the enormous rise in traffic accidents and deaths during the 60s and 70s.
Since then, Amsterdam has gone to great lengths to accommodate its cyclists, putting elaborate networks of bike lanes and cycle-paths all over the city. From tots to the elderly, everyone can bike around this glorious city with ease and complete safety.
Nowadays, biking around Amsterdam isn't just convenient, but it's one of the most fun ways to explore the city. You get in touch with the city's rich biking culture and can see more of the attractions in less time. It's a win-win!
Biking Tour Route
There are many bike tour companies in Amsterdam that offer a wide variety of tours. You can choose from 2-hour tours, full day tours, Red Light District tours, brewery tours and even countryside tours. On the other hand, it's just as easy, and much cheaper, to rent a bike and plan your own bike tour of Amsterdam.
Start your tour in central Amsterdam and set off on your journey along with the glistening waterways and through the winding cobbled streets of this magical city. First, pay a visit to one of the most famous landmarks in Amsterdam, Museumplein. This square is home to a great collection of museums, including the magnificent Van Gogh Museum. Take your time to enjoy the many works of this great artist while your bike is securely locked away in one of the city's many designated bike areas.
From there, speed on over to the ambient Dam Square where you will see some of Amsterdam's oldest and finest buildings, such as the Royal Palace.
After visiting the city's two most important squares, it's time to bike on over to the infamous Red Light District. Peek behind the many illuminated doors, admire the unusual architecture and maybe stop for a drink in one of the many amazing bars.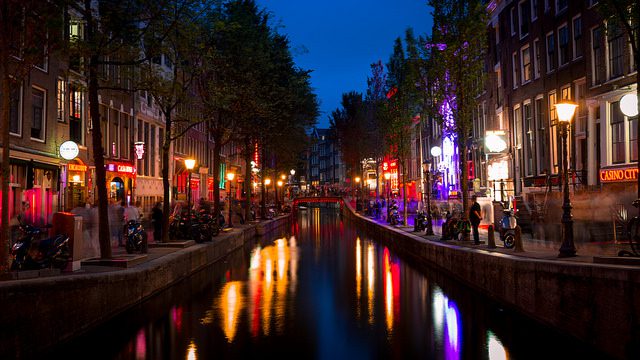 Next up on your bike tour of Amsterdam should be the green oasis of Vondelpark. This stunning public park is 47 hectares of lush green gardens, calming lakes and towering trees, a must see while in the city.
After enjoying a smooth ride through Vondelpark, it's time to soak up some history. Pedal on over to the famous House of Anne Frank and learn about life in Amsterdam during World War II. Enjoy the informative front half of the house before heading to the back, where the room Anne Frank wrote her diary in has been preserved in its original state.
For your last stop on your Amsterdam bike tour, cycle to the cosy neighbourhood Jordaan. This is the most hipster and artsy area in the city, filled with a rich 'coffee shop' culture, local shops, artisanal beers and cute little restaurants. Enjoy a hearty meal to replenish your energy after a long day of cycling before returning your rental bike to the centre of the city.