Ibiza is an island located in the Mediterranean Sea off the eastern coast of Spain. Ibiza is one of the most popular tourist destinations in Europe, famous for its nightlife, beach parties and summer club scenes. However, the island also contains UNESCO World Heritage Sites which feature remains of ancient settlements dating back to the Punic Wars. There are multiple beautiful beaches, museums and untouched lands away from the nightlife to enjoy under the sun too, so don't let the party reputation pull you away from all there is to see here! If you're planning on taking a holiday to this fantastic island, read Welcome's guide to how to make the most of your trip – making sure you know where to go and what to see, how to get around and best of all how to spend your money to maximize your experiences!
Ibiza Airport
Ibiza Airport or locally Aeropuerto de Ibiza is located around 7km southwest of Eivissa, or Ibiza City and was originally a temporary airport used in the Civil War and was closed shortly after 1951 and was reopened again once the tourism spiked in surrounding islands. Despite being a relatively small airport, it is the major hub of service for the Balearic Islands Ibiza and Formentera and used by almost everyone arriving or departing from the islands. The airport and Ibiza itself are cultured around tourist demand so you'll find it quite busy here in the peak seasons of course!
The airport hosts a comfortable amount of options for those who need to stay at the airport for a while. There's a large array of food services with fast, easy and delicious options such as PAUL, Costa Coffee, Starbucks and Santa Gloria, with some local delights Deli&Cia and El Kiosko. You'll also find the international favourite Burger King in the main departures area. Gambrinus is available for those who are looking for a drink and something light to eat (tapas of course!) and can be found in the public and passenger-only zones of the airport. There're also some options for those who wish to start or finish their holiday off in the right way – having a sit-down lunch or dinner with a nice cold glass of something! There's the Café del Mar Lounge, O'Learys Pub and finally StrEat, which contains an array of different food options for you to choose from with a 'food market' type atmosphere. There's Japanese, Mediterranean and Italian, so go wild!
Shopping in the airport is not as large as some other major hubs on the Spanish mainland, but you can still grab a bargain on some locally made and designer clothing. Bright, colourful and vibrant prints can be found in the Desigual store located in departures, alongside the freshest merchandise from the clubs on the island in Club Ibiza and popular accessories and fashion with catchy slogans in I Love Ibiza. If you partied the night away in Ushuaia, then make sure to pop vy their store for a chance to grab some of their branded items – music, clothes, accessories, bikinis, towels and more! Common favourites GAP and Superdry are also located in the airport as well as Sunglass Hut and Hard Rock Café. Try something a little different with Pacha too, a brand which echoes the essence of Ibiza through it's gorgeous clothing and accessories for men, women and children! You'll also probably find some nice gifts in these stores too, especially I Love Ibiza and Club Ibiza so you can take home some of the magic of your time here (and all the dancing you did!).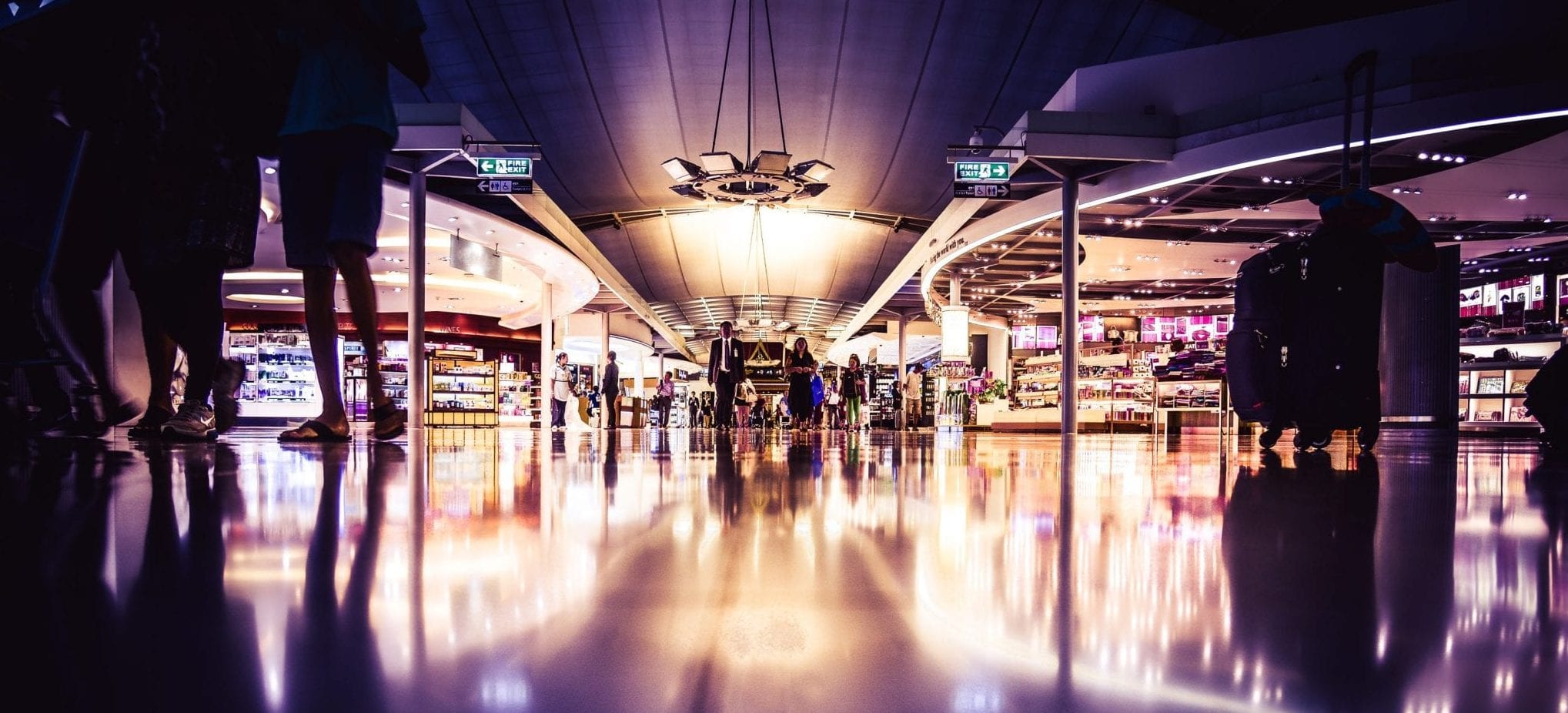 There's a couple of places for you to grab some local artisan food products – its recommended if that's what you're after to head to GourMed, where you'll find some high-quality delicious goods to take home, ranging from cheese, wine and sweets. For confectionary or other convenience goods, there's also LOL or the Market to try. Of course, you can always head to Ibiza Duty Free to get some great deals on wines, spirits, fragrances and more – there's plenty around and heaps of signage for them so you're not going to miss them! Finally, there's a Farmacia (pharmacy) or newsstands selling books and newspapers among other things if you're needing something to prepare for your trip or onward flights.
In terms of services, the airport offers Free Wifi, but note it requires an email/social media login to activate but doesn't ask for codes etc and you can connect multiple devices. There's plenty of ATMs dotted around the airport, as well as currency exchange services and VAT Refund zones. There's also luggage services and a post office within the airport, if there's something desperate that you need to send before you fly. There's plenty of seating around, but if you're after something more comfortable, you can pay to access one of the VIP Lounges – note that you can only stay here for a maximum of 4 hours before your flight. Here you can enjoy lounge facilities such as catering, televisions and more.
The airport parking is quite minimal as there are only two options – general or long-stay. Both will require a booking if you're not just dropping someone off or staying under an hour (in which case you can pay by machine). The rates are 10c per minute up to 30 minutes, and 19c per minute between 30 and 60 minutes and 28c after this. The general park is only a minute's walk from the terminal and is partially covered, with security.
The long stay carpark is located 6 minutes' walk from the terminal building and is only accessed by booking in advance. It is the official long-stay park of the airport and thus is secure and patrolled. It is always best to book early to get the best rates. Check them out here https://parking.aena.es/reservas/web/obtenerPrecio.ac
Airport Survival Guide – what to do on your layover in Ibiza
Does the airport have a good tolerance for overnight passengers? Can I shower?
Like the majority of the island, a lot of the airport services are only available for the seasonal period, so don't expect to have the best time here if you're here during the off-peak times. You wont be able to stay overnight in the off period times as the airport completely closes, so check out our list of hotels nearby below if you need an option. However, in the main times the airport is tolerable of overnight passengers and the sleep isn't a bad one – there's comfortable arm-rest free seating and the airport is overly clean and quiet. As mentioned above there is only one lounge, and it doesn't have showers – there's no other place to shower or designated rest-zones either.
Where is the best place to stay?
Although there's a lounge available in the airport, its quite pricey and there's no option to stay there overnight. Instead, you might want to consider a more comfortable sleep in one of the nearby airport hotels. Check out the list below of the top ones, closest to Ibiza airport:
Affordable and no more than 5 minutes from the airport, this is a great option. Unfortunately, if you have lots of luggage and can't walk, there's no shuttle, so you'll have to catch a cab. The hotel is basic, run by a local family, and provides breakfast and convenient accommodation at a reasonable price.
Grand Palladium Palace Ibiza Resort
For a bit of luxury, try this place. Located only 5 minutes from the airport, near the others, but with airport transfers available, you can be ensured a stay you won't forget, even if it's only one night! Beachfront, complete with a pool, 5 restaurants and 2 bars and of course, a spa to top it all off. Simply glorious!
Again, only a few minutes from the airport but there's no shuttle here either so you'd have to walk or take a taxi. The hotel features nice amenities such as a pool and resort like atmosphere and is very highly rated for its atmosphere and service! Nice and easy and quiet, so you can get a good sleep before your flight.
What do I do if I don't want to stay at the airport?
If you're looking to kill some time in the city instead of hanging around at the airport, we don't blame you! You are in paradise after all! Luckily it won't take you too long to get to the city as the airport is so close, so you can enjoy a bit of Ibiza with minimal time and effort!  Soak up the sea and sunshine for a few hours by walking along the strip in front of the water and grabbing a drink at one of the ocean side bars. If you've got the time, have a look at doing an island tour on horseback as this is a really fun and different way to see the sights! If you're really short on time but want to see the best of what Ibiza has to offer, try Welcome's The Best of Ibiza in 2 Hours tour. This tour ensures you get the most out of your short stay. If you've also got half a day to kill (and money to burn) perhaps you might like to look at another offer by Welcome, Luxury Shopping Experience in Ibiza! A great way to make the most of the shopping in paradise, without having to get yourself from place to place! There are unfortunately no storage lockers or luggage storage available at the airport, so you'll have to take your gear along with you.