Have you ever had an offer that just seemed too good to be true? You start thinking of every excuse as to why it won't work or any hidden catches, but in the end, it really is that good? That's Welcome Pickups hotel transfers. We will not only save you time and effort, but we will also pay you a commission every time one of your guests books with us through you. Plus, partnering with Welcome is always completely free. Read on to see our answers to the most common excuses and find out why Welcome is the top hotel transfer company. 
Excuse 1: I have no time
One of the biggest excuses hotel managers have is "I have no time to set up a new partnership". Trust us when we say, we get it. Now more than ever, hotels are under a lot of pressure, working with limited staff, having to give extra changes and working with very limited resources. However, Welcome Pickups is actually here to save you time. In fact, thanks to their amazing automated hotel transfer services, they can save your staff up to 4 hours per week and 16 hours per month, that's two full days worth of work saved. 
As for taking the time out of your busy day to set up a partnership with welcome, that takes just 5 minutes. At Welcome Pickups, we do all the work for you:
We set up a personalised and fully branded landing page for you.

We connect seamlessly to your current PMS, CM and the most popular OTA's.

We inform your front desk staff so they know exactly how everything works. 

We provide you with all the content and graphic material you'll need to advertise this helpful new transfer service to your guests. 
Once you're set-up, Welcome will also take care of all your guest's transfer needs for you. Hotel transfers from Welcome Pickups are fully automated, so you no longer need to be the middleman, spending countless hours contacting transfer companies. Your guests simply click on your link, book and pay with us directly. At Welcome, we also take care of all the guest-facing communication and collect important information, such as the guest's flight number, arrival time and contact details for you. If there are any complaints or questions from your guest before or after their hotel transfer, we will also field those, so your front desk team can spend their time on more pressing tasks.
At Welcome, we make sure to take care of everything from capturing your guest's attention, booking their transfer, proactive communication and delivering them safely to your hotel door. All you need to do is sit back and watch the positive reviews from your guests come rolling in. 
Excuse 2: We are already working with a transfer company
In this day and age, there are thousands of transfer companies waiting to partner with successful hotels, so it comes as no surprise that you'll already be working with one or two companies. However, we can guarantee that not one of these companies can offer what we do. Welcome Pickups hotel transfers are a cut above the rest as we offer not only world-class service, English-speaking drivers, increased web visibility, personalised landing pages and stellar guest communication, but we also deliver state of the art live tracking. We will also collect the relevant information from your guests, such as their phone number, flight times and email, and create a "guest profile" that you can then use for future marketing. 
As a hotel manager, you want your front of house staff to be able to keep an eye on the companies that you partner with, to ensure your guest is getting only the very best service. That's why we provide live updates on your guests' transfers. We will alert you if your guest's flight is delayed and provide you with an accurate estimated time of arrival so you can ensure their room is cleaned and ready for their arrival. Plus, with our live transfer tracker, you can watch their journey in real-time from any smart device.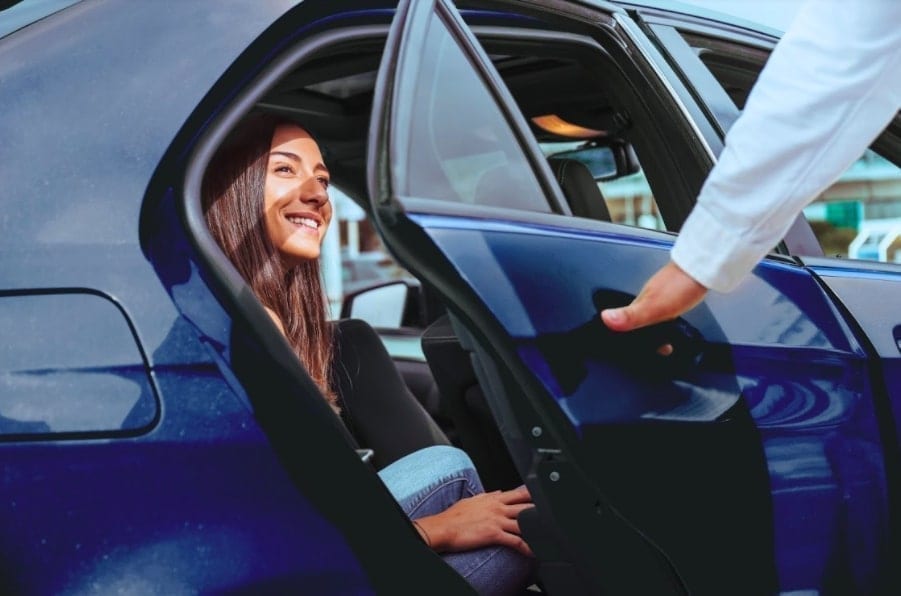 Excuse 3: We have no budget
Welcome's hotel transfer solution is absolutely free. You can partner with us, receive your branded web page and start generating extra income at absolutely no cost. As we also connect to your current PMS and CM system for free, you don't need to dedicate any time or money to set that part of the process up either. 
With our 5-star customer service and top-notch transfers, we can also generate new revenue for your hotel. Every time a guest clicks on your link and books through us, you will receive a commission. Thanks to our great connectivity and marketing tools, conversion for our hotel transfer services is extremely high, meaning you can count on healthy commissions. 
Excuse 4: It's not a priority
It's completely understandable that during a pandemic, your priorities are elsewhere. You have to worry about last-minute changes, tightened safety protocols, staffing, re-pricing and even training. However, it's important to understand that your guest not only wants to feel safe in your hotel but also from the moment they leave the airport. With our COVID-19 safety protocol, we are the safest way for your guest to travel. If your guest feels like you have gone the extra mile to ensure their comfort and safety, they are much more likely to recommend your hotel, leave a good review and stay with you again. 
Excuse 5: Partnering with you could damage our brand 
The final excuse we hear from potential hotel partners is that we could "damage their stellar brand name". However, at Welcome Pickups, we are actually here to help increase your customer satisfaction globally and increase your web visibility, leading to more bookings. To know that Welcome Pickups are the top hotel transfer company in the game, all you have to do is check out our 5-star reviews on: 
If you'd like more information on partnering with Welcome for your guests transfer needs, you can book an e-demo here.