As an island with an international reputation for its amazing sun, beaches and natural beauty, Mykonos attracts many people from all over the world. Not least, many celebrities and wealthy people come from all over the world to enjoy the delights that the island has to offer. This has created an excellent market and clientele base for many excellent and high-end shops to open up and create a niche for a real diversity of great products for sale all over. As such, wherever you go you can find great shops and boutiques, with all kinds of products. Mykonos is really a consumers paradise. Of course, you can also find mass-produced souvenirs and any number of gifts to suit every budget. The main shopping strip of the island is within Mykonos Town, all known as Chora. Yet, by its very nature, it is a confusing rabbit warren of streets that make walking Chora an adventure in itself. So the best advice is to enjoy the experience, knowing that you almost certainly will get lost, but that will inevitably lead you to more surprises than you could have hoped for. 
Set in one of the classic buildings of Cycladic style in the centre of Chora is this boutique of bespoken elegance, that has proved unstoppably popular to the ladies since its recent opening. It is truly a must-see for every fashionista that sets foot on the island. Inside is a minimalist interior decor, which skillfully highlights the latest pieces of some of the most glamorous brands. Tom Ford, Ermanno Scervino and Blumarine pieces all dazzle customers with some of their latest items. But the real emphasis is on an array of Chanel products that will keep customers at the edge of the latest trends.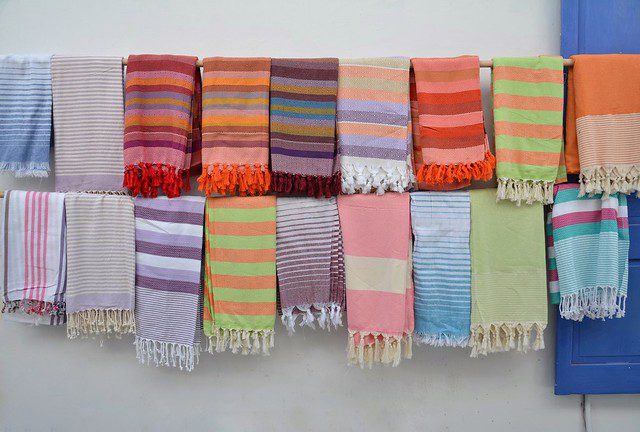 When you are in the neighborhood of Little Venice, just down towards the sea from Chora, you will come across this charming shop that has been open since 1948. The original shop owner was Michael Rabia and has subsequently been taken over by Dora Rabia, making these handsome sandals popular the world over. All the sandals are unique and hand-crafted designs, which range from the basic leather look to colorful and accessorized designs. They also begin at modest prices, making them the best footwear for everyone visiting Mykonos and a must-have on the island. You can also order a custom-designed pair for your own unique models.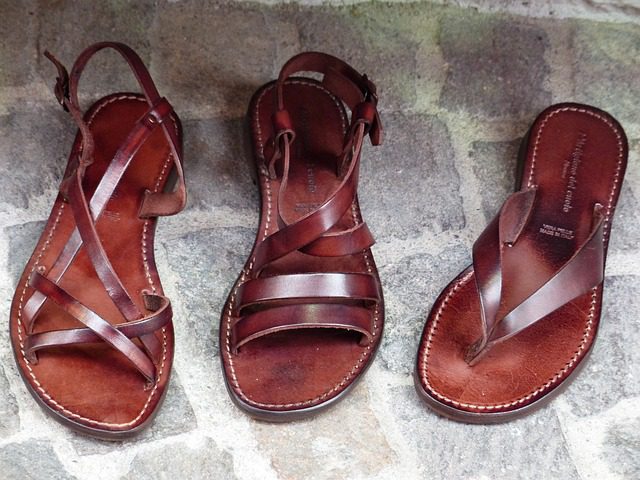 Located at one end of Chora's main arterial street Matoyianni, close to the church of Panachra is this exciting shop which will inspire you to pick up something new, either an exclusive outfit or one of their perfectly matching accessories. Whether you prefer classic fashion or the trendy, edgy styles, you can find whatever you want here. There are many famous brands here such as Jil Sander, Balenciaga Bags and Jacquemus, as well as their own house brands.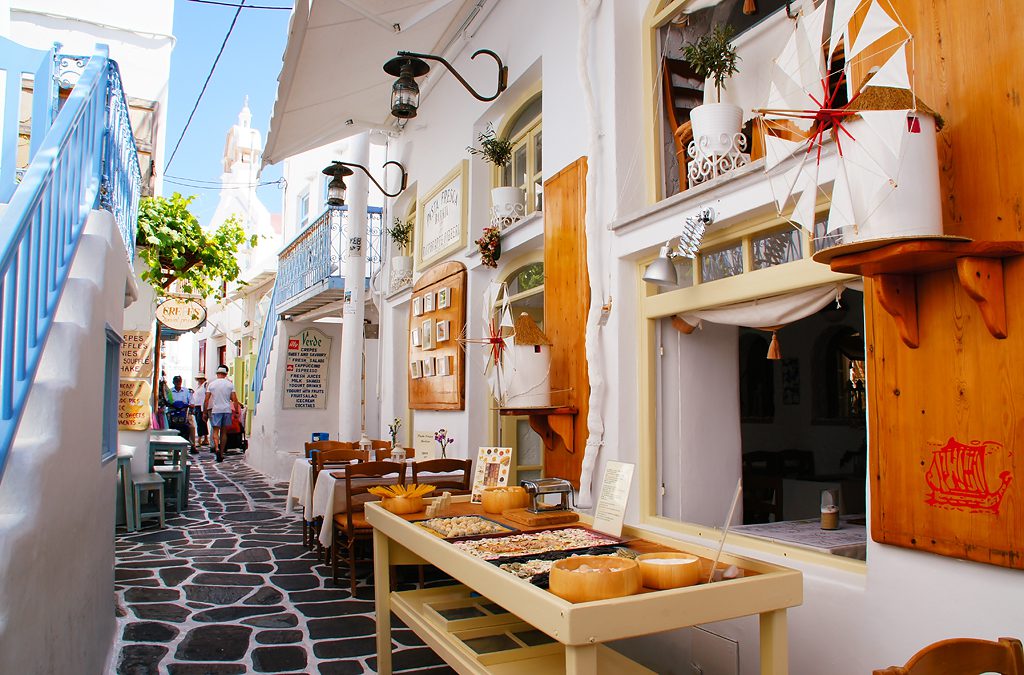 A boutique which has become so big across Greece that you can find it on many of the most popular islands, as well as in the mainland cities. Mykonos has a number of outlet shops all over the island, and for good reason. You can find hand-picked international fashion names in excellent collections and excellent staff suggestions to go with it. Designers include Jimmy Choo, Comme des Garcons, Dior, Emilio Pucci, Giuseppe Zanotti Design and Roberto Cavalli. You can find the main shop on Matogiannis Street, 46/51 but also at Branco Hotel at Platis Gialos beach and Sant Anna on Paraga beach.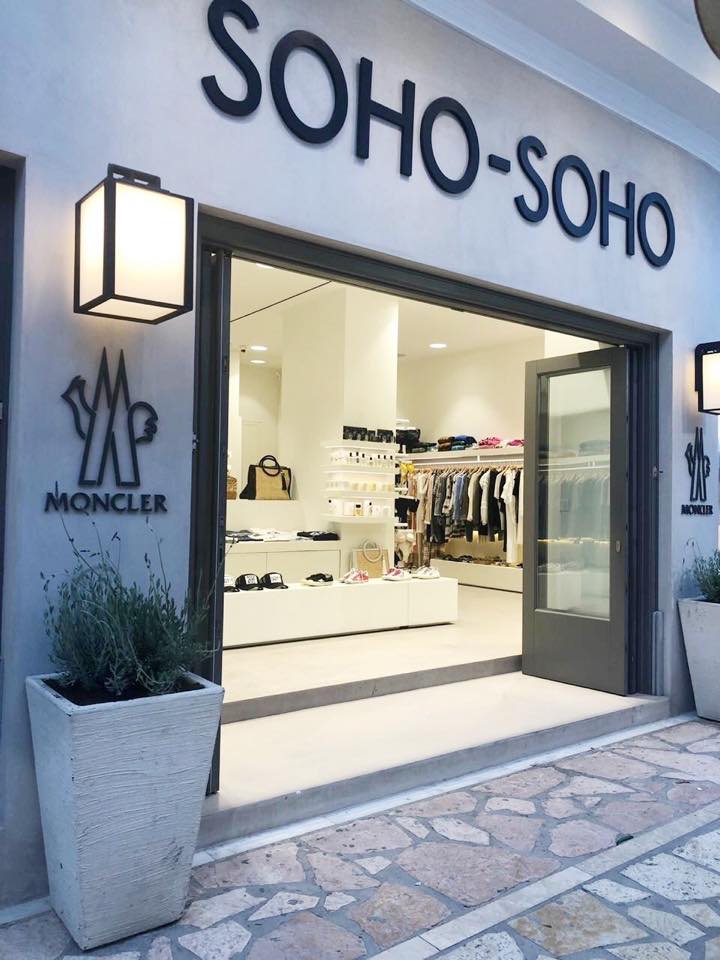 The internationally renowned brand, which originated with Canadian fashion designers launching to global standard in Milan, has an exclusive shop open in Mykonos. Their playful and edgy style comes through to create items that are a sensual melding of styles. Garments that are both laidback and glamorous at the same time create a new market for alternative luxury. And there is no better place to display your new buys than Mykonos.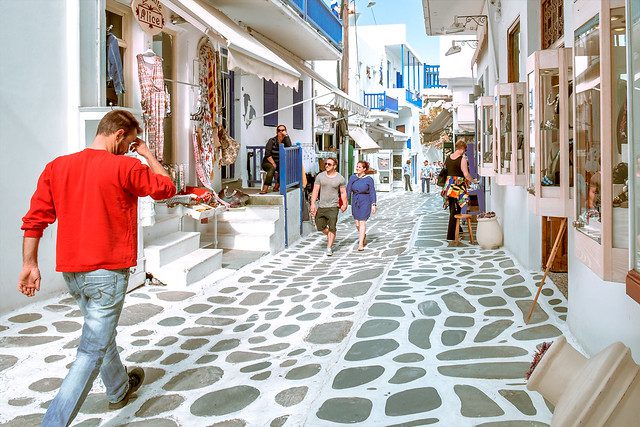 Right in the heart of Chora, at the Tria Pigadia neighborhood, is this very exclusive boutique. It opened its first store in Psychiko of Athens over 20 years ago and has drawn in worldwide clients ever since. It has truly left its mark in Mykonos as a benchmark of luxury and fashion and shows no sign of slowing down. In a beautiful building with a perfectly curated interior, you can find exclusive designer names like Balmain, Alaia, Aquazzura, Lisa Marie Fernandez and Tomas Maier. At the Mykonos store, it is the only place you will find the unique pieces by Oscar de la Renta, and one of the few locations to pick up the Christian Louboutin and Giambattista Valli designs. 
The original jewelry store that opened up in Fira on Santorini was such a success that it had to also set up shop in Mykonos. The Lalaounis family have taken the 4000-year-old jewelry crafting tradition and produced beautiful pieces for four generations. The main materials used are gold and silver, and provide innovative fusions of classic designs and modern techniques, creating truly unique jewelry. Inspired by antiquity, prehistory and Byzantine periods, the works are truly unique gifts of the highest quality. You can also find innovative collections created for special occasions, such as New Year and Christmas. Behind the unassuming entrance to the shop is a collection of class and glamour that does justice to the national treasure and the country's heritage. Time-honored customers include Maria Callas, Barbra Streisand, and Jackie Kennedy Onassis.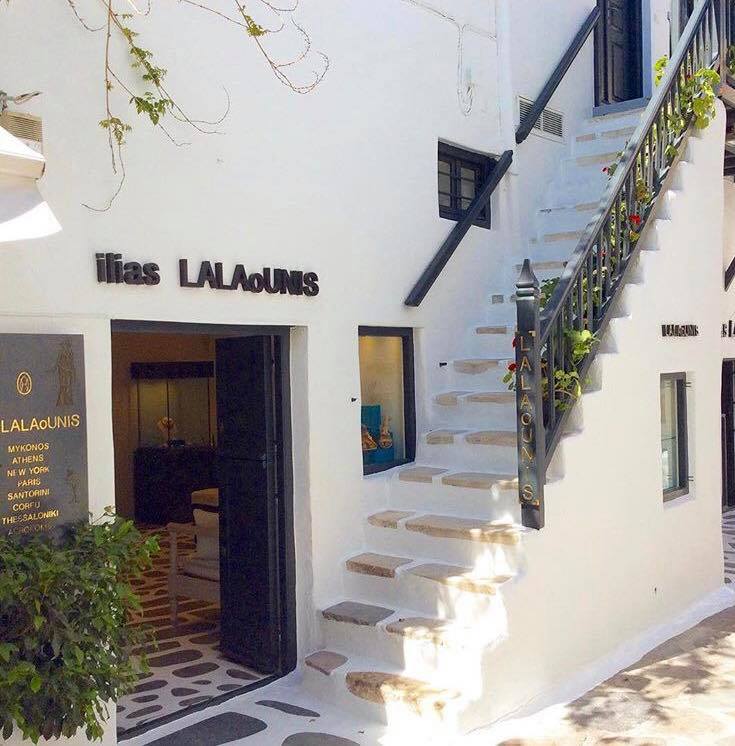 Owned by craftswoman Irene Syrianou, you can find all manner of mosaic pieces and marble sculpture. You can take away pieces, for example, like replicas of the original mosaics of ancient Delos. You can also take part in a class to craft your own mosaic pieces to bring home. Alongside these crafts are jewelry pieces made by hand-cut inlays. Whatsmore, there are the unique contemporary creations of local craftsman Nikos Benos-Palmer for sale. It can be found on Aghios Vlassis in Chora.