Mykonos is one of the central islands in the group known as the Cyclades, in the Aegean sea. It is a hugely popular destination for many people coming from all around. Surrounded by beautiful beaches, colorful balconies, and iconic windmills, Mykonos is truly a special place. Therefore, many cruise trips through the Greek islands stop off at Mykonos as a major destination. A popular option is for the rich and famous to visit via private yacht. Also, domestic and international airlines operate in Mykonos Airport throughout the year
Mykonos International Airport
Located just 4 kilometers southeast of the capital Mykonos Town or 'Chora', is Mykonos Airport, known by its international airport code JMK. It is a small, single terminal airport, and is therefore very easy to navigate. It was acquired in 2017 by Fraport-Greece, with plans for further development to cater for the expanding foot traffic. It has initially been upgraded with increased sanitary conditions, reduced waiting times, reduced flight delays and free Wi-Fi.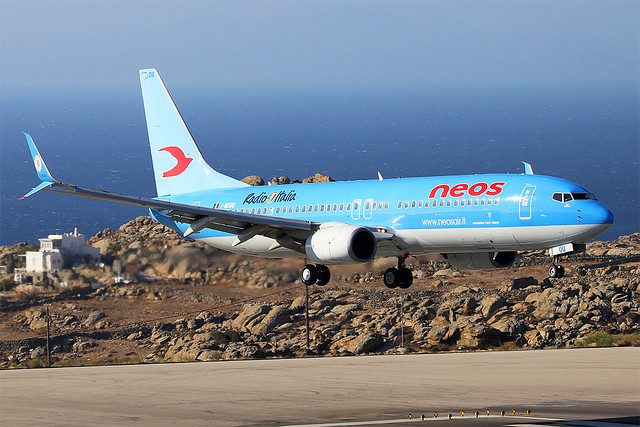 Mykonos Airport Guide
A number of airlines travel to Mykonos, but this is subject to change, depending on the season of travel. Throughout the winter season, domestic airlines operate from the major mainland airports such as Athens and Thessaloniki. During the summer, international flights operate, mostly from intra-Schengen countries. The volume of foot traffic is expanding, so during peak arrival hours in summer, it may be a bit congested.
Amenities & Services
Generally, the security process should be very quick. There are a small number of baggage carousels at baggage reclaim. Here you can also find baggage carts, customs declarations and a lost & found office. Services at landside arrivals include a Euronet ATM and Eurobank ATM, a OneExchange currency exchange bureau and baby changing facilities. At departures, there are a small number of check-in desks, dedicated to the relevant airlines that are departing. Both on the landside departures and through security are a number of 'Ontime Coffee & More' cafes, to grab a nice drink or something to eat. Through security, you will also find the Hellenic Duty Free Shopping shop, retailing goods from local Greek delicacies to perfumes and fashion. There are a total of 6 departure gates so far. Alongside standard lounges, you can find the Goldair Handling business lounge at the intra-Schengen airside departures, which can be accessed by a prepaid lounge pass or lounge membership. Boarding can be made, either by connection bridge or by ground transport to the plane's docking station. Free airport wifi and the Greece airport magazine can be found for free entertainment.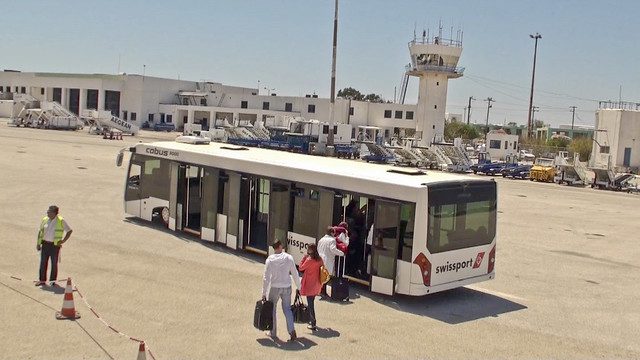 Transport from Mykonos Airport
The public bus service can be found to transfer you to Chora from in front of the terminal. Tickets can be bought from the driver for a few euros. You should make sure you have cash with you as they won't accept cards. Another popular option in Mykonos is to hire a car, to explore the whole island with freedom. There are a number of cars hire companies at the airport, including Hertz, Avis, Sixt, and Avance. You will need to be a qualified driver and have the either an EU license or a foreign license with an international permit. Prices vary depending on season and model of hire.
Arriving in Mykonos by Boat
There are two ports on the island. The Old Port is located just off Chora, the central town also known as Mykonos Town. The New Port is located in the Tourlos area. All manner of ships serve these two ports, from large cruise ships to ferries and small catamarans. The major ports of mainland Greece you are likely to sail from are Piraeus, the port of Athens and Rafina in eastern Attica. Boats from Thessaloniki port also sail to the Cyclades. Companies include Blue Star Ferries, Hellenic Seaways and GA Ferries. Of course, there are ferries sailing daily between the various Cycladic islands, particularly during the summer season. Therefore, you can get to Mykonos from other large islands such as Naxos, Paros, Santorini, Tinos, Andros, and Crete.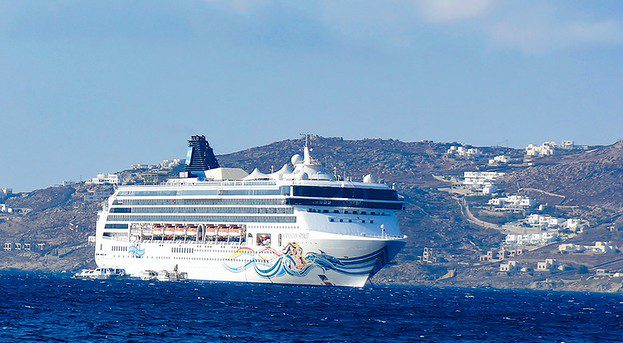 The Old Port of Mykonos
On the north side of Chora at the western edge of the island is the Old Port. This was the primary mode of getting to the island up until 15 years ago. It is mostly now used for a few small and private purposes. It is made up of two quays. The north quay is a long jetty, which is used as a docking space for private yachts, and well as arrival and departure zones for high-speed boats. The port is also home base for a number of fishermen, maintaining the timeless traditions of the island. On the other pier, which seems like an arm extending into the bay, is the docking site for Delos tours. This is a company that arranged tours of the ancient historical island, said to be the birthplace of Apollo and Artemis. The pier at the old port is also the drop-off point for sea taxis from the new port. Despite being used less commercially nowadays, the old port is a really beautiful place to be. The views westward are stunning and the yachts lit up at night are a romantic sight in themselves. There are a number of waterfront cafes here, that you can chill before a departure, or just admire the views. There's nothing like a Greek iced-coffee with the view of the open blue. If not at the waterfront, there are plenty of cafes, restaurants, and bars in the main town, just a couple of minutes walk away. There are also plenty of shops nearby, for souvenirs or something more special. You may also catch a sight of 'Petros the Pelican', the mascot of Mykonos!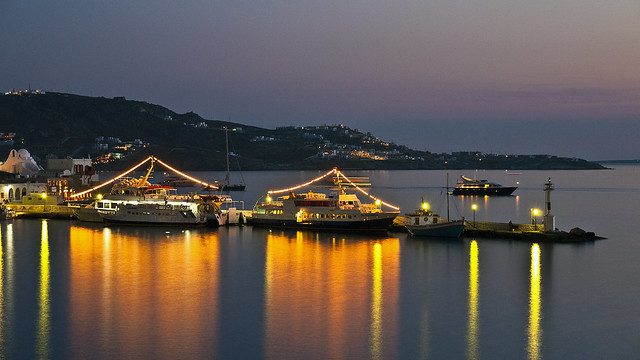 The New Port of Mykonos
The area of Tourlos, with the New Port, is located about 2km north of Chora. This is the place that you are most likely to arrive at. Nonetheless, it is still important to check with your travel agent which port you will come into. If you are visiting Mykonos as part of a cruise, it is very likely that you will anchor up at this port. As well as the majority of ferries which arrive here. There is very little here, besides an ATM and a small sheltered kiosk that you can purchase water and soft drinks. If you arrive on an organized cruise, then it is likely your company has organized a shuttle bus to the main town. If not you will want to consider your transport options to Chora or your hotel.
Transport from the New Port
The port at Tourlos is not far from the centre, and is in theory walkable. However, it is strongly advised against, due to the busy main road that connects the port and the main town. Walking in the open, strong Mykonos sun can also be stressful, particularly when carrying luggage with you. A regular taxi can often be found at the rank, adjacent to the bus station. These do often get taken up rather quickly, but if there is one available, they can take you to your hotel. Prices vary depending on season and destination. Phoning for regular taxi appointments can result in the journey costing considerably more. For the easiest and most comfortable option, choose us at Welcome Pickups. With us, you can prearrange your transfer to have your own personal driver waiting for you at the port. They will take you your chosen destination in a modern vehicle, showing you the main sights and giving you tips that only a local knows. You will also get your free Welcome pack, with refreshments and a map, as well as any extras you have pre-booked. All for the flat, legal fee of €29.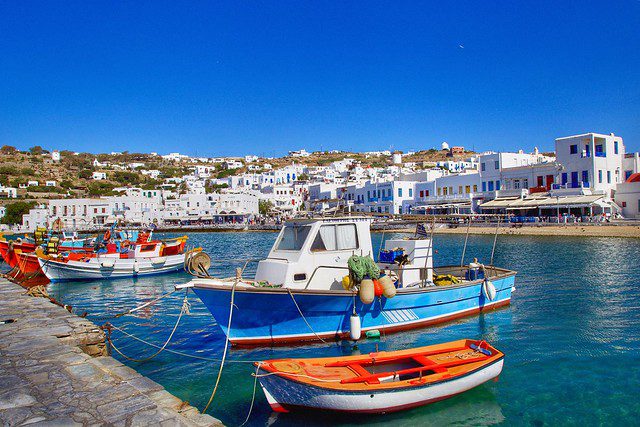 Just across and left from where the ferries disembark is the public bus stand. Here you will be able to grab a bus to Chora. Tickets must be purchased from the driver in cash. The ride takes about 10 minutes to the centre of town. It may get quite crowded, but there should be sufficient buses to accommodate each passenger. Sea Taxis are located closer towards the exit of the port is the dock of the sea taxis. These can scoot you round to the Old Port over the sea, in a short period of time. Ticket prices are per person and also paid in cash. They may vary due to season.