Budapest Airport Shuttle Services
Budapest Ferenc Liszt International Airport (BUD) provides a very cheap public transportation option to get you into the city centre. This option is by bus and there are two bus lines that run into the city (100E) and into the Kobanya-Kispest metro station (200E). Luckily the bus is a very low price of 3€ (900 HUF) and will take around the same amount of time (depending heavily on traffic) to reach the city centre as a taxi, that is around 35 minutes.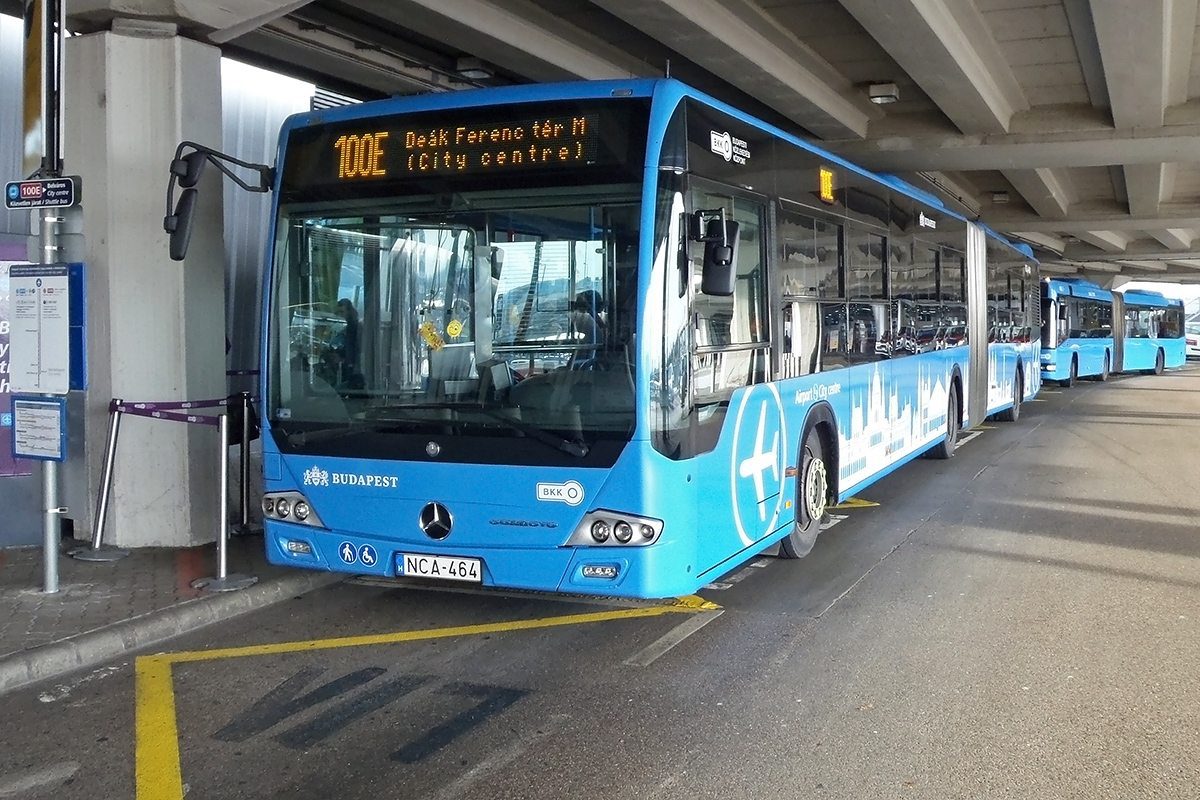 100E Shuttle: Budapest Airport to Deák Ferenc tér central metro station
The 100E bus line from Budapest Airport to Budapest City is the best route to get you into the city centre. The route is the main airport route and therefore is slightly more expensive than the other bus option, but nevertheless still a very cheap alternative for travelers on a budget. It operates between 05:00 am and 01:20 am daily, leaving every 30 mins.
Availability
05:00am - 01:20am
Waiting time is around 20 minutes.
200E Shuttle: Budapest Airport to Kobanya-Kispest metro station
The 200E bus will leave from the airport and take you to the Kobanya-Kispest metro station in Budapest, where you will need to catch the M3 Metro to get into the central city. This bus line is a little cheaper, operating at the standard price of buses in the city at 350 HUF (1.15€). This line also operates between 04:00 am and 11:00 pm.
Availability
04:00am - 11:00pm
Waiting time is around 20 min.
Welcome Pickups transfer
Book a trained, English-speaking taxi driver to pick you up at the same price as a regular cab from the line
If you would prefer a more direct and comfortable travel alternative, you could consider a Welcome Pickups ride. Welcome operates in Budapest and will take you from the airport to your desired destination at the same price as a regular taxi. Pre-book today for your private transportation and travel stress-free with Welcome!
Read More
Best drivers
Hand-picked english-speaking drivers
Flight monitoring
Drivers are always on time
Quality support
24/7 email & phone support
Cancel up to 24h before and get a refund
Edit or cancel transfers
Prices
Same price as a regular taxi from the line
PRICES FOR
Sedan Car
4 pax, 4 pieces of luggage
Book a taxi transfer
Reviews
See other transportation options
Frequently asked questions
How much is a taxi from Budapest Airport to the city?
If you wish to take a taxi, there is a cost of around 26€ (8045 HUF) to get you to the city and you will need to take it from the rank, which can involve some waiting, especially after a large flight arrival.
How long does it take from Budapest airport to city centre?
The city centre of Budapest is around 25 km away from the airport. You can get to central Budapest either by taxi or bus and both options will take around 35 minutes under normal traffic conditions.
Save the article for later or share it with friends
What else can you do in Budapest
Transfer Options in Budapest