Airport Shuttle Services from Rome Airport
In order to get from Fiumicino Airport (FCO) to Rome's city centre there are multiple transport options, but for those on a budget there are buses that cater for the journey at very reasonable prices. There are three private shuttle services, such as Terravision, SIT bus and TAM bus, that operate from the airport to the city station, Rome Termini Station. The fares range from 4-6€, but you can always check online for potential discounts. Lastly, all the shuttles will take approximately 45-85 minutes, traffic dependent, to reach the central station.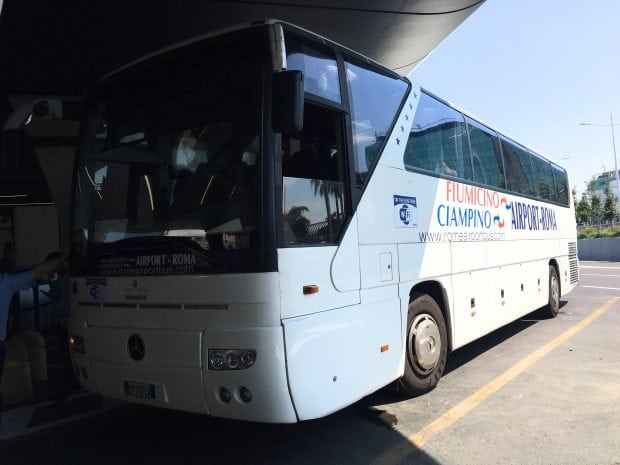 Convenience and Availability
Even though the shuttle services at Fiumicino airport (FCO) are very cheap, the journey with any of the buses can be quite long and tiring because of the multiple stops and traffic congestion that occurs during the peak seasons. In addition, you should be aware that the shuttles run approximately from 07:15 am - 00:45 am on 20-60 minute intervals, depending on the time of the day and demand. Therefore, if you happen to arrive at the airport after the operating hours of the shuttles, your only option would be hire a regular taxi or book a private ride in advance.
Free Wifi is available in some shuttle buses.
Additional charges for excessive luggage may be applied.
Fiumicino Airport Shuttle Ticket Information
All bus services offer advance purchase of tickets online on their respective websites so that you can save time at the airport. If you wish to purchase your ticket in advance, ensure that you are getting one with the correct time. Tickets are also available for purchase at the airport's bus station.
Children under 5 years of age travel for free.
Some shuttle tickets are valid for a later departure in cases of flight delay.
Where to catch your Rome Airport Shuttle
For any of the shuttle services from Fiumicino airport (FCO), follow the signage in the airport and head towards Terminal 3. This is around a 15 minute walk from the arrivals hall. Each of the buses will be departing from its respective platform.
Rome Airport Shuttle to Hotel
Taking the airport shuttle from Fiumicino airport (FCO) is a great option if you wish to travel on a budget. However, the buses, since they do not provide door-to-door services, will all terminate at the city central station - Rome Termini, meaning that you will need an extra ride option from the station to your final destination.