Taxis in Budapest
Although taxis in Budapest tend to get a bad rap, there's no denying that jumping in a cab is the most convenient way to get around the city. Budapest taxis have been regulated since 2013, and are required by law to have a specific look and pricing. All taxis in the city are yellow in colour, with a black checkered trim, and usually have the common 'TAXI' sign on top. However, to spot an official Budapest taxi over a scam car, you must look for the yellow licence plate and an official company logo on the front door and on the sign on the roof. Some reputable taxi companies to look out for are City Taxi, Fo Taxi and Taxi 4. Grabbing a taxi in Budapest couldn't be easier, you can simply hail one from the street, walk to a taxi rank at one of the main transport hubs or tourist attractions, or call one of the many companies that work in the city. 
Base Fare – 700 HUF (2.17€)
Minimum Rate /km – 300 HUF (0.93€)
TRAINED DRIVERS
Hand picked & english speaking drivers
LOW PRICES
Same price as a regular Taxi from the line
FLIGHT MONITORING
Drivers are always on time
QUALITY SUPPORT
24/7 Email & Phone support
How much does a taxi cost?
Night time


(00:00 - 05:00)
FROM BUDAPEST TO BRATISLAVA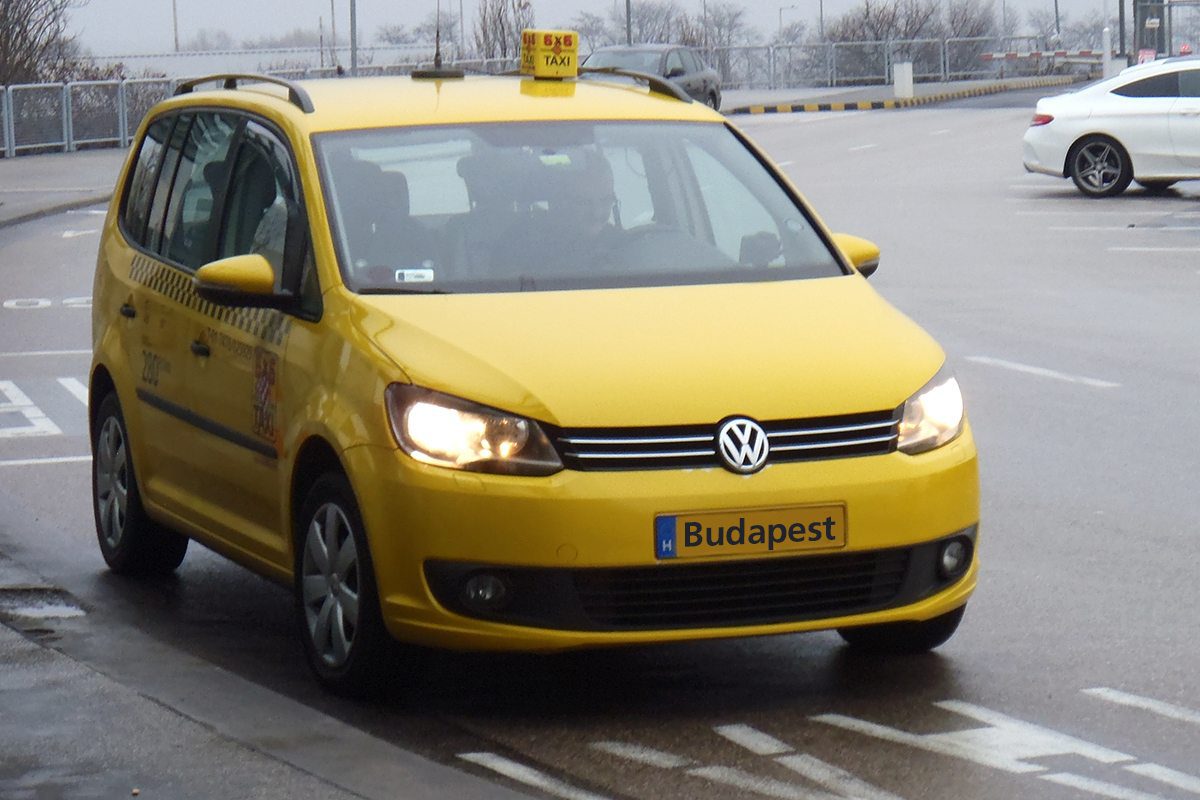 Budapest Taxi Prices
Average journey price in the city – 5€
Taxis in Budapest have a government-regulated pricing based on a taximeter. If you use one of the official city taxis, there's no set rate fee for any journey within Budapest, you will be charged using a meter based on distance. The cost of a taxi in Budapest is way below the average for European cities, and there's no increase in fare for rides at night, so it's a great option when exploring the city.
No matter the day of the week or the time of day, the fare of a Budapest taxi remains the same. The base fare is 700 HUF (2.17€), the distance-based fare is 300 HUF/km (0.93€) and there's also a time-based fare of 75 HUF/minute (0.23€) if you keep your taxi driver waiting. There's also no extra cost for luggage or multiple passengers. 
If you choose to take a 'Limousine' taxi from the concierge at your hotel, you will pay a lot more than a regular taxi. Although having a taxi pick you up from the front door of your hotel is extremely convenient, these taxis charge whatever price they see fit, usually using a set fare based on the four zones of the city.
What our customers say about Welcome
How to get a Taxi in Budapest
Finding a taxi in Budapest is extremely quick and easy, once you learn how to spot a fake from an official city taxi. You can choose to either hail a taxi, walk to a taxi rank or call one of the many companies operating in the city. 
If you choose to hail a Budapest taxi from the street, simply raise your hand and the driver will pull over to you if he's free. Remember, be sure to look for the company logo on the front door check for a yellow licence plate to be sure it's a government regulated vehicle. Once in the taxi, make sure the taximeter is set to the base fare of 700 HUF (2.17€), tell the driver your destination, and you're good to go. 
Another option is to take a taxi from an unofficial 'taxi rank' which can be found outside of the major transport hubs, hotels, and tourist attractions. Some of the best places to find taxis lined up are the Lukacs Baths, Budapest Parliament, Heroes' Square, West Railway Station, and the Buda Castle. All you have to do is walk up to the first taxi in the line and let them know where you need to go for your Budapest transfer. Be aware that there may be a language barrier as not all taxi drivers in Budapest speak English, so it's a good idea to write your destination down on a piece of paper or show your driver on Google Maps.
Finally, you can call a taxi to come and meet you at your current location almost immediately. There are many Budapest taxi companies that offer this service and most of the telephone operators speak fluent English. If you're in a remote location or don't want to wait in the street for a taxi at night, this is a great option.
Book your Budapest Taxi Transfer in Advance
If you're planning a long trip, prefer to budget with a set rate fee or simply don't want to chance getting in a 'fake' taxi, then booking your Budapest taxi transfer in advance is a great option. Unlike many European countries, booking your taxi in advance can actually save you a lot of money as the fees are always set. Almost all telephone operators seek English, and if one doesn't they are always happy to pass you on to someone that does. While on the phone, they will take your name, mobile number, your pickup location, and your destination. During this time, you can ask them for the set rate fee and agree on a pickup time. It's always recommended to book a Budapest taxi in advance is you will be traveling on a Friday or Saturday night, or during city events and special holidays. If you're looking for great rates and reliable service for your Budapest taxi transfer, you can always use the 5-star transfer services of Welcome Pickups.
Budapest Taxi Tips
Hungarian bills can all look very similar, so be careful not to hand the driver the wrong amount. If you need to pay with a larger bill, be sure to state how much it is when handing it to the driver so he gives you the correct amount of change.
Taxis in Budapest don't have car seats for children, however, you can bring and attach your own at no extra cost.
It is customary to give your driver a 10% tip on the total bill if your ride was pleasant.
Not all drivers speak English, so you may wish to write down your destination or pull it up in Google Maps.
Make sure that you include the district when telling your driver your destination as many street names are repeated in different districts.
Most Budapest taxis accept payment in Euros, but be aware that they will give you a terrible exchange rate.
A lot of taxis in Budapest accept credit card payments, but not all. You can ask your driver before entering the taxi if you need to pay by card.
A standard Budapest taxi can take up to 4 passengers.
There's no extra charge for nighttime hours, luggage or extra passengers.
Make sure you always ask for your receipt before you leave the taxi, so if you leave anything behind you can locate it more easily.
Wheelchair Accessible Taxis in Budapest
Unfortunately, the regular taxis found in the city centre of Budapest aren't wheelchair accessible. If you are able to sit comfortably out of your wheelchair, the driver will happily store it at no extra cost, but they aren't equipped with wheelchair lifts. If you need a wheelchair accessible taxi in Budapest, you will have to book one in advance from a company such as Airport Collections. They have select vehicles that are fully outfitted with spacious seating areas and wheelchair lifts and ramps. 
Airport Collections Booking
Email: [email protected]
Budapest Taxi Safety and Complaints
If your taxi driver was rude, overcharged you or you feel that you were scammed by an unofficial taxi, then you will need to contact the Budapest Tourist Police. Be sure to have your taxi receipt as this contains the driver's name, licence number, taxi number, the time of your journey and the price, and any other useful information such as your route on hand. 
Budapest Tourist Police
Tel: +36 1 438 8080