Airport Shuttle Services from Los Angeles Airport
When travelling to Los Angeles in Southern California, the centre of the world's biggest film and television industries, with its iconic Hollywood sign and studios, including Paramount Pictures, Universal and Warner Brothers; you have lots to see and visit during your stay. So instead of trying to figure out where and how to get to your final destination after landing at LAX airport, here are a few helpful tips on how to get from A to B in the best of ways.

There are three different shuttle transportation options available when travelling from Los Angeles LAX Airport; you can either take a private shuttle, an airport shuttle bus or a shared shuttle van. Taking a Los Angeles private shuttle is the fastest, and most comfortable option. Your second and cheapest option is to take the FlyAway airport shuttle, and your last and longest option is to take one of the shared shuttle vans at the airport.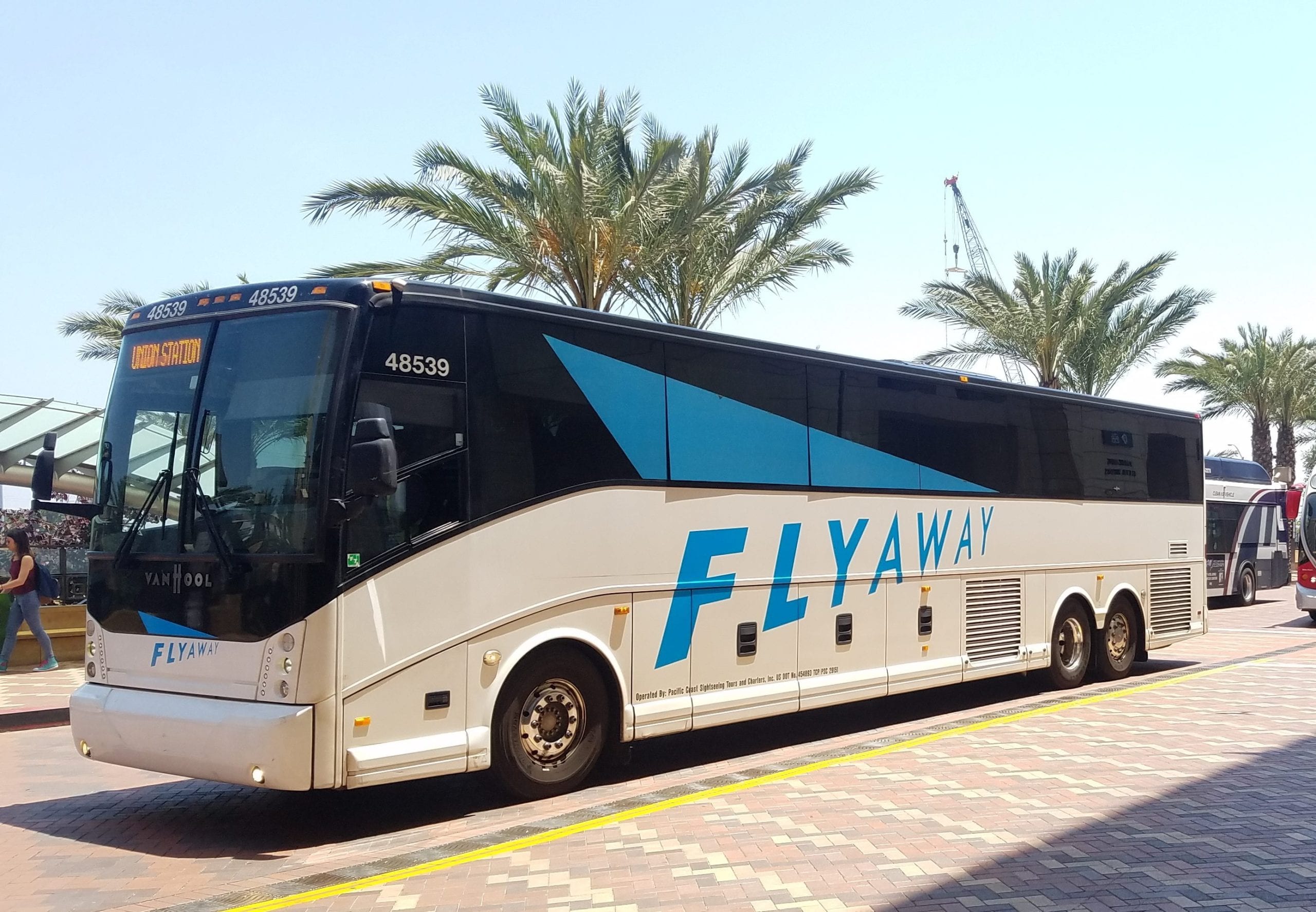 Private Shuttle
Los Angeles Airport (LAX) is an extremely large and busy airport, and the last thing you want to do after a long flight is to try and find your way around whilst dragging your luggage through the many terminals.

Taking a Los Angeles private shuttle from Los Angeles International Airport (LAX) to downtown LA is one of the quickest and most convenient transfer options. Private shuttles are available 24/7 at LAX airport and take around 30 minutes to get you downtown. LAX airport transfers have a fixed price of $46.50 USD (€42) to travel to the main zones of downtown LA.
Before you start your trip, it is important to confirm the set price with your driver.
It is customary to leave a 10% tip if you have enjoyed your transfer.
If you wish to have the easiest and fastest experience, it is recommended to book your private shuttle in advance.
Airport Shuttle Bus
There is a FlyAway shuttle bus that leaves Los Angeles International Airport (LAX) every 30 minutes and takes you to Union Station in downtown LA. This bus also stops at the 5 main downtown neighbourhoods, including Hollywood, Santa Monica, Van Nuys, and Westwood station. The cost of a one-way ticket is $9.75 USD (€8.70) and the journey shouldn't take longer than 35 minutes, in light traffic.

There is a waiting time of up to 35 minutes for the FlyAway shuttle.
The FlyAway shuttle is available 24/7 from Los Angeles (LAX) Airport.
Shared Shuttle Van
Another transfer option available at LAX airport to get to Downtown LA is by taking one of the shared shuttle vans available at the airport. There are several shuttle companies that service the airport, including One Prime and Karmel Shuttle. Although this is a good option as it is direct to Downtown Los Angeles, you will have to wait for the shuttle to pick up numerous passengers at the multiple airport terminals before heading off to your destination. A trip between the two locations takes around 1 hour, depending on how fast the van fills up.

For a one-way ride on one of LAX airport's shared shuttle vans to Downtown LA costs $38 USD (€31) per person and $75 USD (€62) per person for a roundtrip. It is important to note that you will need to buy your tickets online on the shuttle van's website as they only take advanced reservations.

The waiting time for a shared shuttle van depends on the flight arrivals.
Airport shuttles need to be reserved in advance, and a pick-up time will be allocated to you based on your landing time.
Convenience and Availability
Private shuttles are available directly from one of the ranks at the airport terminal or you can book one, in advance and get to the door of your hotel in under 30 minutes. This is also the most convenient option after a long flight and is available 24/7.

Although there can be a 30 minute wait for the FlyAway shuttle, it runs 24/7 and gets you quickly and hassle-free to downtown LA. Moreover, the FlyAway shuttle only provides a small amount of luggage space, so it is a great transfer option if you are travelling light and on a budget.

The shared shuttle vans from LAX airport are also quite convenient as they have a flight tracking system which brings your waiting time to a minimum. However, you have to reserve your shared shuttle in advance using your credit card. Moreover, you will have to wait for the shuttle to pick up numerous passengers at multiple airport stops before heading off.
Where do I get the shuttle at LAX?
You can get your LAX to Downtown LA private shuttle car or shared shuttle van at all 8 terminals at the airport.

You can find the FlyAway shuttle stop on the lower arrivals level at each terminal in the Los Angeles International airport. The stop is clearly marked by a green FlyAway shuttle sign.