Quick and reliable Civitavecchia Port transfers
There's nothing better than arriving in a new city and knowing your transfer is taken care of. The moment you step off the ferry at Rome's Civitavecchia Port, your personal driver will be there waiting for you, holding a sign with your name on it. Even if your ferry is delayed, your driver will always be on time, as we provide all of our staff with live updates on your arrival. After a warm greeting, your driver will help you carry your luggage to your pre-selected Civitavecchia taxi.
While you enjoy your Civitavecchia Port transfer, your driver will answer any questions you may have about the city and will share with you some local's tips and tricks on how to make the most out of your time in Rome. With all of your transfer needs taken care of by Welcome Pickups, all you need to do is sit back, relax and enjoy the ride. 
You can also use Welcome Pickups while in the city centre, or for your transfers to and from Rome Fiumicino Airport or Rome Ciampino Airport. 
TRAINED DRIVERS
Hand picked & english speaking drivers
LOW PRICES
Same price as a regular Taxi from the line
FLIGHT MONITORING
Drivers are always on time
QUALITY SUPPORT
24/7 Email & Phone support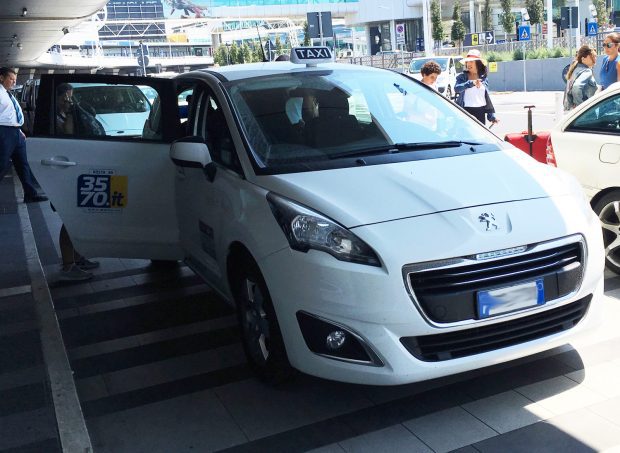 A Civitavecchia taxi for every group size
No matter what size group you're travelling with, we have a Civitavecchia taxi to suit you. You can choose from our stylish sedans, that fit up to 4 people with ease or our XL minivans that can transfer up to 8 people in comfort. 
What our customers say about Welcome
Directions for your Civitavecchia transfer
Civitavecchia, also known as the Port of Rome, is a modern port located just 70 kilometres north-west of the city centre. A Civitavecchia taxi ride shouldn't take more than 60 minutes under normal traffic conditions. To reach the city centre of Rome, your driver will take E840 and SS 1 Via Aurelia to A12/E80 in Santa Marinella. They will then follow A12/E80 and SS 1 Via Aurelia to Via Aurelia in Rome. From here, your driver will use the smaller local roads to take you to your hotel or drop-off point in Rome. 
Is a Civitavecchia taxi for you?
Although there are cheaper public transport options, taking a taxi for your Civitavecchia Port transfer is by far the quickest and most convenient option. Trains are quite infrequent and you might have to wait more than one hour to catch one, so you could end up standing out in the cold for a long time. This not only takes time away from your vacation, but it also leaves your personal belongings exposed for an extended period of time. Instead, why not take a Civitavecchia taxi and make your way directly to your final destination in Rome in a matter of minutes. 
Civitavecchia taxi prices
The local drivers at Civitavecchia Port don't offer a flat-rate fee for the journey into the city centre of Rome. Instead, they will charge you using a taximeter based on distance. The total cost of this journey will be around €140, but there could be additional fees for things such as excess luggage and travelling at night. To secure a set-rate fee for your Civitavecchia transfer, we recommend booking your taxi with Welcome Pickups in advance. 
The benefits of booking a Welcome Airport Taxi
At Welcome Pickups, we want to help you make the most out of your time in Rome. That's why we offer completely personalised and customisable in-destination travel experiences and extras. For example, you can pre-book your skip the line tickets for some of the top attractions in Rome and your driver will hand-deliver your tickets to you on the day of your pickup. We also offer fantastic Sightseeing Tours throughout Rome. You can choose the stops you want to make, how long you spend in each, the driver you wish to experience it with and your drop-off point. See Rome your way with Welcome Pickups.