Taxis in Rome
Although it may seem like a good idea to escape the heat, avoid walking the city in uncomfortable shoes or trying to navigate public transport in Italian, taking a taxi in Rome isn't as easy as it looks. Not only are taxis in Rome more expensive than most other European cities, but they are also harder to locate. Don't expect to be able to simply hail a Rome taxi from the street, you will need to walk to the nearest taxi rank or call and book a taxi with one of the many companies. Most transport hubs, such as the Rome Termini Station, tourist attractions and main squares have taxi ranks close by. Also, be sure to only take an official city taxi with a fully licensed driver by looking for a white car with a 'TAXI' sign on top, a taximeter in the front of the vehicle and the licence number etched on a metal plate on the left passenger door.
Base Fare – €3
Minimum Rate /km – €1.10
TRAINED DRIVERS
Hand picked & english speaking drivers
LOW PRICES
Same price as a regular Taxi from the line
FLIGHT MONITORING
Drivers are always on time
QUALITY SUPPORT
24/7 Email & Phone support
How much does a taxi cost?
Night time


(00:00 - 05:00)
FROM ROME TO CIVITAVECCHIA PORT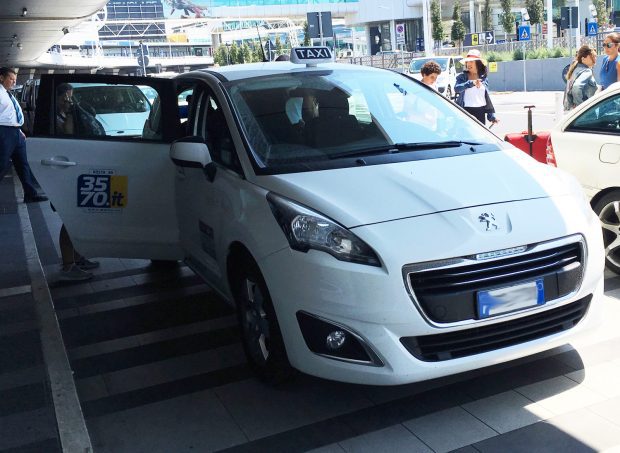 Rome Taxi Prices
Average journey price in the city – €8
Taxis in Rome don't have set rate fees to certain attractions or zones, instead, they calculate your fare using a taximeter based on distance. At most official taxi ranks, you can find the current fares on a board just under the tell-tale orange 'Taxi' sign. 
In Rome, it's common for your hotel concierge to organise a taxi for you, as hailing one down in the street is extremely difficult and not common practice. Although this is highly convenient and time-saving, the hotel will only call taxi companies that they have an affiliation with, and they may not come with the best price. 
Monday to Saturday 06:00 to 22:00 – The base fare is €3
Sunday and holidays – The base fare is €4.50
Nighttime 22:00 to 06:00 – The base fare is €6.50
Rate per km (Tariff 1) – €1.10
There are also extra charges for more than one piece of luggage per passenger of €1.04, booking over the phone of €3.50 and waiting for one hour of €27.
What our customers say about Welcome
How to get a Taxi in Rome
Unlike most other cities in Europe, hailing a taxi from the street isn't common practice in Rome. Most taxis on the road are full with passengers or are on their way to pick someone up, however, if you do see a taxi with the orange light on top turned on, you may be in luck. Generally speaking, however, if you're looking to take a taxi in Rome, you will need to walk to a taxi rank or call one of the taxi companies. 
There are many taxi ranks located all over the city, mainly near tourist attractions, at the major hotels, next to the main squares and outside the transportation hubs. If you do choose to walk to a taxi rank to take your Rome transfer, then you will most likely find one at Termini Station, Piazza della Repubblica, Piazza Venezia, Largo Argentina, Piazza delle Cinque Lune, Piazza Barberini, and Via Boncompagni. You can usually spot a taxi rank by the long line of white Rome taxis waiting next to it, but during busy periods, you can look for the orange 'Taxi' signpost. Be aware that from Rome Termini Station there's an additional surcharge of €2 for using the taxi rank cars.
If you'd prefer to call for a taxi, you can choose from one of the many taxi companies available in Rome or you can ask the concierge of the hotel, bar or restaurant you're in to call for you. Just be aware that taxis usually arrive within 3 to 5 minutes of calling, so be ready to go when you call. There's also a surcharge of €3.50 for calling a taxi in Rome. 
Some of the most common numbers to call are:
Rome City – +39 060609
Radio-Taxi – +39 063570
Book your Rome Taxi Transfer in Advance
If you want to have peace of mind knowing your taxi fare in advance, or you're going to be travelling during major holidays or on an extremely rainy day, it's a good idea to book your Rome taxi in advance. There are many companies operating in Rome, but if you're looking for competitive prices and stellar service, we recommend Welcome Pickups. Once you've booked your Rome transfer in advance, you can sit back and relax, knowing that there's no hidden luggage, waiting or late night fees.
Rome Taxi Tips
Make sure that your taximeter reads "Tariffa 1" as this is the correct rate/km for rides within the centre of Rome. "Tariffa 2", is much more expensive and should only be used when travelling on Rome's highway or Grande Raccordo Annulare.
Rome city taxis are required by law to carry a POS machine so you can pay by card, however, many are usually "out of order", so be sure to ask your driver before getting in the cab.
American Express cards aren't widely accepted in Rome taxis, so you may need to carry cash or a different type of credit card.
Taxis in Rome don't carry baby-seats as standard, but they have plenty of space for you to fit in yours before you begin your journey.
It's highly uncommon to tip a taxi in Rome. However, if your journey was impeccable, you can round up your fare to the nearest Euro.
The journey from Termini Station to the city centre should never cost more than €8 - 15, depending on the time of day. If your fee is much more than this, keep your receipt and make a complaint.
Make sure you keep your receipt at the end of the journey so you can easily contact your driver if you left any belongings behind in the taxi.
Wheelchair Accessible Taxis in Rome
Although almost all taxis in Rome have space in the trunk for a fold-up wheelchair, none of them have accessibility for electric wheelchairs. If you need a wheelchair accessible taxi in Rome, you will need to book in advance through one of the specialist companies, such as Welcome Pickups and Rome Transfers. 
Rome Taxi Safety and Complaints
It's not uncommon in Rome City to have a taxi driver that will try to swindle you or add hidden extras to your fare. One of the most common is adding illegal surcharges or changing the taximeter to Tariffa 2 or Tariffa 3. If you feel like our driver has been dishonest in any way or if he was rude, you can make a complaint to Comune Roma by filling in the online complaint form and submitting it on the official website.
If you are going to make a complaint, you will need to have your receipt, the driver's licence number, which is located on the back of the front seat and the left-hand passenger door, the name of the company and the number of the taxi.