Taxi Transfer from Thessaloniki Airport to City
You can easily find a taxi right outside the arrival exit, SKG is a small airport so you will not miss the taxi rank.
The trip from Thessaloniki airport to the city center is 17km and it will take you around 30 minutes, depending on the traffic.
You should expect to pay something between 20 – 25 euros, just keep in mind that there is a 30% increase in the price from 00:00 to 05:00 am.
The ride to the airport is metered, so make sure that the driver resets the meter stand as soon as the transfer begins.
The best solution for pre-booked taxi is Welcome Pickups, which offers meet and greet service and friendly introduction to the area at the same price as a regular taxi. What you get is:
• Personal attention by polite and professional local driver.
• No hidden fees. The taxi price includes absolutely everything.
• Flight monitoring, so you do not have to inform or worry about flight delays.
• Your driver will welcome you at the arrival's hall.
• Clean and comfortable taxis.
• Best price guarantee and full refund in case you have to cancel.
You can book online by filling the booking form and you will receive an email confirmation. Further, you will receive all the driver's information before your arrival. The driver will be waiting for you at your arrival gate holding a board with you name. Book it here.
Thessaloniki Airport Taxi Fares
Airport to Thessaloniki City Ring (downtown)
Nighttime (00:01-04:59)
25 €
Airport to Thessaloniki Bus Station
Day time (05:00-24:00)
25 €
Airport to Thessaloniki Bus Station
Night time (00:01-04:59)
30€
Useful Tips
Make sure you hold some cash, most taxis in Thessalonki, even the ones at the airport, have no way of accepting credit cards.
It will take you approximately 35 minutes from the airport to the city center depending on traffic
Please be aware that the nighttime prices are approximately 30% higher
According to Greek law a taxi can carry a maximum of four people at a time, including children.
It is not very likely that your taxi drivers speaks English, it's advisable to have the drop off address written somewhere
Bus Transfer from Thessaloniki Airport to City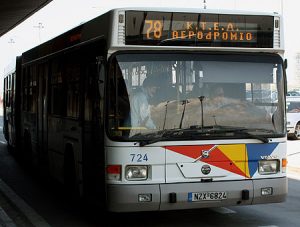 The public transportation bus can be found outside the arrival hall.
The buses to city center are the 78 and 78N(during nightime) and run from Thessaloniki Airport to Macedonia Suburban Bus Station (KTEL).
The buses depart approximately every 30 to 60 minutes and run 24/7, including holidays.
The bus tickets must be purchased from the  ticket machine inside the bus.  The ticket price is 2 euros  and the journey time is approximately 40-50 minutes. Keep in mind that the ticket machine does not give change.
78 Bus Departure Times: Thessaloniki Airport to city center
Monday to Sunday
Hour
Minutes
05
50
00
06
20
50
07
20
50
08
20
50
09
20
10
00
30
11
00
30
12
30
13
00
30
14
05
45
15
15
 45
16
30
17
00
30
18
00
 30
19
15
45
20
15
45
21
15
45
22
00
78N Bus Departure Times: Thessaloniki Airport to city center
Monday to Sunday
Hour
Minutes
23
30
00
00
00
30
01
05
30
02
00
30
03
00
30
04
00
30
05
00
30
THESSALONIKI AIRPORT BUS TICKET PRICES
Adult - One way transfer ticket
From the Thessaloniki Airport to city center
2 €
Kids 7 - 18 or Adults > 65
From the Thessaloniki Airport to city center
1 €
Kids under 6
From the Thessaloniki Airport to city center
Free
Thessaloniki Airport Bus Route to the City
Thessaloniki International Airport (SKG)
Astunomia
Georgiki Sxoli
Emporiko kentro
Pronia
Krikela
25th Martiou
Laografiko Mousio
Sxoli Tuflon
Euzonon
Dimarxiako Magaro
XANTH (YMCA)
Plateia Aristotelous (Aristoteles Square)
Plateia Emporeiou
IKA
Anagenniseos
Sidirodromikos Stathmos OSE (Train Station)
Orizomiloi
Suburban Bus Station (KTEL) - End Destination